The Socialist 13 July 2016
Organise the resistance: fight the Tories and the Blairites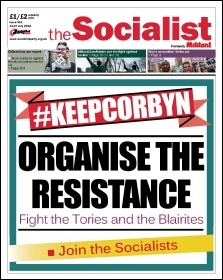 ---
Child poverty rises by 200,000 in a year
Welsh Assembly to scrap 'right to buy'
Nine-month prison sentence for fleeing ethnic cleansing
What we saw: Angela Eagle Facebook meme
---
Fight racism: for jobs, homes and services for all
Police racism still lethal in Britain
Majority support migrants staying - fight hate crime
---
Step up the campaign to back Corbyn's fight
Tory coronation is attempt at stability that can't work
---
Chilcot Iraq report: More piles of evidence against the blood-soaked war for oil
---
Angry prison officers walk out over reforms
New threat to impose junior doctors contract must be met with strike action
Vote Chas Berry for Napo national chair
Unite policy conference 2016: Blairite coup, Trident and cuts dominate opening days
---
Spain: Disappointment for left in re-run general election
---
Thousands mobilising to #KeepCorbyn
Why I joined: "I no longer felt isolated from politics"
Fight back is on to save NHS heart services
Sales of the Socialist through the roof since the referendum
PO Box 1398, Enfield EN1 9GT
020 8988 8777

Link to this page: https://www.socialistparty.org.uk/issue/910/23211
Home | The Socialist 13 July 2016 | Join the Socialist Party
Subscribe | Donate | Audio | PDF | ebook
Vote Chas Berry for Napo national chair
Bold leadership and austerity fight needed
Socialist Party member Chas Berry, currently vice-chair of Napo, the union for Probation and Family Court workers, is a candidate in the union's election for national chair. Ballot papers go out on 15 July and voting closes on 25 August. Chas outlines his election programme:
Our challenge is how to stay relevant to our established members while appealing to the broader, more diverse and generally younger group of staff likely to enter the workforce in future.
Decent pay, quick progression 'up the scale' and manageable workloads are what members tell me they want, and these are the priorities around which we can unite and re-build our union. This starts with defending national collective bargaining and increasing our membership density in existing workplaces.
We cannot stop there, however. In the rapidly changing criminal justice and family courts sectors we can extend our influence by attracting new members with a recruitment strategy that does not limit itself to our traditional base of support.
This will be tough but I think our union is uniquely placed to achieve it.
As national vice-chair for the past two years I have the knowledge and experience to lead the officers group and provide some continuity while
we make the changes necessary to adapt to the new environments. Many activists recognise me as a socialist and anti-austerity campaigner.
I will bring combativeness to the chair, recognising also the full range of views on the most effective ways of promoting our collective interests.
Confidence will be restored when members start to see improvements they can measure.
This requires bold leadership and a willingness to link our day to day struggles with the wider trade union movement in the fight against austerity. I believe I can provide that leadership.
---
In this issue
---
Socialist Party news and analysis

Child poverty rises by 200,000 in a year

Welsh Assembly to scrap 'right to buy'

Nine-month prison sentence for fleeing ethnic cleansing

HSBC jailbreak

Rail fail

What we saw: Angela Eagle Facebook meme

Them & Us
---
Fighting racism

Fight racism: for jobs, homes and services for all

Police racism still lethal in Britain

Majority support migrants staying - fight hate crime
---
What we think

Step up the campaign to back Corbyn's fight

Tory coronation is attempt at stability that can't work
---
Chilcot report

Chilcot Iraq report: More piles of evidence against the blood-soaked war for oil
---
Socialist Party workplace news

Angry prison officers walk out over reforms

New threat to impose junior doctors contract must be met with strike action

Vote Chas Berry for Napo national chair

Unite policy conference 2016: Blairite coup, Trident and cuts dominate opening days

Workplace news in brief
---
International socialist news and analysis

Spain: Disappointment for left in re-run general election

CWI in brief
---
Socialist Party reports and campaigns

Thousands mobilising to #KeepCorbyn

Why I joined: "I no longer felt isolated from politics"

Fight back is on to save NHS heart services

Sales of the Socialist through the roof since the referendum
---
Home | The Socialist 13 July 2016 | Join the Socialist Party