The Socialist 13 July 2016
Organise the resistance: fight the Tories and the Blairites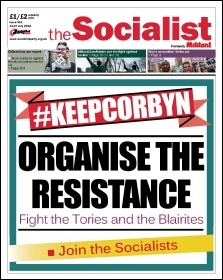 ---
Child poverty rises by 200,000 in a year
Welsh Assembly to scrap 'right to buy'
Nine-month prison sentence for fleeing ethnic cleansing
What we saw: Angela Eagle Facebook meme
---
Fight racism: for jobs, homes and services for all
Police racism still lethal in Britain
Majority support migrants staying - fight hate crime
---
Step up the campaign to back Corbyn's fight
Tory coronation is attempt at stability that can't work
---
Chilcot Iraq report: More piles of evidence against the blood-soaked war for oil
---
Angry prison officers walk out over reforms
New threat to impose junior doctors contract must be met with strike action
Vote Chas Berry for Napo national chair
Unite policy conference 2016: Blairite coup, Trident and cuts dominate opening days
---
Spain: Disappointment for left in re-run general election
---
Thousands mobilising to #KeepCorbyn
Why I joined: "I no longer felt isolated from politics"
Fight back is on to save NHS heart services
Sales of the Socialist through the roof since the referendum
PO Box 1398, Enfield EN1 9GT
020 8988 8777

Link to this page: https://www.socialistparty.org.uk/issue/910/23212
Home | The Socialist 13 July 2016 | Join the Socialist Party
Subscribe | Donate | Audio | PDF | ebook
Unite policy conference 2016: Blairite coup, Trident and cuts dominate opening days
Socialist Party reporters
The first two days of Unite the Union's biennial policy conference was dominated by the attempted Blairite coup in the Labour Party. General Secretary Len McCluskey in opening the conference attacked the Blairites and made it clear it was a political attack on Jeremy Corbyn.
Unite have to make to it clear they completely oppose this coup and at the same time give unequivocal support to Corbyn remaining as Labour Party leader. Many delegates made it clear to Socialist Party members that if Corbyn is kept off the ballot paper it raises the call for disaffiliation and the need for a new party.
The other big debates have included Trident, just days before MPs vote on its renewal. The conference voted for an executive council statement on Trident which opposes it and calls for diversification of the thousands of jobs, many who are Unite members, that rely on it. However, the statement calls for this only when a government is in place that could carry it out.
Socialist Party members voted against the statement because there were better motions but the statement is still stronger than the previous position.
Another big debate took place on the issue of cuts and Labour councils. A motion moved by Danny Hogan from Greenwich council workers' branch, and seconded by Cathy Smith from Bromley, called on conference to back the call for Labour councils to set legal no-cuts budgets.
Support
There was a lot of support for this, however an executive council statement was passed instead which only gave the impression of dealing with these issues.
In the debate Andy Ford from Warrington pointed out the stand of former Trade Unionist and Socialist Coalition (TUSC) councillor Kevin Bennett who was the only Warrington councillor to vote against cuts and support Jeremy Corbyn but was forced out of the Labour group. And Ted Knight, leader of Lambeth council which fought the cuts in the 1980s and was surcharged, raised the no-cuts stand of his and Liverpool council and accused current Labour councils of facilitating the cuts.
---
In this issue
---
Socialist Party news and analysis

Child poverty rises by 200,000 in a year

Welsh Assembly to scrap 'right to buy'

Nine-month prison sentence for fleeing ethnic cleansing

HSBC jailbreak

Rail fail

What we saw: Angela Eagle Facebook meme

Them & Us
---
Fighting racism

Fight racism: for jobs, homes and services for all

Police racism still lethal in Britain

Majority support migrants staying - fight hate crime
---
What we think

Step up the campaign to back Corbyn's fight

Tory coronation is attempt at stability that can't work
---
Chilcot report

Chilcot Iraq report: More piles of evidence against the blood-soaked war for oil
---
Socialist Party workplace news

Angry prison officers walk out over reforms

New threat to impose junior doctors contract must be met with strike action

Vote Chas Berry for Napo national chair

Unite policy conference 2016: Blairite coup, Trident and cuts dominate opening days

Workplace news in brief
---
International socialist news and analysis

Spain: Disappointment for left in re-run general election

CWI in brief
---
Socialist Party reports and campaigns

Thousands mobilising to #KeepCorbyn

Why I joined: "I no longer felt isolated from politics"

Fight back is on to save NHS heart services

Sales of the Socialist through the roof since the referendum
---
Home | The Socialist 13 July 2016 | Join the Socialist Party