The Socialist 13 July 2016
Organise the resistance: fight the Tories and the Blairites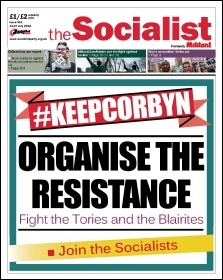 ---
Child poverty rises by 200,000 in a year
Welsh Assembly to scrap 'right to buy'
Nine-month prison sentence for fleeing ethnic cleansing
What we saw: Angela Eagle Facebook meme
---
Fight racism: for jobs, homes and services for all
Police racism still lethal in Britain
Majority support migrants staying - fight hate crime
---
Step up the campaign to back Corbyn's fight
Tory coronation is attempt at stability that can't work
---
Chilcot Iraq report: More piles of evidence against the blood-soaked war for oil
---
Angry prison officers walk out over reforms
New threat to impose junior doctors contract must be met with strike action
Vote Chas Berry for Napo national chair
Unite policy conference 2016: Blairite coup, Trident and cuts dominate opening days
---
Spain: Disappointment for left in re-run general election
---
Thousands mobilising to #KeepCorbyn
Why I joined: "I no longer felt isolated from politics"
Fight back is on to save NHS heart services
Sales of the Socialist through the roof since the referendum
PO Box 1398, Enfield EN1 9GT
020 8988 8777

Link to this page: https://www.socialistparty.org.uk/issue/910/23213
Home | The Socialist 13 July 2016 | Join the Socialist Party
Subscribe | Donate | Audio | PDF | ebook
Workplace news in brief
Workers hit the roof
GMB members at roofing manufacturer Redland in Cale Lane, Wigan, have taken five days of strike action in defence of their shop steward who has been dismissed by the company in dubious circumstances. Last year the company tried to force him out with a severance payment and confidentiality clause. When he refused they waited until he was involved in a minor road collision with a parked vehicle and then dismissed him, even though it was an accident and he reported it straight away. Strikers told me that no-one else would have been dismissed over such an incident. The GMB, and the GMB members on the site, have stood by their rep, and the strike also got support from the bakers' union from the Hovis site down the road. They reported excellent support from Wigan Trades Council over the week of the strike.
Andy Ford
---
Supermarket crisis
The announcement at the beginning of July of the closure of the Netto chain, on the back of the collapse of My Local in June, marks another stage in the crisis of the big supermarket chains. Having saturated the possibilities of developing 'big-box' out-of-town supermarkets, the past few years have seen supermarkets attempting to consolidate market share in other avenues such as convenience stores and discount shops - especially given the success of Aldi and Lidl in the latter format.
My Local started life as Morrisons' late entry into the convenience store format in 2011 in an attempt to rival the likes of Tesco Express and Sainsbury Local. Now it is being wound up, Morrisons will have to cover part of the losses as it is liable for many of the stores' leases. Greybull Capital, as with all investment funds, is willing to gamble on cheap investment opportunities, while limiting its potential losses. The return of Netto, on the other hand, was a joint venture between Sainsbury's and Danish owner, Dansk Supermarked Group. In its previous incarnation, it had been sold off to Asda in 2010, but 20 new stores were opened under the joint venture. In this case Netto was actually operating in line with expected earnings, but is still being wound up, as Sainsbury's buyout of Argos and Home Retail Group takes place. Both companies are still making huge profits elsewhere and in these circumstances companies are happy to throw their workers on the scrap heap. Retail unions must fight to save these jobs.
Iain Dalton
---
In this issue
---
Socialist Party news and analysis

Child poverty rises by 200,000 in a year

Welsh Assembly to scrap 'right to buy'

Nine-month prison sentence for fleeing ethnic cleansing

HSBC jailbreak

Rail fail

What we saw: Angela Eagle Facebook meme

Them & Us
---
Fighting racism

Fight racism: for jobs, homes and services for all

Police racism still lethal in Britain

Majority support migrants staying - fight hate crime
---
What we think

Step up the campaign to back Corbyn's fight

Tory coronation is attempt at stability that can't work
---
Chilcot report

Chilcot Iraq report: More piles of evidence against the blood-soaked war for oil
---
Socialist Party workplace news

Angry prison officers walk out over reforms

New threat to impose junior doctors contract must be met with strike action

Vote Chas Berry for Napo national chair

Unite policy conference 2016: Blairite coup, Trident and cuts dominate opening days

Workplace news in brief
---
International socialist news and analysis

Spain: Disappointment for left in re-run general election

CWI in brief
---
Socialist Party reports and campaigns

Thousands mobilising to #KeepCorbyn

Why I joined: "I no longer felt isolated from politics"

Fight back is on to save NHS heart services

Sales of the Socialist through the roof since the referendum
---
Home | The Socialist 13 July 2016 | Join the Socialist Party