The Socialist 13 July 2016
Organise the resistance: fight the Tories and the Blairites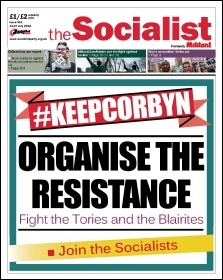 ---
Child poverty rises by 200,000 in a year
Welsh Assembly to scrap 'right to buy'
Nine-month prison sentence for fleeing ethnic cleansing
What we saw: Angela Eagle Facebook meme
---
Fight racism: for jobs, homes and services for all
Police racism still lethal in Britain
Majority support migrants staying - fight hate crime
---
Step up the campaign to back Corbyn's fight
Tory coronation is attempt at stability that can't work
---
Chilcot Iraq report: More piles of evidence against the blood-soaked war for oil
---
Angry prison officers walk out over reforms
New threat to impose junior doctors contract must be met with strike action
Vote Chas Berry for Napo national chair
Unite policy conference 2016: Blairite coup, Trident and cuts dominate opening days
---
Spain: Disappointment for left in re-run general election
---
Thousands mobilising to #KeepCorbyn
Why I joined: "I no longer felt isolated from politics"
Fight back is on to save NHS heart services
Sales of the Socialist through the roof since the referendum
PO Box 1398, Enfield EN1 9GT
020 8988 8777

Link to this page: https://www.socialistparty.org.uk/issue/910/23218
Home | The Socialist 13 July 2016 | Join the Socialist Party
Subscribe | Donate | Audio | PDF | ebook
Welsh Assembly to scrap 'right to buy'
Jaime Davies, Caerphilly and Rhondda Cynon Taf Socialist Party
The Welsh Assembly has announced it plans to scrap Thatcher's ruinous 'right to buy' policy in Wales. The Socialist Party welcomes this move - but this alone will not be enough to solve the housing crisis.
Socialists fully understand working class people deciding to buy their council homes after Thatcher introduced the policy in 1981. Home ownership can provide partial security against the instability of life under capitalism.
We also welcome the Welsh Assembly's decision to abolish the right to buy within the next year. It is one of the fundamental causes for the shortage of housing in Wales and across the UK.
While ex-council houses have been on the market for the past three and a half decades, councils have not replaced them. Private sector buying and renting is very expensive, and not able to make up the shortfall.
Although welcome, the assembly's decision doesn't go far enough. In order to truly tackle decades-long queues for council housing and meet demand, particularly from young people still stuck at home on low wages, the Welsh Assembly must commit to a mass house building programme. In the process this would create the opportunity for a lot of unemployed people to gain skilled jobs.
Devolved and local governments across the UK should follow suit by abolishing the right to buy. And go further - plan mass building of council homes, and cap private sector rents, so that affordable homes are guaranteed for all.
---
In this issue
---
Socialist Party news and analysis

Child poverty rises by 200,000 in a year

Welsh Assembly to scrap 'right to buy'

Nine-month prison sentence for fleeing ethnic cleansing

HSBC jailbreak

Rail fail

What we saw: Angela Eagle Facebook meme

Them & Us
---
Fighting racism

Fight racism: for jobs, homes and services for all

Police racism still lethal in Britain

Majority support migrants staying - fight hate crime
---
What we think

Step up the campaign to back Corbyn's fight

Tory coronation is attempt at stability that can't work
---
Chilcot report

Chilcot Iraq report: More piles of evidence against the blood-soaked war for oil
---
Socialist Party workplace news

Angry prison officers walk out over reforms

New threat to impose junior doctors contract must be met with strike action

Vote Chas Berry for Napo national chair

Unite policy conference 2016: Blairite coup, Trident and cuts dominate opening days

Workplace news in brief
---
International socialist news and analysis

Spain: Disappointment for left in re-run general election

CWI in brief
---
Socialist Party reports and campaigns

Thousands mobilising to #KeepCorbyn

Why I joined: "I no longer felt isolated from politics"

Fight back is on to save NHS heart services

Sales of the Socialist through the roof since the referendum
---
Home | The Socialist 13 July 2016 | Join the Socialist Party