The Socialist 13 July 2016
Organise the resistance: fight the Tories and the Blairites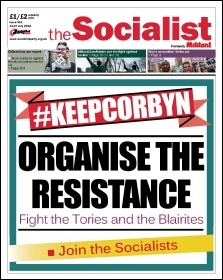 ---
Child poverty rises by 200,000 in a year
Welsh Assembly to scrap 'right to buy'
Nine-month prison sentence for fleeing ethnic cleansing
What we saw: Angela Eagle Facebook meme
---
Fight racism: for jobs, homes and services for all
Police racism still lethal in Britain
Majority support migrants staying - fight hate crime
---
Step up the campaign to back Corbyn's fight
Tory coronation is attempt at stability that can't work
---
Chilcot Iraq report: More piles of evidence against the blood-soaked war for oil
---
Angry prison officers walk out over reforms
New threat to impose junior doctors contract must be met with strike action
Vote Chas Berry for Napo national chair
Unite policy conference 2016: Blairite coup, Trident and cuts dominate opening days
---
Spain: Disappointment for left in re-run general election
---
Thousands mobilising to #KeepCorbyn
Why I joined: "I no longer felt isolated from politics"
Fight back is on to save NHS heart services
Sales of the Socialist through the roof since the referendum
PO Box 1398, Enfield EN1 9GT
020 8988 8777

Link to this page: https://www.socialistparty.org.uk/issue/910/23220
Home | The Socialist 13 July 2016 | Join the Socialist Party
Subscribe | Donate | Audio | PDF | ebook
Them & Us
Theresa May
War in Iraq
Voted for
1,033,000 - Estimated casualties between 2003 and 2007 as a result of the conflict (ORB, 2007)
Benefit cap
Voted for
64% - Of people affected by the benefit cap are single parents (Mirror, 2015). This autumn it will lower even further, while the cost of living continues to rise
Income
Theresa May: £117,350 (declared taxable pay, 2014-15) plus MP's expenses
UK median disposable income: £25,600 (ONS estimate, October 2015)
Bedroom tax
Voted for
Three in four benefit claimants hit by the bedroom tax had to cut back on food to pay it; 46% had to cut back on heating (CCHPR/Ipsos Mori, 2015)
Tax dodging
Voted against measures to reduce it
£122 billion a year - Estimated combined cost of illegal tax evasion - £85 billion, legal avoidance - £19 billion, and non-payment - £18 billion (PCS, 2014)
Net worth
Theresa May: £1.6 million (estimated value of property portfolio, 2010) - over ten times the national average
UK average: £147,134 (Irwin Mitchell solicitors, 2014)
---
This isn't just any pay cut...
This is an M&S pay cut. The retailer has announced plans to slash premiums for Sundays, bank holidays and unsocial hours, affecting 7,000 workers. It will also cut pensions contributions for 11,000.
This is an attempt to pass a dip in sales profits onto hard-pressed staff.
Management is trying to hide the cut by also introducing a basic rate increase of 15%.
The Socialist says: make the bosses pay! Take the loss from their profits, not our wages.
---
In this issue
---
Socialist Party news and analysis

Child poverty rises by 200,000 in a year

Welsh Assembly to scrap 'right to buy'

Nine-month prison sentence for fleeing ethnic cleansing

HSBC jailbreak

Rail fail

What we saw: Angela Eagle Facebook meme

Them & Us
---
Fighting racism

Fight racism: for jobs, homes and services for all

Police racism still lethal in Britain

Majority support migrants staying - fight hate crime
---
What we think

Step up the campaign to back Corbyn's fight

Tory coronation is attempt at stability that can't work
---
Chilcot report

Chilcot Iraq report: More piles of evidence against the blood-soaked war for oil
---
Socialist Party workplace news

Angry prison officers walk out over reforms

New threat to impose junior doctors contract must be met with strike action

Vote Chas Berry for Napo national chair

Unite policy conference 2016: Blairite coup, Trident and cuts dominate opening days

Workplace news in brief
---
International socialist news and analysis

Spain: Disappointment for left in re-run general election

CWI in brief
---
Socialist Party reports and campaigns

Thousands mobilising to #KeepCorbyn

Why I joined: "I no longer felt isolated from politics"

Fight back is on to save NHS heart services

Sales of the Socialist through the roof since the referendum
---
Home | The Socialist 13 July 2016 | Join the Socialist Party