The Socialist 13 July 2016
Organise the resistance: fight the Tories and the Blairites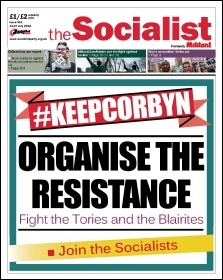 ---
Child poverty rises by 200,000 in a year
Welsh Assembly to scrap 'right to buy'
Nine-month prison sentence for fleeing ethnic cleansing
What we saw: Angela Eagle Facebook meme
---
Fight racism: for jobs, homes and services for all
Police racism still lethal in Britain
Majority support migrants staying - fight hate crime
---
Step up the campaign to back Corbyn's fight
Tory coronation is attempt at stability that can't work
---
Chilcot Iraq report: More piles of evidence against the blood-soaked war for oil
---
Angry prison officers walk out over reforms
New threat to impose junior doctors contract must be met with strike action
Vote Chas Berry for Napo national chair
Unite policy conference 2016: Blairite coup, Trident and cuts dominate opening days
---
Spain: Disappointment for left in re-run general election
---
Thousands mobilising to #KeepCorbyn
Why I joined: "I no longer felt isolated from politics"
Fight back is on to save NHS heart services
Sales of the Socialist through the roof since the referendum
PO Box 1398, Enfield EN1 9GT
020 8988 8777

Link to this page: https://www.socialistparty.org.uk/issue/910/23223
Home | The Socialist 13 July 2016 | Join the Socialist Party
Subscribe | Donate | Audio | PDF | ebook
Fight racism: for jobs, homes and services for all
Solidarity with #BlackLivesMatter
"Hands up - don't shoot!". Protests are erupting throughout the United States against the two latest acts of police violence against the black community, the murders of Alton Sterling and Philando Castile.
Below, Eljeer Hawkins of the Socialist Party's US co-thinkers reports on the anti-racist struggle there.
At least 136 black people have been killed by US police in 2016 so far (Guardian, 7 July).
On top of police violence, the black community faces disproportionate unemployment, poverty, a lack of access to social services and mass incarceration. Much-needed protests are erupting throughout the country against the two latest atrocities, the murders of Alton Sterling and Philando Castile.
Unfortunately, five police have been killed by snipers in Dallas. These types of actions will not win justice against racism - if that was their intention. They will only serve to strengthen the authority and militarisation of the police, and undermine the strength of Black Lives Matter mobilisations.
Socialist Alternative will continue to participate in mass demonstrations against racism, poverty and police violence, and put forward methods to broaden the movement and win victories.
15-year-old Cameron Sterling could not hold back sobs as he spoke after the death of his father. Alton Sterling was killed by law enforcement officers in Baton Rouge, Louisiana on 5 July while selling CDs outside a convenience store.
Alton's death, and Cameron's reaction at the press conference the following day, are stark reminders of what it means to be black in the United States today. Alton's death is painfully reminiscent of Eric Garner's death on the street in Staten Island, New York on 17 July 2014, killed by a police officer using an illegal choke hold.
Within 24 hours of this, in Falcon Heights, Minnesota, police stopped Philando Castile - along with his girlfriend and four-year-old daughter - for a busted tail light. Philando would be shot four times as he reached for his licence.
Philando Castile died in the back seat of his car. His death was live streamed by his brave girlfriend, Diamond Reynolds, to show the world he was innocent. Diamond was held overnight in police custody - without food or access to her traumatised daughter - after the murder of her boyfriend.
This injustice was correctly met with mass protests and direct action that Socialist Alternative members participated in.
The killings of Alton and Philando sadly confirm the reality described in the remarkable speech by actor and activist Jesse Williams at the recent Black Entertainment Television Awards - police terror and systemic racism in society.
The recent acquittals of the Baltimore police officers in the Freddy Gray case, and non-indictment decision in the Jamar Clarke case, have confirmed for this generation that the US criminal justice system is rigged against workers and people of colour. There is one set of laws for the super-rich, like Hillary Clinton and Donald Trump, and another set of laws for black workers and youth.
The two rebellions in Ferguson and Baltimore in 2014 and 2015 respectively rocked the very core of US society. Hundreds of thousands of young people and black workers expressed their rage at law enforcement, the political establishment, and what has become known as the 'black mis-leadership class'.
Legislation
Over 40 bills were introduced to curb police terror and enhance accountability to the community. The Department of Justice and President Obama's 'Task Force on 21st Century Policing' reports acknowledged the numerous violations and police misconduct across the US. Yet the racist police murders, mass incarceration, militarisation of the police and rampant economic injustices continue.
Louisiana's state governor, Democrat John Bel Edwards, has signed the "Blue Lives Matter" bill into law. This makes the state the first in the US where police are protected under hate-crime legislation.
As USA Today highlighted over a year ago, "President Obama has signed into law a measure that will require instant nationwide 'Blue Alerts' to warn about threats to police officers and help track down the suspects who carry them out." City, state and federal governments fortify the 'blue wall' with militarised law enforcement that mainly serves to protect the property, prestige and power of the super-rich 1%.
Since Ferguson and Baltimore, there's a heightened class and racial polarisation, along with a developing anti-establishment mood, due to the crisis of capitalism.
Donald Trump has been whipping up racism with his rhetoric. Hillary Clinton defends the policies of her husband that led to mass incarceration and more militarised police. The times we are living through demand a concerted effort to challenge the system of capitalism and racism head on.
In several cities around the country, there were protests to express utter rage at the police killings in Baton Rouge and Falcon Heights. In Dallas, Texas, at a peaceful march, snipers fired on police, killing five and injuring seven.
We oppose terrorist methods. As well as rightly repelling the majority of workers, they have historically been shown to be a failed method of fighting oppression.
Capitalism can more easily drum up support for the oppressive institutions of the state when tragedies like the murders of random law enforcement officers take place. Workers' civil liberties and human rights will be further undermined by the state under the cover of pursuing the suspects.
These acts can and will have a negative effect on the Black Lives Matter banner, putting the struggle against police terror on the defensive, and further criminalising the movement and its activists. The deaths of New York police officers Rafael Ramos and Wenjian Liu in December 2015 brought Black Lives Matter protests to a halt, and allowed the right to viciously attack the movement.
To win victories against racism and poverty, we need mass demonstrations and a political alternative. Union leaders should support Black Lives Matter in more than just words - by mobilising their members to attend protests. This must connect the fight against police violence to the struggles for good jobs and pay, health care, education and public services.
Movement
Shanelle Matthews, director of communications for the 'Black Lives Matter Network', stated recently: "We're decentralised, and all of the chapters work autonomously." Police killings place an urgency to centralise and coordinate our movement's actions, ideas, and message. Especially since the corporate media, the two parties of big business, and law enforcement will go on the offensive after Dallas.
A united working class movement, using the methods of mass protests, civil disobedience and strikes, based on demands to end institutional racism and guarantee decent jobs and homes - and free health care and education - for all, will be most effective in fighting racial and class oppression.
As we approach the Democrats' and Republicans' annual conferences, we need a massive mobilisation. This must highlight police terror, the inability of the Wall Street agenda to solve workers' problems, and the role of both parties in the rise of the prison state and endemic inequality.
Our movement should prepare for marches and possible Occupy-style actions in Washington, DC, to demand justice for all victims of police terror as we head towards the general election in November.
The time is now!
Read more at socialistalternative.org
---
In this issue
---
Socialist Party news and analysis

Child poverty rises by 200,000 in a year

Welsh Assembly to scrap 'right to buy'

Nine-month prison sentence for fleeing ethnic cleansing

HSBC jailbreak

Rail fail

What we saw: Angela Eagle Facebook meme

Them & Us
---
Fighting racism

Fight racism: for jobs, homes and services for all

Police racism still lethal in Britain

Majority support migrants staying - fight hate crime
---
What we think

Step up the campaign to back Corbyn's fight

Tory coronation is attempt at stability that can't work
---
Chilcot report

Chilcot Iraq report: More piles of evidence against the blood-soaked war for oil
---
Socialist Party workplace news

Angry prison officers walk out over reforms

New threat to impose junior doctors contract must be met with strike action

Vote Chas Berry for Napo national chair

Unite policy conference 2016: Blairite coup, Trident and cuts dominate opening days

Workplace news in brief
---
International socialist news and analysis

Spain: Disappointment for left in re-run general election

CWI in brief
---
Socialist Party reports and campaigns

Thousands mobilising to #KeepCorbyn

Why I joined: "I no longer felt isolated from politics"

Fight back is on to save NHS heart services

Sales of the Socialist through the roof since the referendum
---
Home | The Socialist 13 July 2016 | Join the Socialist Party