The Socialist 13 July 2016
Organise the resistance: fight the Tories and the Blairites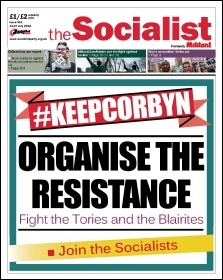 ---
Child poverty rises by 200,000 in a year
Welsh Assembly to scrap 'right to buy'
Nine-month prison sentence for fleeing ethnic cleansing
What we saw: Angela Eagle Facebook meme
---
Fight racism: for jobs, homes and services for all
Police racism still lethal in Britain
Majority support migrants staying - fight hate crime
---
Step up the campaign to back Corbyn's fight
Tory coronation is attempt at stability that can't work
---
Chilcot Iraq report: More piles of evidence against the blood-soaked war for oil
---
Angry prison officers walk out over reforms
New threat to impose junior doctors contract must be met with strike action
Vote Chas Berry for Napo national chair
Unite policy conference 2016: Blairite coup, Trident and cuts dominate opening days
---
Spain: Disappointment for left in re-run general election
---
Thousands mobilising to #KeepCorbyn
Why I joined: "I no longer felt isolated from politics"
Fight back is on to save NHS heart services
Sales of the Socialist through the roof since the referendum
PO Box 1398, Enfield EN1 9GT
020 8988 8777

Link to this page: https://www.socialistparty.org.uk/issue/910/23225
Home | The Socialist 13 July 2016 | Join the Socialist Party
Subscribe | Donate | Audio | PDF | ebook
Police racism still lethal in Britain
James Ivens
A storm of proud fury swept through Brixton, south London on 9 and 10 July as hundreds marched against police racism. 3,000 followed in Manchester on 11 July. Other cities plan to join them.
The latest racist police killings in the US, on 5 and 6 July, inspired the protest. But in the UK just the week before, hate-crime monitor Tell Mama reported that anti-Muslim incidents rose 326% in 2015. Marchers were clear they were marching against racism at home as well as abroad.
As recently as 2014, Metropolitan Police shot dead a black man, Jermaine Baker. Their killing of Mark Duggan in 2011 initiated the London riots. UK police are disproportionately likely to kill black and Asian people in custody or shootings, according to Advocacy group Inquest.
Last year, the Independent found almost all forces are still many times more likely to stop and search black people. In London, black people are three times more likely to face searches than white people - in Dorset, 17.5 times more likely.
Meanwhile, unemployment and poverty are still markedly higher in black and Asian communities.
The rhetoric and policies of both the official Leave and Remain camps in the EU referendum have exacerbated racist division. But clearly, racism rose aggressively well before the vote to leave, and is not limited to EU migrants.
The 9 July Brixton demonstration heard from a series of impassioned black speakers. Many called for an end to austerity and building of council homes. The Socialist Party supports these demands, and spoke to protesters about the fight to defend Jeremy Corbyn's anti-austerity Labour leadership.
Deep sadness mixed with fiery defiance as the demonstration took to the streets. A second rally took place on the steps of Brixton police station, home to a number of horrific black deaths in custody.
Cops in Brixton were also responsible for shooting a blameless black mother, Cherry Groce, and then attacking the resulting protest. This sparked the 1985 Brixton riots.
Bus drivers, most of them black, honked and cheered as the march stopped traffic. A black firefighter high-fived protesters from the window of her returning fire engine. At its peak, around a thousand were marching and chanting "No justice, no peace - no racist police!"
The demonstration held the five-way junction off Windrush Square, chanting: "Are any of us going to get arrested today? No! Do they have any reason to arrest us? No!" Police stood aside helplessly.
This resolute and dynamic protest, matched by the march the next day, was essential to boosting confidence and expressing anger. The Socialist Party links this to the need for democratic community control over police policy and hiring.
The capitalists and their politicians rely on racism, among other things, to keep workers divided. As Malcolm X explained, "you can't have capitalism without racism."
Join the Socialist Party to fight for a society free from discrimination and oppression, run democratically in the interests of the 99%.
---
In this issue
---
Socialist Party news and analysis

Child poverty rises by 200,000 in a year

Welsh Assembly to scrap 'right to buy'

Nine-month prison sentence for fleeing ethnic cleansing

HSBC jailbreak

Rail fail

What we saw: Angela Eagle Facebook meme

Them & Us
---
Fighting racism

Fight racism: for jobs, homes and services for all

Police racism still lethal in Britain

Majority support migrants staying - fight hate crime
---
What we think

Step up the campaign to back Corbyn's fight

Tory coronation is attempt at stability that can't work
---
Chilcot report

Chilcot Iraq report: More piles of evidence against the blood-soaked war for oil
---
Socialist Party workplace news

Angry prison officers walk out over reforms

New threat to impose junior doctors contract must be met with strike action

Vote Chas Berry for Napo national chair

Unite policy conference 2016: Blairite coup, Trident and cuts dominate opening days

Workplace news in brief
---
International socialist news and analysis

Spain: Disappointment for left in re-run general election

CWI in brief
---
Socialist Party reports and campaigns

Thousands mobilising to #KeepCorbyn

Why I joined: "I no longer felt isolated from politics"

Fight back is on to save NHS heart services

Sales of the Socialist through the roof since the referendum
---
Home | The Socialist 13 July 2016 | Join the Socialist Party