The Socialist 24 August 2016
Kick out the Blairites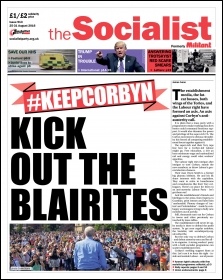 ---
#KeepCorbyn: Answer right's attacks with firm socialist programme
Corbyn union nominations round-up and view from the workplace
#KeepCorbyn: huge support at rallies and among Labour rank and file
---
Black footballer's taser death: stop police racism now
Pay still below pre-crisis levels
Train fares to rise again - nationalise railways now!
£500m on civil service redundancies in two years
---
Trump in trouble - political polarisation deepens
---
Readers respond to Trotskyist red scare smears by capitalist media
Would you call G4S for help over discrimination?
---
Deliveroo strike action forces bosses to back down
Junior doctors set for further strike action
A day in the life of a call centre worker
---
The threat of private health insurance
Organise against secretive NHS cuts plans
---
Greenwich council tenants: We won't pay! We won't move!
Local estate agents back Butterfields tenants
Nottinghamshire Pride makes history
Immingham residents' housing battle
PO Box 24697, London, E11 1YD
020 8988 8777
editors@socialistparty.org.uk
Socialist readers' comments




LATEST POSTS

WHAT'S ON

CONTACT US
Locate your nearest Socialist Party branch Text your name and postcode to 07761 818 206
Regional Socialist Party organisers:
Eastern: 0798 202 1969
East Mids: 0773 797 8057
London: 020 8988 8786
North East: 0191 421 6230
North West 07769 611 320
South East: 020 8988 8777
South West: 07759 796 478
Southern: 07833 681910
Wales: 07935 391 947
West Mids: 02476 555 620
Yorkshire: 0114 264 6551

ABOUT US

ARCHIVE
---

2017

2016

2015

2014

2013

2012

2011

2010

2009

2008

2007

2006

2005

2004

2003

2002

2001

2000

1999