The Socialist 14 September 2016
#KeepCorbyn: Fight workhouse conditions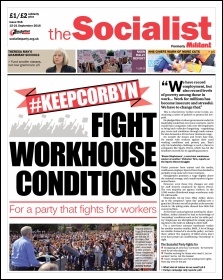 ---
Labour party needs democratic structures and socialist policies
---
#KeepCorbyn: Fight workhouse conditions
NHS chiefs warn cuts mean rationing or charges
Fund smaller classes - not new grammars
Benefit cap could shut 67% of women's refuges
---
New 'strongman' president threatens martial law - while leaning on left parties for support
---
Obesity crisis: government strategy offers no solution
---
Westbourne Park bus dispute continues
NSSN lobby of the TUC: an urgent time for our movement
Library workers defeat Tory cuts
Thousands of Post Office workers to strike against job losses
---
Why you should become a socialist student!
Students and workers unite to cut rents
Why I joined the Socialist Party
Join the Socialist Party - join the fightback
---
Fighting fascism with motorbike stunts
---
Labour loses byelection but Corbyn isn't the problem
Protest against closure of vital heart unit
Socialist Party members join disability rights week of action
PO Box 1398, Enfield EN1 9GT
020 8988 8777

Link to this page: https://www.socialistparty.org.uk/issue/916/23535
Home | The Socialist 14 September 2016 | Join the Socialist Party
Subscribe | Donate | Audio | PDF | ebook
Protest against closure of vital heart unit in Leicester
Michael Barker, Leicester Socialist Party
The NHS is in crisis and there can be little doubt that it is all because our government refuses to fund it properly.
Estimates suggest there will be a £22 billion funding gap by 2020, while current proposed cuts already mean that local hospitals face losing £451 million from their annual budget, with the threatened closure of the A&E at Leicester General Hospital looming on the horizon.
As part of this ongoing programme of cuts, NHS England is presently attempting to close down three heart units across the country - one in Leicester, one in London, and another in Manchester.
Government officials tasked with stealing our services try to dress up their attacks as help, saying they will improve service provision. But everyone can see through this shallow lie.
On 10 September, over a hundred people marched up and down Belgrave Road for over an hour demanding that the government leave our city's vital heart unit at Glenfield hospital alone.
Fight
Sadly, this is not the first time that the people of Leicester have had to fight to save Glenfield heart unit. The protest was organised by 18-year-old Ria Pahwa, who had organised an identical protest almost exactly four years ago. In that instance the popular campaign to oppose the closure of Leicester's heart unit repelled the government's attack, and so yet again we must make sure we succeed.
Like last time round, the so-called consultation is attempting to pit different heart units against each other. Therefore, it is clear that to be successful the campaign must continue to oppose the closure of any heart units. The NHS must be taken out of the hands of private profiteers and completely renationalised as a more lasting solution. In this way our health services can be funded properly, and allowed to grow, not shrink.
We distributed leaflets advertising a public meeting on 24 September at the Leicester Adult Education Centre, LE1 6HL from 2pm to 4pm. This will then be used as a stepping stone to building for a rally in Leicester on 29 October to make sure that the government gets the message that the people of Leicester will not take its brutal cuts agenda laying down!
In the meantime sign and share the online petition; over 28,000 people have signed already: https://petition.parliament.uk/petitions/160455
---
This version of this article was first posted on the Socialist Party website on 13 September 2016 and may vary slightly from the version subsequently printed in The Socialist.
---
In this issue
---
What we think

Labour party needs democratic structures and socialist policies
---
Socialist Party news and analysis

#KeepCorbyn: Fight workhouse conditions

NHS chiefs warn cuts mean rationing or charges

Fund smaller classes - not new grammars

Benefit cap could shut 67% of women's refuges

Them & Us

What We Saw
---
International socialist news and analysis

New 'strongman' president threatens martial law - while leaning on left parties for support

International news in brief
---
Socialist Party feature

Obesity crisis: government strategy offers no solution
---
Workplace news and analysis

Westbourne Park bus dispute continues

NSSN lobby of the TUC: an urgent time for our movement

Library workers defeat Tory cuts

Thousands of Post Office workers to strike against job losses

Southern Rail dispute update

Workplace news in brief
---
Socialist Party youth and students

Why you should become a socialist student!

Students and workers unite to cut rents

Why I joined the Socialist Party

Join the Socialist Party - join the fightback
---
Socialist readers' comments and reviews

Fighting fascism with motorbike stunts

The Socialist inbox
---
Socialist Party reports and campaigns

Labour loses byelection but Corbyn isn't the problem

Protest against closure of vital heart unit

Socialist Party members join disability rights week of action

#KeepCorbyn
---
Home | The Socialist 14 September 2016 | Join the Socialist Party