The Socialist 14 September 2016
#KeepCorbyn: Fight workhouse conditions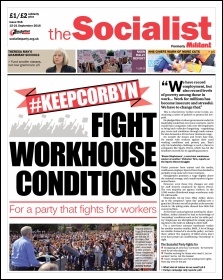 ---
Labour party needs democratic structures and socialist policies
---
#KeepCorbyn: Fight workhouse conditions
NHS chiefs warn cuts mean rationing or charges
Fund smaller classes - not new grammars
Benefit cap could shut 67% of women's refuges
---
New 'strongman' president threatens martial law - while leaning on left parties for support
---
Obesity crisis: government strategy offers no solution
---
Westbourne Park bus dispute continues
NSSN lobby of the TUC: an urgent time for our movement
Library workers defeat Tory cuts
Thousands of Post Office workers to strike against job losses
---
Why you should become a socialist student!
Students and workers unite to cut rents
Why I joined the Socialist Party
Join the Socialist Party - join the fightback
---
Fighting fascism with motorbike stunts
---
Labour loses byelection but Corbyn isn't the problem
Protest against closure of vital heart unit
Socialist Party members join disability rights week of action
PO Box 1398, Enfield EN1 9GT
020 8988 8777

Link to this page: https://www.socialistparty.org.uk/issue/916/23546
Home | The Socialist 14 September 2016 | Join the Socialist Party
Subscribe | Donate | Audio | PDF | ebook
Them & Us
1% owns 23%
The richest 1% in the UK own over 28 times as much as the poorest 20%.
The latest figures from Oxfam show Britain's bottom 13 million hold just 0.8% of the country's wealth. The top 634,000 have 23%.
The charity suggests this was a major contributing factor in the working class revolt that delivered the Brexit vote. The Socialist called this months before the referendum, and Jeremy Corbyn rightly acknowledged it immediately after.
Oxfam's proposals include limiting the pay ratio between workers and executives, and tackling tax dodging. Not a bad start. They also want workers on boards, and incentives to train us for better-paid jobs.
But just one worker in a privately owned boardroom stuffed with capitalists will change very little. We say: nationalise the top companies under the elected control and management of workers and service users.
And absolutely fund education and training. But we still need a living wage for all workers at all levels.
Zero-hour zoom
Meanwhile, the official number of workers on zero-hour contracts has zoomed up 20% in just a year.
The Office for National Statistics says 903,000 workers are now on zero-hour contracts. Many more will be on contracts with insufficient guaranteed hours, or other casual arrangements.
Some of the reported increase will be down to more workers understanding what zero-hour contracts are. They have been widespread for many years in catering and retail. Care is rife with them. Increasingly the public sector uses them too.
In reality, millions of workers could be on zero-hour or near-zero-hour conditions.
31% of zero-hour workers said they wanted more hours, compared with 10% on other contracts.
The Trade Union Congress has found that the median hourly rate for a zero-hour worker is £7.25. The national average is £11.05. That's more than a third less.
---
In this issue
---
What we think

Labour party needs democratic structures and socialist policies
---
Socialist Party news and analysis

#KeepCorbyn: Fight workhouse conditions

NHS chiefs warn cuts mean rationing or charges

Fund smaller classes - not new grammars

Benefit cap could shut 67% of women's refuges

Them & Us

What We Saw
---
International socialist news and analysis

New 'strongman' president threatens martial law - while leaning on left parties for support

International news in brief
---
Socialist Party feature

Obesity crisis: government strategy offers no solution
---
Workplace news and analysis

Westbourne Park bus dispute continues

NSSN lobby of the TUC: an urgent time for our movement

Library workers defeat Tory cuts

Thousands of Post Office workers to strike against job losses

Southern Rail dispute update

Workplace news in brief
---
Socialist Party youth and students

Why you should become a socialist student!

Students and workers unite to cut rents

Why I joined the Socialist Party

Join the Socialist Party - join the fightback
---
Socialist readers' comments and reviews

Fighting fascism with motorbike stunts

The Socialist inbox
---
Socialist Party reports and campaigns

Labour loses byelection but Corbyn isn't the problem

Protest against closure of vital heart unit

Socialist Party members join disability rights week of action

#KeepCorbyn
---
Home | The Socialist 14 September 2016 | Join the Socialist Party