The Socialist 14 September 2016
#KeepCorbyn: Fight workhouse conditions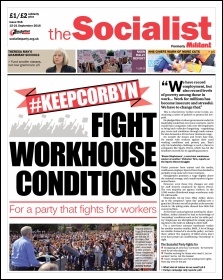 ---
Labour party needs democratic structures and socialist policies
---
#KeepCorbyn: Fight workhouse conditions
NHS chiefs warn cuts mean rationing or charges
Fund smaller classes - not new grammars
Benefit cap could shut 67% of women's refuges
---
New 'strongman' president threatens martial law - while leaning on left parties for support
---
Obesity crisis: government strategy offers no solution
---
Westbourne Park bus dispute continues
NSSN lobby of the TUC: an urgent time for our movement
Library workers defeat Tory cuts
Thousands of Post Office workers to strike against job losses
---
Why you should become a socialist student!
Students and workers unite to cut rents
Why I joined the Socialist Party
Join the Socialist Party - join the fightback
---
Fighting fascism with motorbike stunts
---
Labour loses byelection but Corbyn isn't the problem
Protest against closure of vital heart unit
Socialist Party members join disability rights week of action
PO Box 1398, Enfield EN1 9GT
020 8988 8777

Link to this page: https://www.socialistparty.org.uk/issue/916/23557
Home | The Socialist 14 September 2016 | Join the Socialist Party
Subscribe | Donate | Audio | PDF | ebook
Student housing crisis
Students and workers unite to cut rents
Aidan O'Toole
It's no secret that London house prices and living costs are unaffordable for most working class people. It's also no secret that students have been hammered by successive governments, which have increased tuition fees and axed maintenance grants.
It is of no surprise then that this situation has pushed students at University College London (UCL) to the edge, causing them to organise a rent strike to fight the unaffordable costs of student accommodation.
Student anger was so strong at UCL that over 1,000 students responded to the strike organised by Cut the Rent, which, after a five-month battle, won rent freezes and concessions worth over £1 million. However, the group says that this isn't the end of the campaign and plan to continue fighting for affordable student accommodation.
Rent strike
This successful example of a rent strike has the potential to influence other students to use similar tactics in the future. With the Tories' continuing austerity cuts, student anger is bound to increase.
The National Union of Students (NUS) has said that it would support and give advice to student groups that are looking to take similar actions to UCL students, with the vice principal for welfare expressing her pride for standing alongside the London strikers.
The unaffordable cost of student accommodation isn't only a problem in London. The NUS says the cost of student accommodation nationally has risen by an average of 18% since 2012. This at the same time as students' budgets are becoming tighter and tighter - a catalyst for student anger.
Rent rises rarely, if ever, translate into improved housing. Instead, student accommodation has become a profitable market for companies - like Unite Students, which makes money from squeezing large chunks out of students' maintenance loans.
Socialist Students societies campaigning on the issues of student housing have won important victories. In Coventry two years ago we successfully changed student union policy when students voted overwhelmingly to campaign on student housing issues, particularly over quality, affordability and better regulation.
At York University Socialist Students won a massive victory in gaining a not-for-profit letting agency run by their student union - proving it is possible to provide student accommodation which doesn't just line the pockets of unscrupulous landlords and rogue letting agencies.
Community
The problems students face over housing also impact on wider working class communities. The massive profits landlords can make by renting single rooms to students means that rents have also risen for ordinary families, who can't afford to buy a house.
This has led to families being pushed out of their homes with those houses then being converted to rent for students. Understandably, in areas like Coventry with a big student population, some local residents feel animosity towards students who they blame for the actions of landlords.
However, by actively campaigning on these issues like the UCL students and Socialist Students have done, students can raise awareness of their housing problems. By working with local residents groups, students and workers could get organised and force universities or local authorities to take action.
The Socialist Party calls for a mass house building scheme to tackle the misery working class people have in finding a home. We support Jeremy Corbyn's attacks on the Tories' abysmal house building record and his call for rent control.
---
In this issue
---
What we think

Labour party needs democratic structures and socialist policies
---
Socialist Party news and analysis

#KeepCorbyn: Fight workhouse conditions

NHS chiefs warn cuts mean rationing or charges

Fund smaller classes - not new grammars

Benefit cap could shut 67% of women's refuges

Them & Us

What We Saw
---
International socialist news and analysis

New 'strongman' president threatens martial law - while leaning on left parties for support

International news in brief
---
Socialist Party feature

Obesity crisis: government strategy offers no solution
---
Workplace news and analysis

Westbourne Park bus dispute continues

NSSN lobby of the TUC: an urgent time for our movement

Library workers defeat Tory cuts

Thousands of Post Office workers to strike against job losses

Southern Rail dispute update

Workplace news in brief
---
Socialist Party youth and students

Why you should become a socialist student!

Students and workers unite to cut rents

Why I joined the Socialist Party

Join the Socialist Party - join the fightback
---
Socialist readers' comments and reviews

Fighting fascism with motorbike stunts

The Socialist inbox
---
Socialist Party reports and campaigns

Labour loses byelection but Corbyn isn't the problem

Protest against closure of vital heart unit

Socialist Party members join disability rights week of action

#KeepCorbyn
---
Home | The Socialist 14 September 2016 | Join the Socialist Party