The Socialist 14 September 2016
#KeepCorbyn: Fight workhouse conditions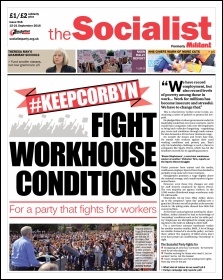 ---
Labour party needs democratic structures and socialist policies
---
#KeepCorbyn: Fight workhouse conditions
NHS chiefs warn cuts mean rationing or charges
Fund smaller classes - not new grammars
Benefit cap could shut 67% of women's refuges
---
New 'strongman' president threatens martial law - while leaning on left parties for support
---
Obesity crisis: government strategy offers no solution
---
Westbourne Park bus dispute continues
NSSN lobby of the TUC: an urgent time for our movement
Library workers defeat Tory cuts
Thousands of Post Office workers to strike against job losses
---
Why you should become a socialist student!
Students and workers unite to cut rents
Why I joined the Socialist Party
Join the Socialist Party - join the fightback
---
Fighting fascism with motorbike stunts
---
Labour loses byelection but Corbyn isn't the problem
Protest against closure of vital heart unit
Socialist Party members join disability rights week of action
PO Box 1398, Enfield EN1 9GT
020 8988 8777

Link to this page: https://www.socialistparty.org.uk/issue/916/23558
Home | The Socialist 14 September 2016 | Join the Socialist Party
Subscribe | Donate | Audio | PDF | ebook
Why I joined the Socialist Party
Ending inequality - bringing about lasting change
Finn Midgley, Sheffield
I've always been into politics, as are my parents who I have political discussions with. My mum is an NHS nurse and she would tell me about how understaffed they were and how private companies were buying it, not to help people but to make money.
I did some research and saw how much inequality there is in Britain and across the world. I started to talk about it at school and have debates with my friends and teachers.
It was the attacks on education and teachers by former Tory minister Michael Gove that made me see first-hand the effects of capitalism and austerity. This encouraged me to find out more and fight back. I came across the Socialist Party at an anti-TTIP (proposed US/EU trade deal) demonstration and gave my contact details.
I was really interested in the Trade Unionist and Socialist Coalition and how the Socialist Party was actively involved in putting across a socialist alternative.
After helping out on a few Socialist Party stalls and campaigning for the junior doctors and against Sports Direct's exploitative practices I decided that the Socialist Party was the right party for bringing about change.
---
In this issue
---
What we think

Labour party needs democratic structures and socialist policies
---
Socialist Party news and analysis

#KeepCorbyn: Fight workhouse conditions

NHS chiefs warn cuts mean rationing or charges

Fund smaller classes - not new grammars

Benefit cap could shut 67% of women's refuges

Them & Us

What We Saw
---
International socialist news and analysis

New 'strongman' president threatens martial law - while leaning on left parties for support

International news in brief
---
Socialist Party feature

Obesity crisis: government strategy offers no solution
---
Workplace news and analysis

Westbourne Park bus dispute continues

NSSN lobby of the TUC: an urgent time for our movement

Library workers defeat Tory cuts

Thousands of Post Office workers to strike against job losses

Southern Rail dispute update

Workplace news in brief
---
Socialist Party youth and students

Why you should become a socialist student!

Students and workers unite to cut rents

Why I joined the Socialist Party

Join the Socialist Party - join the fightback
---
Socialist readers' comments and reviews

Fighting fascism with motorbike stunts

The Socialist inbox
---
Socialist Party reports and campaigns

Labour loses byelection but Corbyn isn't the problem

Protest against closure of vital heart unit

Socialist Party members join disability rights week of action

#KeepCorbyn
---
Home | The Socialist 14 September 2016 | Join the Socialist Party