The Socialist 14 September 2016
#KeepCorbyn: Fight workhouse conditions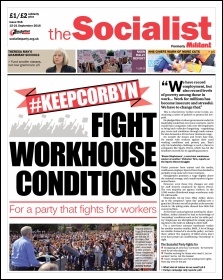 ---
Labour party needs democratic structures and socialist policies
---
#KeepCorbyn: Fight workhouse conditions
NHS chiefs warn cuts mean rationing or charges
Fund smaller classes - not new grammars
Benefit cap could shut 67% of women's refuges
---
New 'strongman' president threatens martial law - while leaning on left parties for support
---
Obesity crisis: government strategy offers no solution
---
Westbourne Park bus dispute continues
NSSN lobby of the TUC: an urgent time for our movement
Library workers defeat Tory cuts
Thousands of Post Office workers to strike against job losses
---
Why you should become a socialist student!
Students and workers unite to cut rents
Why I joined the Socialist Party
Join the Socialist Party - join the fightback
---
Fighting fascism with motorbike stunts
---
Labour loses byelection but Corbyn isn't the problem
Protest against closure of vital heart unit
Socialist Party members join disability rights week of action
PO Box 1398, Enfield EN1 9GT
020 8988 8777

Link to this page: https://www.socialistparty.org.uk/issue/916/23563
Home | The Socialist 14 September 2016 | Join the Socialist Party
Subscribe | Donate | Audio | PDF | ebook
The Socialist inbox
Do you have something to say?
Send your news, views and criticism in not more than 150 words to Socialist Postbox, PO Box 24697, London E11 1YD, phone 020 8988 8771 or email [email protected]
We reserve the right to shorten and edit letters. Don't forget to give your name, address and phone number.
Confidentiality will be respected if requested. Views of letter writers do not necessarily match those of the Socialist Party.
---
Marathon money
I ran the Great North Run half marathon on 11 September, and will run the Leicester Marathon on 23 October.
It will be my first marathon and I will be 64 years of age. Recently I wrote an article about why I became a socialist, and joined Militant aged 17.
The Socialist Party needs money to campaign against austerity and develop the struggle for socialism. I'm hoping my efforts will inspire people to donate to the fighting fund.
You can donate online at socialistparty.org.uk/donate. Please put 'Heather Rawling marathon' in the comment so we know how much was raised.
Heather Rawling, Leicester Socialist Party
---
Sarah Picton
It's with sadness we have to announce the death of Sarah Picton.
Sarah was an avid campaigner for the underprivileged in society, in Chesterfield and beyond.
Her experience of blindness, together with her husband, Socialist Party member Adrian, made her a determined advocate for people with disabilities. Sarah also had the distinction of winning the first ever Chesterfield Socialist Party quiz.
She will be widely missed. Our thoughts are with Adrian and the family.
Dave Gorton, Chesterfield Socialist Party
---
In this issue
---
What we think

Labour party needs democratic structures and socialist policies
---
Socialist Party news and analysis

#KeepCorbyn: Fight workhouse conditions

NHS chiefs warn cuts mean rationing or charges

Fund smaller classes - not new grammars

Benefit cap could shut 67% of women's refuges

Them & Us

What We Saw
---
International socialist news and analysis

New 'strongman' president threatens martial law - while leaning on left parties for support

International news in brief
---
Socialist Party feature

Obesity crisis: government strategy offers no solution
---
Workplace news and analysis

Westbourne Park bus dispute continues

NSSN lobby of the TUC: an urgent time for our movement

Library workers defeat Tory cuts

Thousands of Post Office workers to strike against job losses

Southern Rail dispute update

Workplace news in brief
---
Socialist Party youth and students

Why you should become a socialist student!

Students and workers unite to cut rents

Why I joined the Socialist Party

Join the Socialist Party - join the fightback
---
Socialist readers' comments and reviews

Fighting fascism with motorbike stunts

The Socialist inbox
---
Socialist Party reports and campaigns

Labour loses byelection but Corbyn isn't the problem

Protest against closure of vital heart unit

Socialist Party members join disability rights week of action

#KeepCorbyn
---
Home | The Socialist 14 September 2016 | Join the Socialist Party