The Socialist 16 November 2016
It's Socialism or Trumpism - build a socialist alternative to defeat the right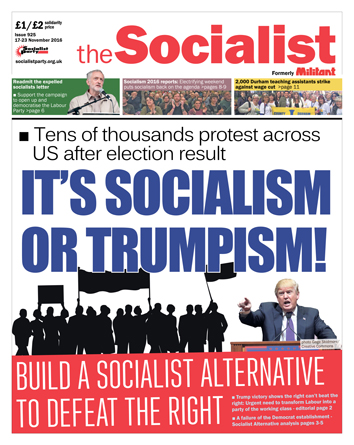 ---
Trump victory: Failure of the Democrat establishment
Lessons for Britain: Trump victory shows the right can't beat the right
---
Socialism 2016: Electrifying and powerful weekend puts socialism on the agenda
---
Mass prison officer walkout over health and safety
Durham teaching assistants strike: 2,000 walk out
London Underground: RMT wins victory
Steel workers' pensions under threat again
Deliveroo couriers get organised
---
Support the campaign to readmit expelled socialists
Secret hospital closures: bosses must come clean
£1.5trn household debt - nationalise the banks!
Court win against bedroom tax not enough
---
Students and workers unite and fight!
---
Privatisation and the 'race to the bottom'
---
Southampton Labour must bin Tory cuts!
Cumbria: Stop axing care home places
TUSC vindicated in censorship protest
Bristol campaigners demand anti-austerity alternative
---
A Street Cat Named Bob: tale of neglect by capitalism
PO Box 1398, Enfield EN1 9GT
020 8988 8777
editors@socialistparty.org.uk

Link to this page: https://www.socialistparty.org.uk/issue/925/23961
Home | The Socialist 16 November 2016 | Join the Socialist Party
Subscribe | Donate | Audio | PDF | ebook
Support the campaign to readmit expelled socialists
Hannah Sell, Socialist Party deputy general secretary
75 socialists, with more than a thousand years' membership of the Labour Party between them, have collectively applied to the Labour Party's national executive committee (NEC) to be readmitted.
As our letter to the NEC states: "We are socialists, trade unionists, working class community activists and young people who have been expelled or otherwise excluded from the Labour Party because of our socialist ideas."
Among the 75 are members of the Militant editorial board, including Peter Taaffe, now general secretary of the Socialist Party; Tony Mulhearn, one of the leaders of the struggle of Liverpool City Council in the 1980s; Dave Nellist, previously Labour MP for Coventry South East; and Chris Baugh, assistant general secretary of public sector union PCS.
Our application has already been widely reported in the media, including the Guardian, Mirror, Times and BBC. As anticipated, much of the commentary has repeated the old smears.
Kevin Maguire in the Mirror, for example, quoted Peter Taaffe saying "Jeremy [Corbyn] represents a new era: democratic, open and so on." But he then accuses the Militant Tendency of not being "open" or "appearing democratic".
However, it is precisely because of our open and very democratic approach, today and in the past, that Socialist Party members are participating in this joint application.
It explains that "because many of us who found ourselves outside the Labour Party rightly continued the struggle for socialism through membership of other organisations, we know that our applications for readmittance will be denounced by the establishment media as 'left-wing infiltration'.
"But we have no wish to hide our background. We urge the NEC to boldly undercut the media's attack, not only by admitting us into membership as individuals, but by deciding favourably on requests for affiliation from any socialist organisation that so applies."
Corbyn
The election of Jeremy Corbyn as Labour leader represents an opportunity for the Labour Party to be rebuilt as a clearly anti-austerity, socialist party, with an open and democratic structure.
However, it is clear that the Blairites remain determined to return Labour to being a pro-capitalist and pro-austerity party - and therefore to undermine and, when possible, remove Jeremy Corbyn.
There is a real danger that, on the basis of further compromises and retreats in a vain attempt to pacify the right, the opportunity to change Labour could be wasted.
We are campaigning for the Labour Party NEC to support our application when it meets on 22 November. We call on all trade unionists and socialists to campaign in our support in order to strengthen the struggle for a socialist Labour Party.
When asked about our application on the Andrew Marr show, Jeremy Corbyn pointed out it was a matter for the NEC, and would depend whether the individuals concerned were members of a "proscribed organisation".
However, the very notion of 'proscribed organisations' sprang from the witch-hunt against the left in the past, which Jeremy rightly and trenchantly opposed. We call on all lefts on the NEC, including Jeremy, to support our application.
In the few days since it has been launched, over 300 trade unionists and Labour Party members have signed the petition (all in a personal capacity) to support the application.
They include Janice Godrich, PCS president; John McInally, PCS vice-president; Fran Heathcote, Katrine Williams and Marion Lloyd, PCS NEC; John Reid, transport union RMT NEC; Suzanne Muna, general union Unite NEC; Jane Nellist and Simon Murch, teachers' union NUT NEC; and Ian Hodson, bakers' union BFAWU president.
Please add your signature and urge others to do the same. If you are in Labour affiliated union, urge any representatives your union has on the Labour NEC to support us.
For the full text of our application, the petition, and more detail on who has supported it so far, click here
---
In this issue
---
It's Socialism or Trumpism

Trump victory: Failure of the Democrat establishment

Lessons for Britain: Trump victory shows the right can't beat the right
---
Socialism 2016

Socialism 2016: Electrifying and powerful weekend puts socialism on the agenda
---
Socialist Party workplace news

Mass prison officer walkout over health and safety

Durham teaching assistants strike: 2,000 walk out

London Underground: RMT wins victory

Steel workers' pensions under threat again

Deliveroo couriers get organised

Workplace news in brief
---
Socialist Party news and analysis

Support the campaign to readmit expelled socialists

Secret hospital closures: bosses must come clean

£1.5trn household debt - nationalise the banks!

Court win against bedroom tax not enough

Super-rich investigated
---
Socialist Party youth and students

Students and workers unite and fight!
---
Privatisation and the 'race to the bottom'

Privatisation and the 'race to the bottom'
---
Socialist Party reports and campaigns

Southampton Labour must bin Tory cuts!

Cumbria: Stop axing care home places

TUSC vindicated in censorship protest

Bristol campaigners demand anti-austerity alternative
---
Socialist readers' comments and reviews

A Street Cat Named Bob: tale of neglect by capitalism

The Socialist Inbox
---
Home | The Socialist 16 November 2016 | Join the Socialist Party