The Socialist 14 December 2016
NHS crisis: we're fighting back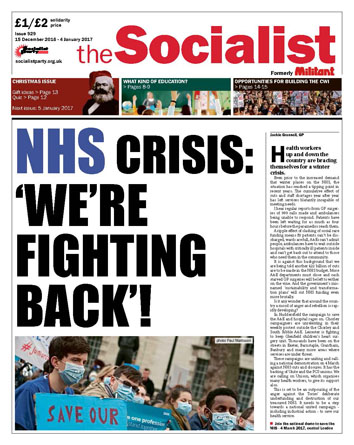 ---
NHS crisis: we're fighting back!
End the Tories' war on the working poor
Amazon workers living in tents
Pfizer drug extortion - nationalise big pharma!
Trust in politicians reaches all-time low
No to home seizures for care bills
---
Establishment EU crisis deepens - fight for a socialist Brexit
---
Education for all - not exam factories
---
CWI: opportunities for substantial growth
---
Glasgow Labour leaders deluged with protests
Victory for UPS parcel workers
Nationalise Tata Steel to save jobs and pensions
Bin workers strike against draconian management
Derby TAs to strike against pay cut
Southern: back the strike, nationalise the railways!
---
Birmingham Labour: Corbyn supporters need not apply
The Socialist Party and fighting women's oppression
Doncaster: cuts give rise to 'tent city'
Scrooge Tory council confronted over treatment of homeless
---
It's the bumper Socialist 2016 quiz!
PO Box 1398, Enfield EN1 9GT
020 8988 8777
editors@socialistparty.org.uk
A socialist programme for education