The Socialist 26 April 2017
Kick out the Tories! Fight the bosses' establishment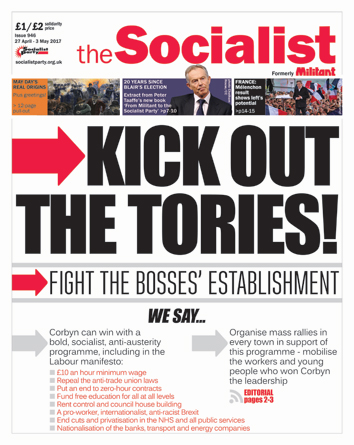 ---
A bold socialist campaign could get rid of the Tories
---
40% of GPs plan to quit - reverse all NHS cuts and sell-offs!
Cuts, profit and bureaucracy lead to 50% rise in mental health deaths
200,000 empty homes - 250,000 homeless - end property speculation
---
---
Mélenchon result shows potential for building a mass left force
---
Strikes can end nurses' poverty pay
Len McCluskey re-election - a defeat for the right
Usdaw ADM 2017: Left challenge needed to end assault on retail jobs and conditions
PCS Left Unity says get rid of the Tories!
BMW strikers determined to win pensions dispute
Forest Hill School demonstration
---
How Blairism sank its claws into the Labour Party
---
Jobstown trial begins - call on Corbyn to support the defendants!
Health Campaigns Together meets to chart the way forward
Protests in solidarity with LGBT+ people facing persecution in Chechnya
Doncaster TUSC: TUSC's programme for local jobs and Services
Peter Taaffe speaks in Birkenhead
East London tenants fight 40% rent hike
---
---
---
PO Box 1398, Enfield EN1 9GT
020 8988 8777