The Socialist 21 June 2017
Capitalism kills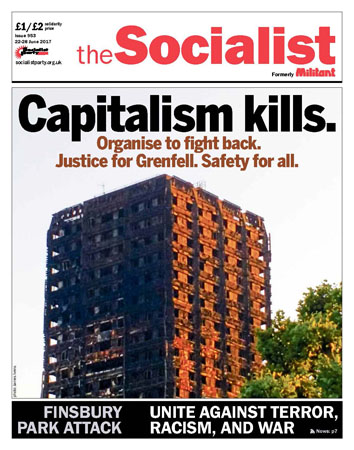 ---
Whole establishment exposed for role in Grenfell fire
Organise: justice for Grenfell and safety for all
Massive failings led to Grenfell Tower fire - Rapid, fully funded action now
Anger and grief on moving Grenfell marches
Unions call for action after Grenfell
---
Tories and May stagger on amid crisis - get them out!
Finsbury Park attack: No to terror, racism, war and austerity!
---
French elections: time to build a fighting left alternative
---
Kick out the Tories to save the NHS!
Inflation: Workers lose out - time for action
Open University facing huge cuts
The have-yachts and the have-nots
---
Jobcentre strike grows in second round of action
BA cabin crew calls two-week walkout over blacklisting accusations
Welsh college strike against crippling workload
Manchester housing maintenance dispute steps up action
Barts Trust NHS workers vote for action over pay
Unison conference: "A sense of change"
Militant mood against college job cuts
NSSN cancels conference to support 'Tories Out' demo
---
The Pentrich uprising: revolution and counter-revolution in 19th century Britain
---
"Austerity hurts and the only alternative is socialism"
---
Protests around the country demand: Tories out!
Young socialists share ideas at London meeting
PO Box 24697, London, E11 1YD
020 8988 8777
editors@socialistparty.org.uk
Socialist readers' comments and reviews




LATEST POSTS

WHAT'S ON

CONTACT US
Locate your nearest Socialist Party branch Text your name and postcode to 07761 818 206
Regional Socialist Party organisers:
Eastern: 0798 202 1969
East Mids: 0773 797 8057
London: 020 8988 8786
North East: 0191 421 6230
North West 07769 611 320
South East: 020 8988 8777
South West: 07759 796 478
Southern: 07833 681910
Wales: 07935 391 947
West Mids: 02476 555 620
Yorkshire: 0114 264 6551

ABOUT US

ARCHIVE
---

2017

2016

2015

2014

2013

2012

2011

2010

2009

2008

2007

2006

2005

2004

2003

2002

2001

2000

1999