The Socialist 26 July 2017
Barts health strike: Low pay, no way!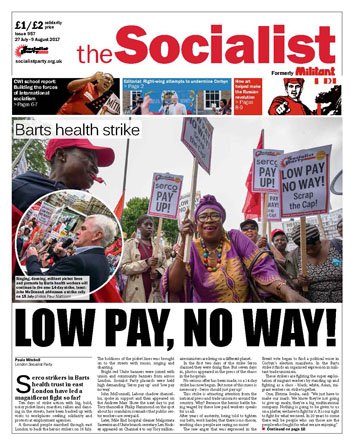 ---
Right wing attempts to use single market against Corbyn
---
Barts health strike: Low pay, no way!
Birmingham bin workers stand firm
Bron Afon workers strike against £3,000 pay cut
Court victory for PCS and all trade unions
Tesco's 10% pay increase accompanied by cuts and job losses
Mears workers escalate action to all-out strike
Workers' campaign underway to stop ward closure
---
Building workers' struggle and the forces of international socialism
---
Abolish tuition fees and student debt!
Education cuts: Tories buckling under public pressure
Homelessness and evictions soar under the Tories
---
Russia 1917: how art helped make the revolution
---
Young people...fight for a future, fight for socialist policies
---
Grenfell survivors tell Tories: "Step down and resign"
Tenants' meeting reveals huge anger
---
Corbyn visits Southampton on marginal seat tour
Huddersfield A&E closure referred to Jeremy Hunt
From Militant to the Socialist Party - what you thought
Socialist sales at Salford station
Street cleaners support the Birmingham bin strike
'Freedom riders' lobby against violent policing
Council meeting abandoned after undercover policing protest
Education cuts forced back in Hackney
Southampton councillors faced with angry anti-cuts campaigners
Plans to bring A-levels back to Knowsley abandoned
PO Box 1398, Enfield EN1 9GT
020 8988 8777