The Socialist 6 December 2017
NHS campaigns stop closures!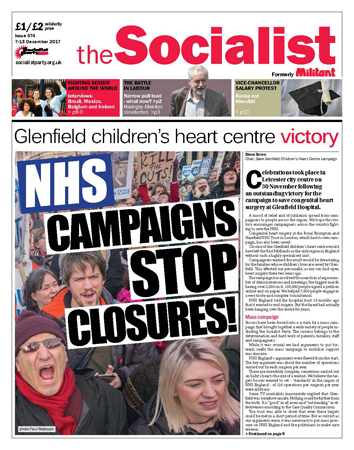 ---
Glenfield victory shows people power can save our NHS
Tyneside walk-in closures postponed after rally
---
Rough sleeping crisis: make homes, not arrests
Royal wedding exposes them-and-us visa system
RBS to sack 1,000: nationalise the banks
Branson sues NHS: kick out the profiteers
---
Fighting sexism, violence and capitalism - an international struggle
---
Corbyn's Labour can defeat Tories with socialist programme
Labour council Blairites deselected
---
Demonstrations by uni students and staff greet Bath vice-chancellor resignation
Liverpool John Moores Uni landslide for Socialist Students
TUSC conference to debate 2018 elections
Plans to launch no-cuts campaign at Kirklees College
Coventry Socialist sales hit 1,000
Waltham Forest Universal Credit protest
Court maintains injunction against fracking protesters
---
Dramatic retelling of Grunwick strike hits all the right notes
Blairite horror and Labour's divisions graphically exposed
Comment: Socialism and truth about Zane
---
PCS Left Unity celebrates 40th anniversary at annual conference
Brutal rail privateer Abellio takes over Midlands rail services
School staff strike against privatisation
Driving examiners walkout hits first day of new test
BT pensions review - oppose the attacks on the pension schemes
Arriva bus strikers stand firm
---
Irish capitalist state: rotten to the core
Mobilise to stop bigoted billionaire Donald Trump's state visit to Britain
Trump's tax plan: Robin Hood in reverse
PO Box 24697, London, E11 1YD
020 8988 8777
editors@socialistparty.org.uk

Link to this page: https://www.socialistparty.org.uk/issue/974/26572
Home | The Socialist 6 December 2017 | Join the Socialist Party
Subscribe | Donate | Audio | PDF | ebook
Rough sleeping crisis: make homes, not arrests
Dave Reid, Socialist Party Wales
The shocking death of a homeless 32-year-old woman who was sleeping in Alexandra Park in Cardiff should have spurred the city council and Welsh government to emergency action to provide accommodation.
Instead the authorities are cracking down on homeless people themselves, in a clampdown called 'Operation Purple Ash'. South Wales Police have started arresting homeless people.
Clearly the sight of dozens begging in the city centre is bad for business in the Christmas shopping season. There was a similar campaign to drive homeless people out of the city centre prior to the Champions League final in June.
Ironically, many of the high street chains who the council and police are assisting by removing homeless people are well-known tax avoiders. So they are refusing to contribute to solving the problem of homelessness.
The clampdown has been accompanied by a media campaign against beggars and homeless people - implying they are responsible for their plight, not the failures of the state. When homeless people are invisible there is little concern about the problem in the media.
People with mental health or drug problems form a high proportion of those forced to live rough. However it is not mental health or drug problems that have increased homelessness, but lack of affordable housing coupled with cuts in housing benefits.
Official figures indicate an increase of 7% sleeping rough in Cardiff in the last year. But surrounding cities and towns report increases of 67 to 93% - which appear more accurate. The sharp rise is in large part caused by government welfare attacks.
Many rely on relatives and friends when they are made homeless and do not appear in any statistics. But an increasing number do not have people to fall back on and find themselves on the streets.
Socialist Party Wales demands immediate steps to solve the crisis:
All homeless people must be guaranteed a roof over their head where they can sleep safely now
The Welsh government should legislate to allow councils to introduce rent caps
Ban letting agency fees
Reverse cuts to social services to assist homeless people into permanent housing and employment
---
In this issue
---
NHS

Glenfield victory shows people power can save our NHS

Tyneside walk-in closures postponed after rally
---
Socialist Party news and analysis

Nationalise rail now

End Tory war on poor

Rough sleeping crisis: make homes, not arrests

Royal wedding exposes them-and-us visa system

RBS to sack 1,000: nationalise the banks

Branson sues NHS: kick out the profiteers
---
Women

Fighting sexism, violence and capitalism - an international struggle
---
What we think

Corbyn's Labour can defeat Tories with socialist programme

Labour council Blairites deselected
---
Socialist Students

Demonstrations by uni students and staff greet Bath vice-chancellor resignation

Liverpool John Moores Uni landslide for Socialist Students

TUSC conference to debate 2018 elections

Plans to launch no-cuts campaign at Kirklees College

Coventry Socialist sales hit 1,000

Waltham Forest Universal Credit protest

Court maintains injunction against fracking protesters
---
Socialist readers' comments and reviews

Dramatic retelling of Grunwick strike hits all the right notes

Blairite horror and Labour's divisions graphically exposed

Comment: Socialism and truth about Zane

The Socialist Inbox
---
Workplace news and analysis

PCS Left Unity celebrates 40th anniversary at annual conference

Brutal rail privateer Abellio takes over Midlands rail services

School staff strike against privatisation

Driving examiners walkout hits first day of new test

BT pensions review - oppose the attacks on the pension schemes

Arriva bus strikers stand firm
---
International socialist news and analysis

Irish capitalist state: rotten to the core

Mobilise to stop bigoted billionaire Donald Trump's state visit to Britain

Trump's tax plan: Robin Hood in reverse
---
Home | The Socialist 6 December 2017 | Join the Socialist Party