The Socialist 3 January 2018
Widening wealth gap, increase in poverty┬ůmake the fat cats pay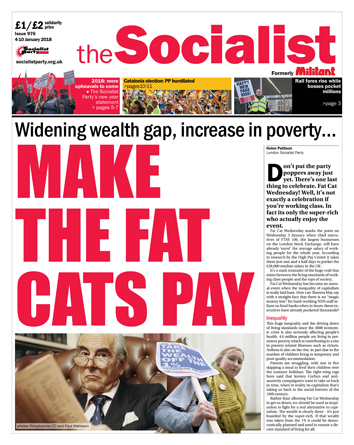 ---
---
Tory prescription for mental illness: stress and bureaucracy
---
Widening wealth gap, increase in poverty...make the fat cats pay
Mobilise against rip-off executive pay
Rail: fares up, bosses' pay up - delays and cancellations up
Thousands live in tents and sheds - seize empty homes
Heart unit rescued by campaigning saves baby with pioneering surgery
NHS in winter crisis as Branson creams off ú1bn
---
Blairite council 'all ears' to rich property developers
Stop the rotten redevelopment plan, demand residents
Housing victory for Sussex students
Leeds: temporary reprieve for playing fields
Bradford protest against children's service cuts
Trade Unionist and Socialist Coalition conference
---
Equal sick pay rights for staff at Charlton Park Academy
Newham: school strike solid against academy
---
Catalan elections: PP humiliated
PO Box 1398, Enfield EN1 9GT
020 8988 8777
editors@socialistparty.org.uk

Link to this page: https://www.socialistparty.org.uk/issue/976/26629
Home | The Socialist 3 January 2018 | Join the Socialist Party
Subscribe | Donate | Audio | PDF | ebook
Blairite Haringey council 'all ears' to rich property developers
Nick Auvache, North London Socialist Party
For those of you who thought that the Blairite zombie rump of Haringey councillors who have been deselected would depart the scene history with their tail between their legs, then think again! Although many arch Blairites have either been defeated in the candidate selection for May 2018's elections, or decided not to stand again, they seem to be hell bent on lining the pockets of as many private developers as possible before they hang up their pens.
Not content with getting into bed with multinational union blacklisters Lend Lease in the notorious Haringey Development Vehicle (HDV) scheme, Haringey council has, this week, given the go ahead to the aptly named FEC (Far East Consortium) to redevelop the historic Hornsey Town Hall.
This will now be turned into, yes you've guessed it ... luxury flats! 146 flats are due to be built on the site but only 11 have been designated as "affordable" under the terms of the plan.
Astonishingly Haringey council has pushed ahead with this project despite the significant opposition to the plans.
An amazing 600 objections were lodged against the plans and public outrage reached such a pitch at the July planning meeting that the Labour councillor chairing the meeting threatened to exclude the public.
One woman present at the meeting neatly summed up the fiasco when she shouted out: "You could do so much better for Haringey. You could build a decent amount of social rented houses, not line the pockets of a tax haven developer."
It seems that the Blairites running Haringey council are deaf to the criticisms of local people but when it comes to rich property developers they are all ears!
All three sitting Labour councillors for the ward where the development is taking place have decided to withdraw as candidates for next year's council elections.
We say good riddance to these Labour councillors who have all welcomed the measly provision of 11 "affordable dwellings".
This will do nothing to alleviate the misery of the 3,000 families on Haringey's housing waiting list but it will do everything to swell the already healthy bank accounts of the fat cat developers.
We are calling on the newly selected anti-HDV Labour candidates to publicly condemn this scheme and commit themselves to a mass council house building programme instead, free from the profiteering of private developers.
We say no to cuts and the selling off of historic buildings for the benefit of private developers.
Jeremy Corbyn should also condemn this scheme as yet another example of social cleansing. He should commit a future Labour government to annulling these schemes but urge Labour local authorities to act now in the interests of the many not the few!
---
This version of this article was first posted on the Socialist Party website on 16 December 2017 and may vary slightly from the version subsequently printed in The Socialist.
---
In this issue
---
New Year statement

2018: more upheavals loom
---
Socialist Party comments and reviews

Tory prescription for mental illness: stress and bureaucracy

The Socialist inbox
---
Socialist Party news and analysis

Widening wealth gap, increase in poverty...make the fat cats pay

Mobilise against rip-off executive pay

Rail: fares up, bosses' pay up - delays and cancellations up

Thousands live in tents and sheds - seize empty homes

Heart unit rescued by campaigning saves baby with pioneering surgery

NHS in winter crisis as Branson creams off ú1bn
---
Socialist Party reports and campaigns

Blairite council 'all ears' to rich property developers

Stop the rotten redevelopment plan, demand residents

Housing victory for Sussex students

Leeds: temporary reprieve for playing fields

Bradford protest against children's service cuts

Trade Unionist and Socialist Coalition conference
---
Socialist Party workplace news

Equal sick pay rights for staff at Charlton Park Academy

Newham: school strike solid against academy

Fire service victory

Leeds college pay protests
---
International socialist news and analysis

Catalan elections: PP humiliated
---
Home | The Socialist 3 January 2018 | Join the Socialist Party