The Socialist 3 January 2018
Widening wealth gap, increase in poverty┬ůmake the fat cats pay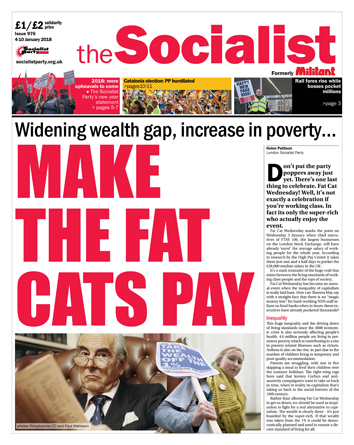 ---
---
Tory prescription for mental illness: stress and bureaucracy
---
Widening wealth gap, increase in poverty...make the fat cats pay
Mobilise against rip-off executive pay
Rail: fares up, bosses' pay up - delays and cancellations up
Thousands live in tents and sheds - seize empty homes
Heart unit rescued by campaigning saves baby with pioneering surgery
NHS in winter crisis as Branson creams off ú1bn
---
Blairite council 'all ears' to rich property developers
Stop the rotten redevelopment plan, demand residents
Housing victory for Sussex students
Leeds: temporary reprieve for playing fields
Bradford protest against children's service cuts
Trade Unionist and Socialist Coalition conference
---
Equal sick pay rights for staff at Charlton Park Academy
Newham: school strike solid against academy
---
Catalan elections: PP humiliated
PO Box 24697, London, E11 1YD
020 8988 8777
editors@socialistparty.org.uk

Link to this page: https://www.socialistparty.org.uk/issue/976/26643
Home | The Socialist 3 January 2018 | Join the Socialist Party
Subscribe | Donate | Audio | PDF | ebook
Fire service staffing victory
At the North Yorkshire Fire Authority meeting on 13 December, the decision was taken unanimously to reverse the decision made three years ago to reduce crewing of 'tactical response vehicles' (TRVs) to just three firefighters. These vehicles will now return to a minimum crew of four.
This is a victory for all those who have been campaigning over this issue for the last two and a half years. Socialist Party members across North Yorkshire played a crucial part in building public opposition to these proposals when they were first announced, particularly in Harrogate where we held stalls alongside local Fire Brigades Union (FBU) activists.
This decision, however, doesn't fully reverse the cuts, as the TRVs themselves were newly introduced in 2015, replacing large, more fully equipped fire engines, as well as following from a reduction of 50 firefighter posts lost between 2010 and 2015.
Nevertheless, FBU members and others involved in the campaign will be celebrating a setback for the austerity agenda in this largely Tory-dominated county.
Iain Dalton, North Yorkshrie Socialist Party organiser
---
In this issue
---
New Year statement

2018: more upheavals loom
---
Socialist Party comments and reviews

Tory prescription for mental illness: stress and bureaucracy

The Socialist inbox
---
Socialist Party news and analysis

Widening wealth gap, increase in poverty...make the fat cats pay

Mobilise against rip-off executive pay

Rail: fares up, bosses' pay up - delays and cancellations up

Thousands live in tents and sheds - seize empty homes

Heart unit rescued by campaigning saves baby with pioneering surgery

NHS in winter crisis as Branson creams off ú1bn
---
Socialist Party reports and campaigns

Blairite council 'all ears' to rich property developers

Stop the rotten redevelopment plan, demand residents

Housing victory for Sussex students

Leeds: temporary reprieve for playing fields

Bradford protest against children's service cuts

Trade Unionist and Socialist Coalition conference
---
Socialist Party workplace news

Equal sick pay rights for staff at Charlton Park Academy

Newham: school strike solid against academy

Fire service victory

Leeds college pay protests
---
International socialist news and analysis

Catalan elections: PP humiliated
---
Home | The Socialist 3 January 2018 | Join the Socialist Party
Related links:

Stop the fire service cuts

Stop the Devon and Somerset fire service cuts

South Yorkshire: No to fire service cuts!

Victory! Campaign reverses fire cuts

Socialist Party argues against fire service cuts at Tyne and Wear consultation

Hackney Socialist Party: Barking fire - two years after Grenfell

Angry Barking residents protest outside sales office

Angry Barking fire victims demand action from landlords and authorities

Angry residents' meeting demands answers and action following fire

Orgreave injustice - 35th anniversary march and rally

South Yorkshire Freedom Riders - still battling on

NHS marches in Yorkshire and London

The Socialist Inbox

Socialist Party Fighting Fund

Harrogate academy workers strike against closure

The Socialist Inbox

Harrogate academy workers strike against cuts

Them & Us

Worcester: Building on our successful library campaign