The Socialist 24 January 2018
Socialist planning needed to end privatisation scam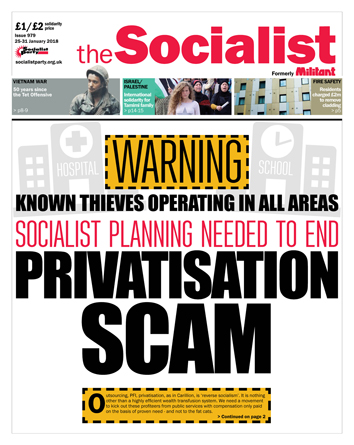 ---
Turn Carillion crisis into movement against privatisation and capitalism
---
Welsh NHS crisis - we cannot go on like this
£2m to remove Grenfell-type cladding: residents to get bill
Leeds playing fields rescued from Blairites
May's "war on plastic" still puts profits before the planet
---
Vietnam War: 50 years since the Tet Offensive
---
Lecturers vote for strikes against pension cuts
PCS executive agrees next steps in pay campaign
Brum care workers protest council attacks
Amy Murphy Usdaw campaign meeting
Ballots against Bromley privatisers
Ferrybridge: Workers down tools over unpaid wages
---
Punishment of Tamimi family awakens wave of international solidarity
---
Defend Louise Harrison - save Yorkshire women's services!
Victory against government's war on eastern European homeless
Gentrification scourge hits Kent
Kirklees council opens consultation of library services
Southampton: Pay rise for uni boss, job losses for lecturers
---
Obituary: Maureen Mulhearn 1945-2018
---
Carillion and the construction industry
Carillion crisis exposes PFI chaos
Universal credit: set up to fail
PO Box 1398, Enfield EN1 9GT
020 8988 8777

Link to this page: https://www.socialistparty.org.uk/issue/979/26756
Home | The Socialist 24 January 2018 | Join the Socialist Party
Subscribe | Donate | Audio | PDF | ebook
Women rally defiantly in London
Socialist Party members attended the Time's Up demo at Downing Street on Sunday 21st January. Amalia, a member of Tower Hamlets Socialist Party, wrote the following report.
Over 1,000 women, of all ages and backgrounds but mainly many young women, defied the cold, the rain and the snow and joined this event.
We ran out of leaflets and received many joining cards [to join the Socialist Party] from women who are angry and frustrated with sexual harassment and sexism but also see how these issues link up with the fight against austerity and the profit driven capitalist system.
The massive 'Women marches' a year ago in the US against Trump quickly became a mass political manifestation against his reactionary agenda.
All around the world, including in London, this mood was reflected by the many thousands of women protesting against sexism and misogyny.
The mass participation of women in #metoo shows how big the problem is. But it has also boosted further women's confidence to fight back.
Many of these women understand that this struggle isn't separate from other struggles against the system.
That cuts and austerity affect women in so many specific ways. That we still need to fight for our right not to be harassed, for equal pay, for decent public services.
That in order to truly fight against oppression we need to fight for a different society and get rid of this profit driven system that thrives on keeping us divided.
---
This version of this article was first posted on the Socialist Party website on 22 January 2018 and may vary slightly from the version subsequently printed in The Socialist.
---
In this issue
---
What we think

Turn Carillion crisis into movement against privatisation and capitalism
---
Socialist Party news and analysis

Welsh NHS crisis - we cannot go on like this

£2m to remove Grenfell-type cladding: residents to get bill

Private profit out of our NHS

Leeds playing fields rescued from Blairites

May's "war on plastic" still puts profits before the planet

News in brief
---
Vietnam war

Vietnam War: 50 years since the Tet Offensive
---
Socialist Party workplace news

Lecturers vote for strikes against pension cuts

PCS executive agrees next steps in pay campaign

Brum care workers protest council attacks

Amy Murphy Usdaw campaign meeting

Ballots against Bromley privatisers

Ferrybridge: Workers down tools over unpaid wages
---
International socialist news and analysis

Punishment of Tamimi family awakens wave of international solidarity
---
Socialist Party reports and campaigns

Defend Louise Harrison - save Yorkshire women's services!

Victory against government's war on eastern European homeless

Women rally defiantly

Gentrification scourge hits Kent

Kirklees council opens consultation of library services

Southampton: Pay rise for uni boss, job losses for lecturers
---
Obituaries

Red Mary - a Force of Nature

Obituary: Maureen Mulhearn 1945-2018
---
Opinion

Carillion and the construction industry

Carillion crisis exposes PFI chaos

Universal credit: set up to fail

The Socialist inbox
---
Home | The Socialist 24 January 2018 | Join the Socialist Party