The Socialist 24 January 2018
Socialist planning needed to end privatisation scam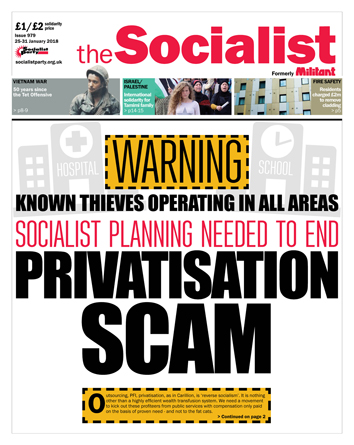 ---
Turn Carillion crisis into movement against privatisation and capitalism
---
Welsh NHS crisis - we cannot go on like this
£2m to remove Grenfell-type cladding: residents to get bill
Leeds playing fields rescued from Blairites
May's "war on plastic" still puts profits before the planet
---
Vietnam War: 50 years since the Tet Offensive
---
Lecturers vote for strikes against pension cuts
PCS executive agrees next steps in pay campaign
Brum care workers protest council attacks
Amy Murphy Usdaw campaign meeting
Ballots against Bromley privatisers
Ferrybridge: Workers down tools over unpaid wages
---
Punishment of Tamimi family awakens wave of international solidarity
---
Defend Louise Harrison - save Yorkshire women's services!
Victory against government's war on eastern European homeless
Gentrification scourge hits Kent
Kirklees council opens consultation of library services
Southampton: Pay rise for uni boss, job losses for lecturers
---
Obituary: Maureen Mulhearn 1945-2018
---
Carillion and the construction industry
Carillion crisis exposes PFI chaos
Universal credit: set up to fail
PO Box 1398, Enfield EN1 9GT
020 8988 8777

Link to this page: https://www.socialistparty.org.uk/issue/979/26778
Home | The Socialist 24 January 2018 | Join the Socialist Party
Subscribe | Donate | Audio | PDF | ebook
The Socialist inbox
Do you have something to say?
Send your news, views and criticism in not more than 150 words to Socialist Postbox, PO Box 24697, London E11 1YD, phone 020 8988 8771 or email [email protected]
We reserve the right to shorten and edit letters. Don't forget to give your name, address and phone number. Confidentiality will be respected if requested.
---
Forced out of the NHS
I work for the NHS. With only a 22.5-hours-a-week contract, I have to pick up extra hours from the 'bank' at the hospital. During recent months these have dwindled considerably.
I recently applied for bank work with a response centre. These centres answer calls from elderly and disabled people with alarms fitted in their homes.
Up until six months ago this service was manned by six to eight full-time staff. It is now manned by a skeleton staff, mostly lone workers, with the manager told she cannot appoint contract staff, only bank staff, until it can be sold off to a private company.
I love my job but cannot cope with the insecurity and am contemplating leaving the NHS.
NHS worker, Devon
---
Building regulations
In light of the Grenfell Tower disaster, with its tragic loss of human life, the focus has rightly turned to the adequacy of existing building regulations, particularly in relation to fire safety. We have also seen government repeatedly and mysteriously refuse to update these regulations in the light of incidents which exposed their shortcomings.
In addition, pressure groups such as the 'Red Tape Initiative' have plans post-Brexit to dismantle regulations on construction materials. A perhaps more worrying example of official reluctance to update regulations can be found in a Northern Ireland government-facilitated report, the 2016 Housing Supply Forum report, which recommends that "any further increase in building regulation requirements incurring additional build costs should be deferred until volumes have recovered significantly... Stability in regulations will help to control build costs, increase certainty, and facilitate increasing build volumes."
While the Grenfell inquiry will no doubt result in recommendations on the construction materials to be used in future, it is surely essential to take immediate action throughout the country to ensure that safety forms the basis of any building regulation, and doesn't become an option to be added when "volumes" - ie profits - are high.
George Dunn, Belfast Metropolitan Residents Group
---
In this issue
---
What we think

Turn Carillion crisis into movement against privatisation and capitalism
---
Socialist Party news and analysis

Welsh NHS crisis - we cannot go on like this

£2m to remove Grenfell-type cladding: residents to get bill

Private profit out of our NHS

Leeds playing fields rescued from Blairites

May's "war on plastic" still puts profits before the planet

News in brief
---
Vietnam war

Vietnam War: 50 years since the Tet Offensive
---
Socialist Party workplace news

Lecturers vote for strikes against pension cuts

PCS executive agrees next steps in pay campaign

Brum care workers protest council attacks

Amy Murphy Usdaw campaign meeting

Ballots against Bromley privatisers

Ferrybridge: Workers down tools over unpaid wages
---
International socialist news and analysis

Punishment of Tamimi family awakens wave of international solidarity
---
Socialist Party reports and campaigns

Defend Louise Harrison - save Yorkshire women's services!

Victory against government's war on eastern European homeless

Women rally defiantly

Gentrification scourge hits Kent

Kirklees council opens consultation of library services

Southampton: Pay rise for uni boss, job losses for lecturers
---
Obituaries

Red Mary - a Force of Nature

Obituary: Maureen Mulhearn 1945-2018
---
Opinion

Carillion and the construction industry

Carillion crisis exposes PFI chaos

Universal credit: set up to fail

The Socialist inbox
---
Home | The Socialist 24 January 2018 | Join the Socialist Party