The Socialist 24 January 2018
Socialist planning needed to end privatisation scam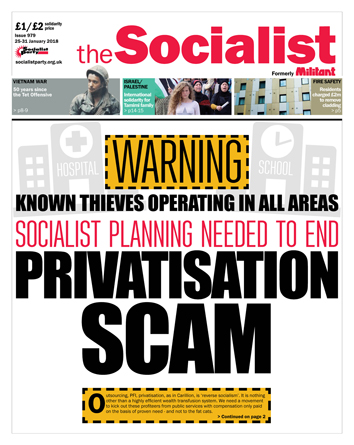 ---
Turn Carillion crisis into movement against privatisation and capitalism
---
Welsh NHS crisis - we cannot go on like this
£2m to remove Grenfell-type cladding: residents to get bill
Leeds playing fields rescued from Blairites
May's "war on plastic" still puts profits before the planet
---
Vietnam War: 50 years since the Tet Offensive
---
Lecturers vote for strikes against pension cuts
PCS executive agrees next steps in pay campaign
Brum care workers protest council attacks
Amy Murphy Usdaw campaign meeting
Ballots against Bromley privatisers
Ferrybridge: Workers down tools over unpaid wages
---
Punishment of Tamimi family awakens wave of international solidarity
---
Defend Louise Harrison - save Yorkshire women's services!
Victory against government's war on eastern European homeless
Gentrification scourge hits Kent
Kirklees council opens consultation of library services
Southampton: Pay rise for uni boss, job losses for lecturers
---
Obituary: Maureen Mulhearn 1945-2018
---
Carillion and the construction industry
Carillion crisis exposes PFI chaos
Universal credit: set up to fail
PO Box 1398, Enfield EN1 9GT
020 8988 8777

Link to this page: https://www.socialistparty.org.uk/issue/979/26785
Home | The Socialist 24 January 2018 | Join the Socialist Party
Subscribe | Donate | Audio | PDF | ebook
Defend Louise Harrison - save Yorkshire women's services!
Amy Cousens, Women's Lives Matter campaign and Leeds Socialist Party
Louise Harrison, now ex-staff member of South Yorkshire Women's Aid, was dismissed from her job on 19 January by a trustee vote of three to one not to renew her contract.
This comes after a campaign to save South Yorkshire Women's Aid, spearheaded by Louise at the beginning of September, when staff and volunteers were told there would be no funding for the service from Doncaster Labour council.
This is not unique - these services are disappearing from our towns and cities because of the Tories implementing austerity and Labour councils enforcing it.
The campaign from the beginning has called out Doncaster Labour council for implementing Tory austerity. We urged them to find alternatives like using their £91 million of useable reserves. Instead Doncaster council has gone out of its way to excuse austerity and has branded the campaign trouble makers.
Continuously, myself as a volunteer, and Louise as a staff member were put under pressure by the trustees of the Women's Aid, who are also Labour members to not speak against the council.
That's when Louise received a letter just before Christmas warning her that her contract may not be renewed. This was political.
The 'Women's Lives Matter' campaign is a problem for the council's narrative of 'waiting out the storm' until a Labour government is elected. Our slogan is 'women cannot wait' - every week over two women die directly as a result of domestic violence. Austerity exacerbates these deaths by cutting off services that are lifelines for women.
Labour locally in Doncaster may be mistakenly celebrating the blow to the Women's Lives Matter campaign, but they continue to underestimate the determination of clients, ex-clients and community campaigners. Campaign members are learning that we must boldly tackle austerity, by not only getting the Tories out also by calling out the contradictions of Labour locally.
Louise has been made an example of what happens to workers who fight back and resist the cuts. Let's organise to show the Tories and the Blairites in Labour what happens when they attack workers and implement cuts.
Women's Lives Matter and stand up for Louise rally - 27 January at 12 noon at Mansion House, Doncaster
---
In this issue
---
What we think

Turn Carillion crisis into movement against privatisation and capitalism
---
Socialist Party news and analysis

Welsh NHS crisis - we cannot go on like this

£2m to remove Grenfell-type cladding: residents to get bill

Private profit out of our NHS

Leeds playing fields rescued from Blairites

May's "war on plastic" still puts profits before the planet

News in brief
---
Vietnam war

Vietnam War: 50 years since the Tet Offensive
---
Socialist Party workplace news

Lecturers vote for strikes against pension cuts

PCS executive agrees next steps in pay campaign

Brum care workers protest council attacks

Amy Murphy Usdaw campaign meeting

Ballots against Bromley privatisers

Ferrybridge: Workers down tools over unpaid wages
---
International socialist news and analysis

Punishment of Tamimi family awakens wave of international solidarity
---
Socialist Party reports and campaigns

Defend Louise Harrison - save Yorkshire women's services!

Victory against government's war on eastern European homeless

Women rally defiantly

Gentrification scourge hits Kent

Kirklees council opens consultation of library services

Southampton: Pay rise for uni boss, job losses for lecturers
---
Obituaries

Red Mary - a Force of Nature

Obituary: Maureen Mulhearn 1945-2018
---
Opinion

Carillion and the construction industry

Carillion crisis exposes PFI chaos

Universal credit: set up to fail

The Socialist inbox
---
Home | The Socialist 24 January 2018 | Join the Socialist Party