The Socialist 7 February 2018
NHS - build the fightback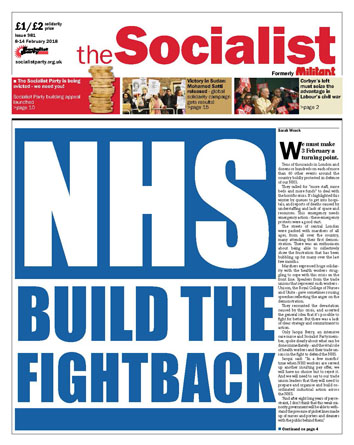 ---
NHS day of action: all around the country
Tragic death exposes criminal understaffing of NHS
York socialists head resistance to NHS outsourcing
---
Capita in crisis: bring all outsourcers back in-house
90 feared dead after migrant boat capsizes
---
Corbyn's left must seize the advantage in Labour's civil war
---
Haringey: now's our chance for a no-cuts council
Walthamstow: occupy to save the town square
Scene set for TUSC conference electoral debate
---
Royal Mail forced back under threat of action
Unison national women's conference
Striking back against academies in Newham
---
May's silence is a green light for Chinese repression
Sudan: Mohamed Satti released - global solidarity campaign gets results!
Protesters denounce oppressive Sri Lankan regime
---
GCSE grading game stresses out students - even more than before!
Fighting sexism: Positive discrimination - yea or neigh?
Bernie's book shows need for workers' party
Darkest Hour: Not the usual flattery of brutal Tory Churchill
---
The Socialist Party is being evicted - we need you!
Yorkshire Socialist Party regional conference
PO Box 24697, London, E11 1YD
020 8988 8777
editors@socialistparty.org.uk




LATEST POSTS

WHAT'S ON

CONTACT US
Locate your nearest Socialist Party branch Text your name and postcode to 07761 818 206
Regional Socialist Party organisers:
Eastern: 0798 202 1969
East Mids: 0773 797 8057
London: 020 8988 8786
North East: 0191 421 6230
North West 07769 611 320
South East: 020 8988 8777
South West: 07759 796 478
Southern: 07833 681910
Wales: 07935 391 947
West Mids: 02476 555 620
Yorkshire: 0114 264 6551

ABOUT US

ARCHIVE
---

2017

2016

2015

2014

2013

2012

2011

2010

2009

2008

2007

2006

2005

2004

2003

2002

2001

2000

1999