The Socialist 14 March 2018
Determined UCU strikers; We're out to win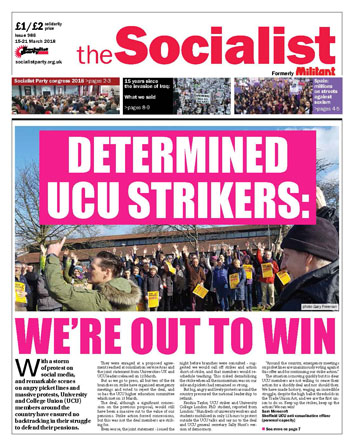 ---
Determined UCU strikers: We're out to win!
UCU strike continues: set dates for next national action
---
---
Italian elections create huge political shake-up
Spain: millions on streets against sexism and capitalist oppression
---
Spring Statement 2018: Tory austerity staggers on despite economic and political weakness
Sainsbury's raise really a cut: fight for £10 with no strings!
Zero new homes 'affordable' in Blairite Manchester
---
15 years since the invasion of Iraq: what we said
---
Woolwich ferry workers win automation campaign
Leaked pay deal: fight for a genuine pay rise
We feel that we will win - a striker speaks
---
Continuing the fighting tradition of working class women
Seeing-off the bigoted, billionaire toff!
Derby public meeting: Women's Lives Matter
Swansea Labour council votes for cuts
Campaigners continue to demand Chorley A&E is fully reopened
Leicester: Blairites block Labour Party democracy
Members dig deep into their pockets to support the party
---
Gripping spy thriller exposes hypocrisy of Falklands/Malvinas war
PO Box 24697, London, E11 1YD
020 8988 8777
editors@socialistparty.org.uk