The Socialist 21 March 2018
Hands off free school meals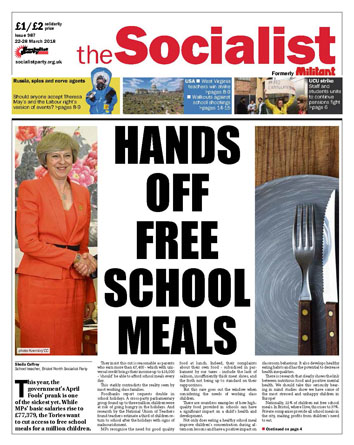 ---
Russia, spies and nerve agents
---
The Blairites are NHS privatisers - to save it means sacking them
Hated Blairite mayor ousted: now fight for a no-cuts Newham!
---
West Virginia teachers' strike victory
US school shootings: student walkouts challenge establishment
Brazil: Psol councillor Marielle Franco murdered
---
UCU strike: staff and students unite to continue pensions fight after magnificent 14 days of action
Hinkley workers win back unpaid wages after sit-in protest
Strikers and parents rally again in Newham against academies
Hull college workers ballot for action against mass redundancies
Unions condemn 'culture of bullying' at Merseyside hospital
---
Refugees march against racism and to demand rights
Ideas matter: help us fight to win with May Day greetings
Past fund-raising campaigns show dedication to the fight for socialism
Why I joined: 'The Socialist Party is at the forefront of defending Corbyn's anti-austerity leadership'
Hands Off HRI campaign granted judicial review
Over 1,000 on Newcastle NHS march
Refugee Rights to be launched in Manchester
---
Revolutionary physicist and champion of social causes
PO Box 1398, Enfield EN1 9GT
020 8988 8777

Link to this page: https://www.socialistparty.org.uk/issue/987/27063
Home | The Socialist 21 March 2018 | Join the Socialist Party
Subscribe | Donate | Audio | PDF | ebook
Hands off free school meals!
Tories cut 1m school meals: fight for full funding
Sheila Caffrey, school teacher, Bristol North Socialist Party
This year, the government's April Fools' prank is one of the sickest yet. While MPs' basic salaries rise to £77,379, the Tories want to cut access to free school meals for a million children.
They insist this cut is reasonable as parents who earn more than £7,400 - which with universal credit brings their income up to £18,000 - 'should' be able to afford school meals every day.
This starkly contradicts the reality seen by most working class families.
Foodbanks report requests double in school holidays. A cross-party parliamentary group found up to three million children were at risk of going hungry in the holidays. And research by the National Union of Teachers found teachers estimate a third of children return to school after the holidays with signs of malnourishment.
MPs recognise the need for good quality food at lunch. Indeed, their complaints about their own food - subsidised in parliament by our taxes - include the lack of salmon, insufficiently thick meat slices, and the froth not being up to standard on their cappuccinos.
But this care goes out the window when considering the needs of working class children.
There are countless examples of how high-quality food provided in schools can have a significant impact on a child's health and development.
Not only does eating a healthy school meal improve children's concentration during afternoon lessons and have a positive impact on classroom behaviour. It also develops healthy eating habits and has the potential to decrease health inequalities.
There is research that clearly shows the link between nutritious food and positive mental health. We should take this seriously bearing in mind studies show we have some of the most stressed and unhappy children in Europe!
Nationally, 22% of children eat free school meals. In Bristol, where I live, this rises to 37%. Private companies provide all school meals in the city, making profits from children's need to eat.
In the neighbouring local authority of Bath and North East Somerset, school meals aren't privatised. However, the council has raised the cost for each meal above the amount provided for free school meals. This means schools already struggling for money are subsidising meals which supposedly are already paid for.
So why did the Tory government extend access to free school meals in the first place? During its vicious cuts to school funding, the government could allege it was doing more to support pupils most in need, through free school meals and the 'pupil premium' budget.
This is provided to schools on a student-by-student basis, depending on the amount who are in receipt of free school meals either now or in the previous six years. However, this has actually reduced overall funding and extended the inequalities between schools.
In the June general election, 750,000 voters said cuts to school funding caused them to change their vote, showing the strength of feeling towards schools and education. The Tories backtracked in July on £1.3 billion of their proposed education cuts, but even reversing all the cuts isn't enough.
We need substantial investment in schools, to guarantee free, nutritious meals for all school and nursery students, and reduce teacher workload and class sizes. We need to scrap universal credit and replace it with living benefits - and a minimum wage of at least £10 an hour now, as a step towards a real living wage for all.
By investing in free school meals and education, as well as the NHS and all public services, and decent housing and wages, all children could grow into healthy adults. Everyone could play a part in a socialist society - rather than being forced to beg like Oliver Twist.
---
In this issue
---
What we think

Russia, spies and nerve agents
---
Socialist Party news and analysis

Hands off free school meals!

The Blairites are NHS privatisers - to save it means sacking them

Cuts harm kids' health

Hated Blairite mayor ousted: now fight for a no-cuts Newham!

Them & us
---
International socialist news and analysis

West Virginia teachers' strike victory

US school shootings: student walkouts challenge establishment

Brazil: Psol councillor Marielle Franco murdered
---
Workplace news and analysis

UCU strike: staff and students unite to continue pensions fight after magnificent 14 days of action

Hinkley workers win back unpaid wages after sit-in protest

Strikers and parents rally again in Newham against academies

Hull college workers ballot for action against mass redundancies

Unions condemn 'culture of bullying' at Merseyside hospital

NSSN conference moves
---
Socialist Party reports and campaigns

Refugees march against racism and to demand rights

Ideas matter: help us fight to win with May Day greetings

Past fund-raising campaigns show dedication to the fight for socialism

Why I joined: 'The Socialist Party is at the forefront of defending Corbyn's anti-austerity leadership'

Hands Off HRI campaign granted judicial review

Over 1,000 on Newcastle NHS march

Refugee Rights to be launched in Manchester
---
Opinion

Revolutionary physicist and champion of social causes

The Socialist inbox
---
Home | The Socialist 21 March 2018 | Join the Socialist Party