The Socialist 21 March 2018
Hands off free school meals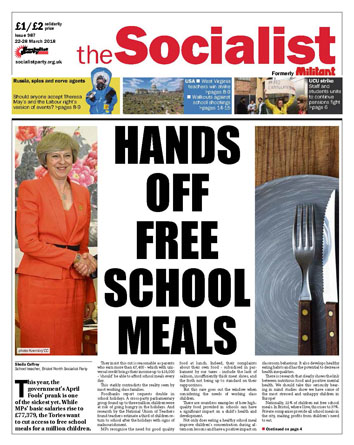 ---
Russia, spies and nerve agents
---
The Blairites are NHS privatisers - to save it means sacking them
Hated Blairite mayor ousted: now fight for a no-cuts Newham!
---
West Virginia teachers' strike victory
US school shootings: student walkouts challenge establishment
Brazil: Psol councillor Marielle Franco murdered
---
UCU strike: staff and students unite to continue pensions fight after magnificent 14 days of action
Hinkley workers win back unpaid wages after sit-in protest
Strikers and parents rally again in Newham against academies
Hull college workers ballot for action against mass redundancies
Unions condemn 'culture of bullying' at Merseyside hospital
---
Refugees march against racism and to demand rights
Ideas matter: help us fight to win with May Day greetings
Past fund-raising campaigns show dedication to the fight for socialism
Why I joined: 'The Socialist Party is at the forefront of defending Corbyn's anti-austerity leadership'
Hands Off HRI campaign granted judicial review
Over 1,000 on Newcastle NHS march
Refugee Rights to be launched in Manchester
---
Revolutionary physicist and champion of social causes
PO Box 1398, Enfield EN1 9GT
020 8988 8777

Link to this page: https://www.socialistparty.org.uk/issue/987/27064
Home | The Socialist 21 March 2018 | Join the Socialist Party
Subscribe | Donate | Audio | PDF | ebook
The Blairites are NHS privatisers - to save it means sacking them
Jon Dale, secretary, Unite Notts NHS branch (personal capacity)
Alan Milburn was Tony Blair's health secretary for four years.
He brought in 'foundation trusts' - preparing more NHS privatisation. And he brought in many more 'private finance initiatives' (PFIs) that suck huge sums from the NHS.
Since leaving parliament in 2010 he has kept busy.
He joined corporate services giant PricewaterhouseCoopers as chair of its UK Health Industry Oversight Board, whose objective is to "drive change in the health sector, and assist PwC in growing its presence in the health market."
He is chair of the European Advisory Board at Bridgepoint Capital, whose activities include financing private health companies making money from the NHS. He is also a member of Lloyds Pharmacy's Healthcare Advisory Panel.
Milburn helped the Tory-Liberal coalition and then Tory governments as their 'social mobility' commissioner until resigning in December. Perhaps that's why he now has time to take on a new job.
Private health group Ribera Salud has appointed him to its board of directors. It is 50% owned by the US health giant Centene, and 50% by the Catalan bank Banco Sabadell.
Ribera Salud has won part of a contract to run Nottingham's 'integrated care system' for the NHS and city council - and aims to get more profitable contracts coming its way.
Milburn is still a member of Progress, the Blairite 'party within a party' trying to undermine Corbyn and policies like ending privatisation.
Defending the NHS means fighting to end that influence among Labour MPs and councillors - including by winning democratic rights like mandatory reselection and kicking out the Blairites.
---
In this issue
---
What we think

Russia, spies and nerve agents
---
Socialist Party news and analysis

Hands off free school meals!

The Blairites are NHS privatisers - to save it means sacking them

Cuts harm kids' health

Hated Blairite mayor ousted: now fight for a no-cuts Newham!

Them & us
---
International socialist news and analysis

West Virginia teachers' strike victory

US school shootings: student walkouts challenge establishment

Brazil: Psol councillor Marielle Franco murdered
---
Workplace news and analysis

UCU strike: staff and students unite to continue pensions fight after magnificent 14 days of action

Hinkley workers win back unpaid wages after sit-in protest

Strikers and parents rally again in Newham against academies

Hull college workers ballot for action against mass redundancies

Unions condemn 'culture of bullying' at Merseyside hospital

NSSN conference moves
---
Socialist Party reports and campaigns

Refugees march against racism and to demand rights

Ideas matter: help us fight to win with May Day greetings

Past fund-raising campaigns show dedication to the fight for socialism

Why I joined: 'The Socialist Party is at the forefront of defending Corbyn's anti-austerity leadership'

Hands Off HRI campaign granted judicial review

Over 1,000 on Newcastle NHS march

Refugee Rights to be launched in Manchester
---
Opinion

Revolutionary physicist and champion of social causes

The Socialist inbox
---
Home | The Socialist 21 March 2018 | Join the Socialist Party