The Socialist 21 March 2018
Hands off free school meals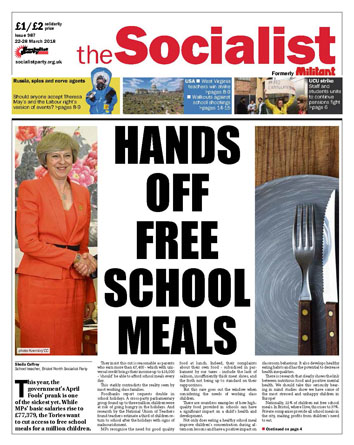 ---
Russia, spies and nerve agents
---
The Blairites are NHS privatisers - to save it means sacking them
Hated Blairite mayor ousted: now fight for a no-cuts Newham!
---
West Virginia teachers' strike victory
US school shootings: student walkouts challenge establishment
Brazil: Psol councillor Marielle Franco murdered
---
UCU strike: staff and students unite to continue pensions fight after magnificent 14 days of action
Hinkley workers win back unpaid wages after sit-in protest
Strikers and parents rally again in Newham against academies
Hull college workers ballot for action against mass redundancies
Unions condemn 'culture of bullying' at Merseyside hospital
---
Refugees march against racism and to demand rights
Ideas matter: help us fight to win with May Day greetings
Past fund-raising campaigns show dedication to the fight for socialism
Why I joined: 'The Socialist Party is at the forefront of defending Corbyn's anti-austerity leadership'
Hands Off HRI campaign granted judicial review
Over 1,000 on Newcastle NHS march
Refugee Rights to be launched in Manchester
---
Revolutionary physicist and champion of social causes
PO Box 1398, Enfield EN1 9GT
020 8988 8777

Link to this page: https://www.socialistparty.org.uk/issue/987/27065
Home | The Socialist 21 March 2018 | Join the Socialist Party
Subscribe | Donate | Audio | PDF | ebook
Hated Blairite mayor ousted: now fight for a no-cuts Newham!
Lois Austin, TUSC mayoral candidate in 2014
Hated Blairite mayor of Newham Sir Robin Wales has lost the Labour candidacy. We congratulate Councillor Rokhsana Fiaz on being selected as the candidate for the upcoming May elections.
Wales has presided over decades of cuts to services and council jobs, the eviction of the E15 single mums, and massive privatisations. He led the east London borough's council for 23 years.
Before that, in the 1970s and 1980s, Wales played a major role in expelling Militant - forerunner of the Socialist Party - from Labour. He once took part in the 'Icepick Express' contingent of right-wingers to Labour student conference.
We believe Rokhsana represents a break from this. We look forward to working with her and any Labour Party members who want to use this as an opportunity to fight cuts and sell-offs in Newham.
We support Rokhsana's policies of building 1,000 council homes and supporting striking teachers and parents opposing schools being turned into privatised 'academies'.
Newham council recently voted to reverse its long-held position of support for academisation. We believe Rokhsana and other anti-academies councillors should commit to calling a referendum on academies in Newham. At Avenue School, a survey of parents returned a resounding no to academies with 132 votes to four.
It's also vital that an anti-austerity mayor use council reserves and borrowing powers to end the cuts now. By mobilising the local workforce and community, we can fight for more funding from central government.
The removal of Robin Wales shows ordinary Labour members are willing to campaign against Blairite policies at a council level in Newham.
I stood as a Trade Unionist and Socialist Coalition (TUSC) candidate contesting the mayor's pro-austerity position in 2014. Then and now, TUSC's policies are much closer to Jeremy Corbyn than the vast majority of Newham Labour councillors.
TUSC will not be standing for mayor against Rokhsana in May as her selection is a positive step towards a fightback in Newham. We hope to work with her in fighting cuts and privatisation.
But we are planning to stand against the worst and most vicious Blairite and pro-academies councillors in Newham. These councillors have nothing in common with Jeremy Corbyn or those who have been inspired by his leadership.
The transformation of Newham Labour has just begun. Now we need 100% anti-austerity, anti-academisation, pro-union, anti-big landlords councillors.
---
In this issue
---
What we think

Russia, spies and nerve agents
---
Socialist Party news and analysis

Hands off free school meals!

The Blairites are NHS privatisers - to save it means sacking them

Cuts harm kids' health

Hated Blairite mayor ousted: now fight for a no-cuts Newham!

Them & us
---
International socialist news and analysis

West Virginia teachers' strike victory

US school shootings: student walkouts challenge establishment

Brazil: Psol councillor Marielle Franco murdered
---
Workplace news and analysis

UCU strike: staff and students unite to continue pensions fight after magnificent 14 days of action

Hinkley workers win back unpaid wages after sit-in protest

Strikers and parents rally again in Newham against academies

Hull college workers ballot for action against mass redundancies

Unions condemn 'culture of bullying' at Merseyside hospital

NSSN conference moves
---
Socialist Party reports and campaigns

Refugees march against racism and to demand rights

Ideas matter: help us fight to win with May Day greetings

Past fund-raising campaigns show dedication to the fight for socialism

Why I joined: 'The Socialist Party is at the forefront of defending Corbyn's anti-austerity leadership'

Hands Off HRI campaign granted judicial review

Over 1,000 on Newcastle NHS march

Refugee Rights to be launched in Manchester
---
Opinion

Revolutionary physicist and champion of social causes

The Socialist inbox
---
Home | The Socialist 21 March 2018 | Join the Socialist Party