The Socialist 21 March 2018
Hands off free school meals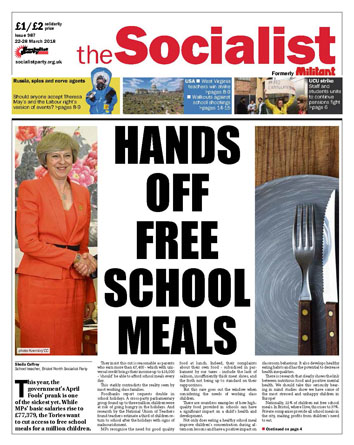 ---
Russia, spies and nerve agents
---
The Blairites are NHS privatisers - to save it means sacking them
Hated Blairite mayor ousted: now fight for a no-cuts Newham!
---
West Virginia teachers' strike victory
US school shootings: student walkouts challenge establishment
Brazil: Psol councillor Marielle Franco murdered
---
UCU strike: staff and students unite to continue pensions fight after magnificent 14 days of action
Hinkley workers win back unpaid wages after sit-in protest
Strikers and parents rally again in Newham against academies
Hull college workers ballot for action against mass redundancies
Unions condemn 'culture of bullying' at Merseyside hospital
---
Refugees march against racism and to demand rights
Ideas matter: help us fight to win with May Day greetings
Past fund-raising campaigns show dedication to the fight for socialism
Why I joined: 'The Socialist Party is at the forefront of defending Corbyn's anti-austerity leadership'
Hands Off HRI campaign granted judicial review
Over 1,000 on Newcastle NHS march
Refugee Rights to be launched in Manchester
---
Revolutionary physicist and champion of social causes
PO Box 1398, Enfield EN1 9GT
020 8988 8777

Link to this page: https://www.socialistparty.org.uk/issue/987/27070
Home | The Socialist 21 March 2018 | Join the Socialist Party
Subscribe | Donate | Audio | PDF | ebook
Refugees march against racism and to demand rights
Marvin Hay, Socialist Party Black and Asian group
The United Nations International Day for the Elimination of Racial Discrimination on 21 March commemorates the day in 1960 that police opened fire and killed 69 people at a peaceful demonstration against the apartheid pass laws in Sharpeville, South Africa. It has been marked in the UK since 2014 by an anti-racism demonstration.
This year thousands braved the cold to march. One of the chants heard most vehemently was "refuges are welcome here". We agree that people fleeing war, persecution and poverty are welcome but we must go further. Refugees are part of the working class. Refugees need to be able to organise and fight for their rights and fight with the rest of the working class for jobs, homes and services for everyone. This will assist in combating racist division.
The Refugee Rights campaign made a big splash, and what singled them out was that they were refugees fighting for not only their rights but those of the wider working class. This campaign correctly makes the link between racist immigration policies and the effect of capitalism on the rights and opportunities for the majority of society.
Refugee Rights approached the organisers Stand Up to Racism several times in the run-up to the event to ask that the campaign be allowed to speak on the platform, but were ignored.
The Socialist Party marched together with our refugee comrades demanding that refugees be given the right to work and access to education, highlighting the racist ideology behind detention centres and demanding their immediate closure.
We make the case for a £10 an hour minimum wage and a free NHS, and the right to join a union.
'We are refugees fighting for our rights' was the demand that stuck with me for the day. While people marching say that refugees are welcome, under capitalism they will always be under attack in a society that lines the pockets of the rich and pits layers of the working class against each other to maintain the status quo.
Only through joining the fight for socialism can we truly eradicate racism.
---
In this issue
---
What we think

Russia, spies and nerve agents
---
Socialist Party news and analysis

Hands off free school meals!

The Blairites are NHS privatisers - to save it means sacking them

Cuts harm kids' health

Hated Blairite mayor ousted: now fight for a no-cuts Newham!

Them & us
---
International socialist news and analysis

West Virginia teachers' strike victory

US school shootings: student walkouts challenge establishment

Brazil: Psol councillor Marielle Franco murdered
---
Workplace news and analysis

UCU strike: staff and students unite to continue pensions fight after magnificent 14 days of action

Hinkley workers win back unpaid wages after sit-in protest

Strikers and parents rally again in Newham against academies

Hull college workers ballot for action against mass redundancies

Unions condemn 'culture of bullying' at Merseyside hospital

NSSN conference moves
---
Socialist Party reports and campaigns

Refugees march against racism and to demand rights

Ideas matter: help us fight to win with May Day greetings

Past fund-raising campaigns show dedication to the fight for socialism

Why I joined: 'The Socialist Party is at the forefront of defending Corbyn's anti-austerity leadership'

Hands Off HRI campaign granted judicial review

Over 1,000 on Newcastle NHS march

Refugee Rights to be launched in Manchester
---
Opinion

Revolutionary physicist and champion of social causes

The Socialist inbox
---
Home | The Socialist 21 March 2018 | Join the Socialist Party