The Socialist 21 March 2018
Hands off free school meals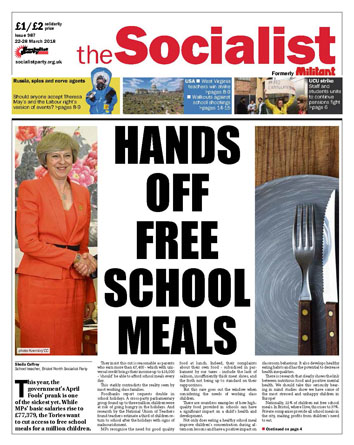 ---
Russia, spies and nerve agents
---
The Blairites are NHS privatisers - to save it means sacking them
Hated Blairite mayor ousted: now fight for a no-cuts Newham!
---
West Virginia teachers' strike victory
US school shootings: student walkouts challenge establishment
Brazil: Psol councillor Marielle Franco murdered
---
UCU strike: staff and students unite to continue pensions fight after magnificent 14 days of action
Hinkley workers win back unpaid wages after sit-in protest
Strikers and parents rally again in Newham against academies
Hull college workers ballot for action against mass redundancies
Unions condemn 'culture of bullying' at Merseyside hospital
---
Refugees march against racism and to demand rights
Ideas matter: help us fight to win with May Day greetings
Past fund-raising campaigns show dedication to the fight for socialism
Why I joined: 'The Socialist Party is at the forefront of defending Corbyn's anti-austerity leadership'
Hands Off HRI campaign granted judicial review
Over 1,000 on Newcastle NHS march
Refugee Rights to be launched in Manchester
---
Revolutionary physicist and champion of social causes
PO Box 1398, Enfield EN1 9GT
020 8988 8777

Link to this page: https://www.socialistparty.org.uk/issue/987/27071
Home | The Socialist 21 March 2018 | Join the Socialist Party
Subscribe | Donate | Audio | PDF | ebook
Ideas matter: help us fight to win with May Day greetings
James Ivens, May Day greetings campaign organiser
The May Day greetings deadline for reduced rates is coming: Friday 30 March. Help us get those greetings in! The struggle for socialism needs the Socialist. The Socialist needs funding.
Striking university workers arriving at their central London demonstration smiled seeing Socialist sellers on 14 March. Our front page - 'Determined UCU strikers: we're out to win'.
Our coverage is written by strikers themselves. Our strategy - both industrial and political - isn't just about solidarity, but advance.
How can we link up the struggles? How can we beat not just the uni bosses - but the whole boss class?
These questions exercised workers and students in France 50 years ago too. The false analysis and methods of their official leaders ran a revolutionary general strike onto the rocks. Ideas matter.
Corbyn, Brexit, Catalonia, Trump - capitalism is once more preparing for battles over its continued existence. May Day greetings help finance and publicise the paper that fights to get it right.
Union branches, committees and trades councils need urgent contact. They have deadlines for agendas. Propose a motion, or send an appeal for the 'correspondence' business item
Workplaces can send group greetings from supporters. Use our May Day greetings sign-up sheet
We want community campaigns to send greetings too. Make sure you invite yours
Student groups in schools, colleges and universities - if you can't get funding, we'll place your greeting for a whip-round
Let us know what you're planning. And please get in touch if you want resources or support: [email protected] Prices and other details are at socialistparty.org.uk/mayday.
We are proud to have received greetings already from - among others - the Birkenhead bus workers. We backed their solid strike which won a raise in December. Now they're backing us.
Socialist Party members have targets for their regions and some trade union groups. And we want everyone who supports socialist ideas to show their solidarity on our pages. The final deadline is 11 April.
Let's make 2018 another record-breaker. Let's get those greetings in.
---
In this issue
---
What we think

Russia, spies and nerve agents
---
Socialist Party news and analysis

Hands off free school meals!

The Blairites are NHS privatisers - to save it means sacking them

Cuts harm kids' health

Hated Blairite mayor ousted: now fight for a no-cuts Newham!

Them & us
---
International socialist news and analysis

West Virginia teachers' strike victory

US school shootings: student walkouts challenge establishment

Brazil: Psol councillor Marielle Franco murdered
---
Workplace news and analysis

UCU strike: staff and students unite to continue pensions fight after magnificent 14 days of action

Hinkley workers win back unpaid wages after sit-in protest

Strikers and parents rally again in Newham against academies

Hull college workers ballot for action against mass redundancies

Unions condemn 'culture of bullying' at Merseyside hospital

NSSN conference moves
---
Socialist Party reports and campaigns

Refugees march against racism and to demand rights

Ideas matter: help us fight to win with May Day greetings

Past fund-raising campaigns show dedication to the fight for socialism

Why I joined: 'The Socialist Party is at the forefront of defending Corbyn's anti-austerity leadership'

Hands Off HRI campaign granted judicial review

Over 1,000 on Newcastle NHS march

Refugee Rights to be launched in Manchester
---
Opinion

Revolutionary physicist and champion of social causes

The Socialist inbox
---
Home | The Socialist 21 March 2018 | Join the Socialist Party