The Socialist 21 March 2018
Hands off free school meals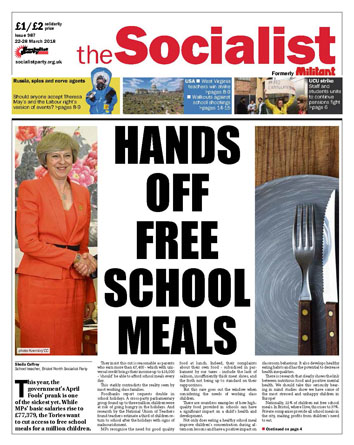 ---
Russia, spies and nerve agents
---
The Blairites are NHS privatisers - to save it means sacking them
Hated Blairite mayor ousted: now fight for a no-cuts Newham!
---
West Virginia teachers' strike victory
US school shootings: student walkouts challenge establishment
Brazil: Psol councillor Marielle Franco murdered
---
UCU strike: staff and students unite to continue pensions fight after magnificent 14 days of action
Hinkley workers win back unpaid wages after sit-in protest
Strikers and parents rally again in Newham against academies
Hull college workers ballot for action against mass redundancies
Unions condemn 'culture of bullying' at Merseyside hospital
---
Refugees march against racism and to demand rights
Ideas matter: help us fight to win with May Day greetings
Past fund-raising campaigns show dedication to the fight for socialism
Why I joined: 'The Socialist Party is at the forefront of defending Corbyn's anti-austerity leadership'
Hands Off HRI campaign granted judicial review
Over 1,000 on Newcastle NHS march
Refugee Rights to be launched in Manchester
---
Revolutionary physicist and champion of social causes
PO Box 1398, Enfield EN1 9GT
020 8988 8777

Link to this page: https://www.socialistparty.org.uk/issue/987/27079
Home | The Socialist 21 March 2018 | Join the Socialist Party
Subscribe | Donate | Audio | PDF | ebook
Strikers and parents rally again in Newham against academies
Helen Pattison, East London Socialist Party
Newham teachers and parents rallied again as Avenue School took its tenth day of strike action on 15 January.
They were joined at the rally by other anti-academies strikers from Cumberland and Keir Hardie schools, also in Newham.
They heard from University and College Union (UCU) and Socialist Party member Keishia Taylor, a postgrad striker at University College London, who raised that the UCU dispute is about more than pensions. This and previous attacks on staff's terms and conditions are really about marketising higher education.
Martin Powell-Davies, National Education Union (NEU) regional secretary, made it clear these strikes are in opposition to schools becoming academies, not just about terms and conditions.
A recent council meeting voted for a motion opposed to academies. But since that meeting NEU has discovered that the council's executive has not agreed the motion yet.
Refusing to accept and act on the anti-academies motion now could impact the schools currently in the process of becoming academies, but also expose the undemocratic nature of the Blairite wing of the Labour Party.
---
In this issue
---
What we think

Russia, spies and nerve agents
---
Socialist Party news and analysis

Hands off free school meals!

The Blairites are NHS privatisers - to save it means sacking them

Cuts harm kids' health

Hated Blairite mayor ousted: now fight for a no-cuts Newham!

Them & us
---
International socialist news and analysis

West Virginia teachers' strike victory

US school shootings: student walkouts challenge establishment

Brazil: Psol councillor Marielle Franco murdered
---
Workplace news and analysis

UCU strike: staff and students unite to continue pensions fight after magnificent 14 days of action

Hinkley workers win back unpaid wages after sit-in protest

Strikers and parents rally again in Newham against academies

Hull college workers ballot for action against mass redundancies

Unions condemn 'culture of bullying' at Merseyside hospital

NSSN conference moves
---
Socialist Party reports and campaigns

Refugees march against racism and to demand rights

Ideas matter: help us fight to win with May Day greetings

Past fund-raising campaigns show dedication to the fight for socialism

Why I joined: 'The Socialist Party is at the forefront of defending Corbyn's anti-austerity leadership'

Hands Off HRI campaign granted judicial review

Over 1,000 on Newcastle NHS march

Refugee Rights to be launched in Manchester
---
Opinion

Revolutionary physicist and champion of social causes

The Socialist inbox
---
Home | The Socialist 21 March 2018 | Join the Socialist Party