The Socialist 21 March 2018
Hands off free school meals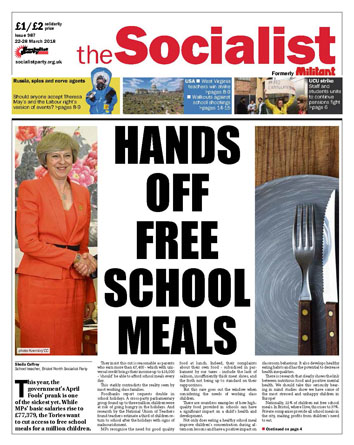 ---
Russia, spies and nerve agents
---
The Blairites are NHS privatisers - to save it means sacking them
Hated Blairite mayor ousted: now fight for a no-cuts Newham!
---
West Virginia teachers' strike victory
US school shootings: student walkouts challenge establishment
Brazil: Psol councillor Marielle Franco murdered
---
UCU strike: staff and students unite to continue pensions fight after magnificent 14 days of action
Hinkley workers win back unpaid wages after sit-in protest
Strikers and parents rally again in Newham against academies
Hull college workers ballot for action against mass redundancies
Unions condemn 'culture of bullying' at Merseyside hospital
---
Refugees march against racism and to demand rights
Ideas matter: help us fight to win with May Day greetings
Past fund-raising campaigns show dedication to the fight for socialism
Why I joined: 'The Socialist Party is at the forefront of defending Corbyn's anti-austerity leadership'
Hands Off HRI campaign granted judicial review
Over 1,000 on Newcastle NHS march
Refugee Rights to be launched in Manchester
---
Revolutionary physicist and champion of social causes
PO Box 1398, Enfield EN1 9GT
020 8988 8777

Link to this page: https://www.socialistparty.org.uk/issue/987/27082
Home | The Socialist 21 March 2018 | Join the Socialist Party
Subscribe | Donate | Audio | PDF | ebook
Obituary: Stephen Hawking, 1942-2018
Revolutionary physicist and champion of social causes
Pete Mason, East London Socialist Party
Before Stephen Hawking wrote 'A Brief History of Time', few scientists had attempted to bring to the ordinary reader such a detailed and complex introduction to the universe emerging in front of scientists' frankly astonished eyes.
In this book, which sold more than ten million copies and was translated into 35 languages, the reader felt Hawking personally granted public access to an inaccessible world.
An intimate sense of confidence in the reader, a lack of that condescension that oozed from some of the available popular science programmes and books which often hid behind a veil of frustrating metaphors - it was firstly this accessibility that gave Hawking a position of respect among such wide layers of the public. He appeared on many TV shows, like the Big Bang Theory and of course The Simpsons.
Hawking's contribution to the scientific revolution that was gathering at the time in 1988 arose from his remarkable combination of the world's two most powerful and yet most esoteric theories of the universe.
Both Einstein's general relativity and quantum mechanics were notoriously difficult subjects. One is focused at the subatomic level, the other at the grandest scales of the universe.
Hawking was the first to master both disciplines and win new insights from the study of black holes.
At the time, the idea that time could have a 'history' - that it was a material thing, not some abstract entity as Newton, following the idealist Plato, had believed - was mind-blowing. And that therefore the universe itself had an evolving history beginning with the Big Bang, instead of existing for all time, was highly controversial.
But in 1992, the 'smoking gun' cosmic background radiation was finally confirmed. Cosmologists breathed a sigh of relief and the Big Bang theory became front page news.
Hawking's popularity was enhanced because he championed many important social issues. In 2005, "Britain's most famous scientist, Stephen Hawking, condemned the US-led invasion of Iraq as a 'war crime' and said it was based on lies."
More recently, his understanding of events failed his former radicalism. On Jeremy Corbyn, he granted "his heart is in the right place and many of his policies are sound," but sadly called on him to step down.
And he backed Remain in the EU referendum, stemming from an understandable fear of attacks on science under Tory rule - attacks which the neoliberal EU has aided rather than held back.
But he was nonetheless an outspoken critic of capitalism.
"Everyone can enjoy a life of luxury if the machine-produced wealth is shared, or most people can end up miserably poor if the machine-owners successfully lobby against wealth redistribution." Socialists would add that the way to guarantee this is to take the wealth and machines out of the hands of the capitalists.
Hawking opposed privatisation. He supported the struggle for national liberation in Palestine.
And, suffering from devastating motor neurone disease and given just two years to live at the age of 21, he repeatedly defended the health service. Most famously when US newspaper Investor's Business Daily said Hawking "wouldn't have a chance" in Britain in the care of the NHS.
Hawking's robust response has been used ever since by those campaigning for a fully funded public health service: "I wouldn't be here today if it were not for the NHS."
---
In this issue
---
What we think

Russia, spies and nerve agents
---
Socialist Party news and analysis

Hands off free school meals!

The Blairites are NHS privatisers - to save it means sacking them

Cuts harm kids' health

Hated Blairite mayor ousted: now fight for a no-cuts Newham!

Them & us
---
International socialist news and analysis

West Virginia teachers' strike victory

US school shootings: student walkouts challenge establishment

Brazil: Psol councillor Marielle Franco murdered
---
Workplace news and analysis

UCU strike: staff and students unite to continue pensions fight after magnificent 14 days of action

Hinkley workers win back unpaid wages after sit-in protest

Strikers and parents rally again in Newham against academies

Hull college workers ballot for action against mass redundancies

Unions condemn 'culture of bullying' at Merseyside hospital

NSSN conference moves
---
Socialist Party reports and campaigns

Refugees march against racism and to demand rights

Ideas matter: help us fight to win with May Day greetings

Past fund-raising campaigns show dedication to the fight for socialism

Why I joined: 'The Socialist Party is at the forefront of defending Corbyn's anti-austerity leadership'

Hands Off HRI campaign granted judicial review

Over 1,000 on Newcastle NHS march

Refugee Rights to be launched in Manchester
---
Opinion

Revolutionary physicist and champion of social causes

The Socialist inbox
---
Home | The Socialist 21 March 2018 | Join the Socialist Party