The Socialist 21 March 2018
Hands off free school meals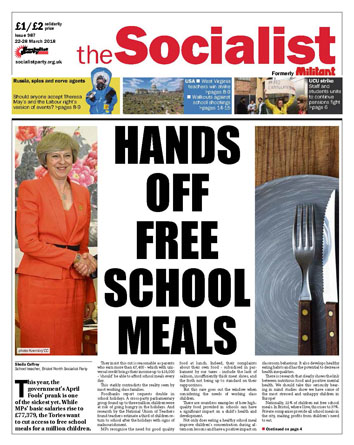 ---
Russia, spies and nerve agents
---
The Blairites are NHS privatisers - to save it means sacking them
Hated Blairite mayor ousted: now fight for a no-cuts Newham!
---
West Virginia teachers' strike victory
US school shootings: student walkouts challenge establishment
Brazil: Psol councillor Marielle Franco murdered
---
UCU strike: staff and students unite to continue pensions fight after magnificent 14 days of action
Hinkley workers win back unpaid wages after sit-in protest
Strikers and parents rally again in Newham against academies
Hull college workers ballot for action against mass redundancies
Unions condemn 'culture of bullying' at Merseyside hospital
---
Refugees march against racism and to demand rights
Ideas matter: help us fight to win with May Day greetings
Past fund-raising campaigns show dedication to the fight for socialism
Why I joined: 'The Socialist Party is at the forefront of defending Corbyn's anti-austerity leadership'
Hands Off HRI campaign granted judicial review
Over 1,000 on Newcastle NHS march
Refugee Rights to be launched in Manchester
---
Revolutionary physicist and champion of social causes
PO Box 1398, Enfield EN1 9GT
020 8988 8777

Link to this page: https://www.socialistparty.org.uk/issue/987/27084
Home | The Socialist 21 March 2018 | Join the Socialist Party
Subscribe | Donate | Audio | PDF | ebook
Hinkley workers win back unpaid wages after sit-in protest
Tom Baldwin, South West Socialist Party organiser
Workers building the Hinkley C nuclear power plant in Somerset have won back unpaid wages after more than 500 staged a two-day sit-in protest.
The dispute arose when workers were sent away on 1 March, as the site was closed due to extreme winter weather.
As with other large construction projects, many workers had travelled from across the country to work on the site and so were unable to return home.
They remained in their digs, ready and available to work their scheduled shifts over the weekend. They were only prevented from working by the heavy snow.
On their return to work on 6 March however, workers for contractors Kier and BAM Nuttall were informed by text that they would not be paid for the days the site was closed.
Trade union agreements state that workers should be paid in these circumstances but the employers were trying it on.
The power station being built for EDF Energy will be the most expensive structure on Earth when completed, at £19.6 billion.
The contractors concerned are giant construction firms, they're not short a few quid and yet they tried to pick the pockets of their staff.
But workers weren't taking this affront lying down. Hundreds of them then began a sit-in protest in the on-site canteen, refusing to move until they were paid.
Victory came on the second day of the protest. Workers will now be paid in line with union agreements, after talks between Unite the Union and EDF.
When we fight, we can win. However, workers need to be constantly vigilant. Employers already make huge profits exploiting our labour but that won't stop them trying to rob us further in whatever way they can.
Union power and collective action are the only ways to ensure they stick to their agreements.
---
In this issue
---
What we think

Russia, spies and nerve agents
---
Socialist Party news and analysis

Hands off free school meals!

The Blairites are NHS privatisers - to save it means sacking them

Cuts harm kids' health

Hated Blairite mayor ousted: now fight for a no-cuts Newham!

Them & us
---
International socialist news and analysis

West Virginia teachers' strike victory

US school shootings: student walkouts challenge establishment

Brazil: Psol councillor Marielle Franco murdered
---
Workplace news and analysis

UCU strike: staff and students unite to continue pensions fight after magnificent 14 days of action

Hinkley workers win back unpaid wages after sit-in protest

Strikers and parents rally again in Newham against academies

Hull college workers ballot for action against mass redundancies

Unions condemn 'culture of bullying' at Merseyside hospital

NSSN conference moves
---
Socialist Party reports and campaigns

Refugees march against racism and to demand rights

Ideas matter: help us fight to win with May Day greetings

Past fund-raising campaigns show dedication to the fight for socialism

Why I joined: 'The Socialist Party is at the forefront of defending Corbyn's anti-austerity leadership'

Hands Off HRI campaign granted judicial review

Over 1,000 on Newcastle NHS march

Refugee Rights to be launched in Manchester
---
Opinion

Revolutionary physicist and champion of social causes

The Socialist inbox
---
Home | The Socialist 21 March 2018 | Join the Socialist Party