The Socialist 18 April 2018
Get the Tories out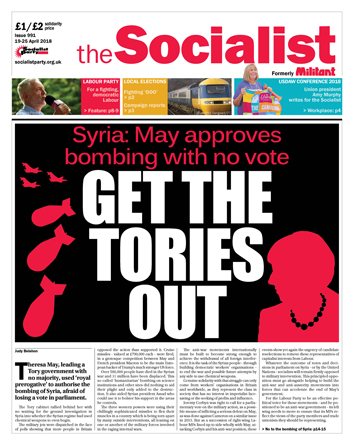 ---
---
For a fighting, democratic Labour Party
---
Give us your change (and more) to fight for system change!
Building fund: £150,000 milestone smashed!
The Socialist - a fighting, campaigning, workers' paper
Hull says no to war, no to austerity
Victorious Fearnville Fields campaigners thank the Socialist
---
1,400 beds empty as patients lay in corridors: health unions must act now
Catalonia: 1m marchers demand self-determination
Billions for the bosses, benefit cuts for us
---
Labour councillors could stop unsafe 'driver-only operation' tomorrow
Grimsby local paper reveals Labour candidate 'tried to defect to the Tories'
TUSC campaigners challenge youth club cuts
Huddersfield TUSC takes on the Blairites
Butterfields tenants join TUSC campaign
Haringey TUSC fights Blairite cuts
---
Enoch Powell's racist 'Rivers of Blood' rant 50 years on
---
Usdaw conference 2018: time for new era of fighting trade unionism
UCU members vote to end pensions dispute
Bromley libraries - indefinite strike action continues
PCS rejects Acas offer - further strikes announced
Vote for a left, fighting PCS leadership
Avenue School strikers and parents win judicial review
Workers' victory over anti-union Scottish council
---
Vital depiction of fight for Aids prevention and treatment
PO Box 1398, Enfield EN1 9GT
020 8988 8777

Link to this page: https://www.socialistparty.org.uk/issue/991/27204
Home | The Socialist 18 April 2018 | Join the Socialist Party
Subscribe | Donate | Audio | PDF | ebook
1,400 beds empty as patients lay in corridors: health unions must act now
Laurel Fogarty
During the toughest year on record for the NHS, over 1,400 hospital beds in England were mothballed amid short staffing and lack of funds.
The 1,429 beds are now in 82 'ghost wards' - unusable despite overcrowding in hospitals over the winter crisis. The 'winter' crisis itself looks set to continue into the summer, compounding the deepening staff shortage.
Poor working conditions, stagnant pay, and ever-increasing demands on NHS workers, along with chronic underfunding, have left a staffing black hole in the NHS. Among the worst hit are nursing staff.
Over 160,000 nurses have been pushed out of the NHS in the last five years alone, according to a parliamentary answer to Labour. With the cuts to bursaries for nursing students, young nurses face racking up thousands of pounds debt to complete their training, and the staffing crisis looks set to worsen.
Hospital administrations across the country echo Tory policy on further dismantling the idea of a publicly owned, free health service. Instead of fighting for the funds to give crucial NHS staff with decent pay and working conditions, they create backdoor privatisation vehicles and have expensive agencies plug the gaps, further depleting stretched funding.
The shortage of beds is putting patients at risk. How many patients queued in corridors or stuck in ambulances outside A&E were there due to unusable empty beds?
Danger
And staff at Manchester Children's Hospital report that sick children are discharged early to free up beds and that staffing has reached dangerously low levels. They say children are being put in danger by low levels of staff on wards - and management forces staff themselves to train for free in their own time.
With a health secretary who co-authored a book including how to dismantle the NHS and replace it with a US-style market system, the deepening crisis in the NHS comes as no surprise. It's all part of the establishment's drive for profit at any cost.
Corbyn's manifesto pledged to restore £30 billion of funding to the NHS and reinstate nurses' training bursaries. These policies won huge popular support and remain one of the Tories' and Blairites' many vulnerabilities.
The health unions must lead the way: neither NHS workers nor patients can wait up to another four years for a general election. Coordinated industrial action - on pay, for example, alongside civil servants and teachers - could tear this divided government apart now.
The Socialist Party has shown what can be done to fight the Tory cuts. Workers and local campaigners have won victories against closures and cuts in Leicester, Mansfield and elsewhere with our members playing leading roles.
The unions must use their power to push for action on our NHS now. Corbyn should join the Socialist Party in calling for this, and for full public ownership of the healthcare sector.
---
In this issue
---
What we think

No to the bombing of Syria!
---
Labour Party

For a fighting, democratic Labour Party
---
Socialist Party reports and campaigns

Give us your change (and more) to fight for system change!

Building fund: £150,000 milestone smashed!

The Socialist - a fighting, campaigning, workers' paper

Hull says no to war, no to austerity

Victorious Fearnville Fields campaigners thank the Socialist
---
Socialist Party news and analysis

Young people need homes

1,400 beds empty as patients lay in corridors: health unions must act now

Catalonia: 1m marchers demand self-determination

Billions for the bosses, benefit cuts for us

Them & Us
---
Local elections 2018

Labour councillors could stop unsafe 'driver-only operation' tomorrow

Grimsby local paper reveals Labour candidate 'tried to defect to the Tories'

TUSC campaigners challenge youth club cuts

Huddersfield TUSC takes on the Blairites

Butterfields tenants join TUSC campaign

Haringey TUSC fights Blairite cuts
---
Socialist history

Enoch Powell's racist 'Rivers of Blood' rant 50 years on
---
Workplace news and analysis

Usdaw conference 2018: time for new era of fighting trade unionism

UCU members vote to end pensions dispute

Bromley libraries - indefinite strike action continues

PCS rejects Acas offer - further strikes announced

Vote for a left, fighting PCS leadership

Avenue School strikers and parents win judicial review

Workers' victory over anti-union Scottish council
---
Opinion

Vital depiction of fight for Aids prevention and treatment

The Socialist inbox
---
Home | The Socialist 18 April 2018 | Join the Socialist Party