The Socialist 18 April 2018
Get the Tories out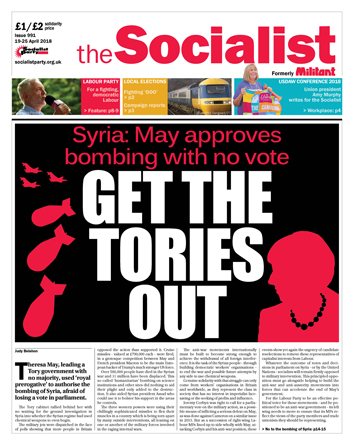 ---
---
For a fighting, democratic Labour Party
---
Give us your change (and more) to fight for system change!
Building fund: £150,000 milestone smashed!
The Socialist - a fighting, campaigning, workers' paper
Hull says no to war, no to austerity
Victorious Fearnville Fields campaigners thank the Socialist
---
1,400 beds empty as patients lay in corridors: health unions must act now
Catalonia: 1m marchers demand self-determination
Billions for the bosses, benefit cuts for us
---
Labour councillors could stop unsafe 'driver-only operation' tomorrow
Grimsby local paper reveals Labour candidate 'tried to defect to the Tories'
TUSC campaigners challenge youth club cuts
Huddersfield TUSC takes on the Blairites
Butterfields tenants join TUSC campaign
Haringey TUSC fights Blairite cuts
---
Enoch Powell's racist 'Rivers of Blood' rant 50 years on
---
Usdaw conference 2018: time for new era of fighting trade unionism
UCU members vote to end pensions dispute
Bromley libraries - indefinite strike action continues
PCS rejects Acas offer - further strikes announced
Vote for a left, fighting PCS leadership
Avenue School strikers and parents win judicial review
Workers' victory over anti-union Scottish council
---
Vital depiction of fight for Aids prevention and treatment
PO Box 1398, Enfield EN1 9GT
020 8988 8777

Link to this page: https://www.socialistparty.org.uk/issue/991/27207
Home | The Socialist 18 April 2018 | Join the Socialist Party
Subscribe | Donate | Audio | PDF | ebook
Them & Us
BlackRock billionaire
Larry Fink, founder and CEO of BlackRock, the world's giantest investment giant, is the latest addition to the Bloomberg Billionaires Index. The world had 2,208 billionaires in March, according to Forbes - the 0.00003%.
BlackRock's $6.3 trillion of interests include outsourcers like Circle International and G4S which are cannibalising the NHS and other public services. The firm employs former chancellor George Osborne, architect of austerity, on £650,000 a year for just 48 days' work.
Bolshevik banker?
Is capitalism digging its own grave? Mark Carney, the Bank of England governor who 'earns' £880,000 a year, worries it is.
He says that thanks to automation, the internet and AI, "you have exactly the same dynamics as existed 150 years ago, when Karl Marx was scribbling the Communist Manifesto."
Carney told the Canada Growth Summit that "Marx and Engels may again become relevant." They never stopped being relevant. The bosses just stopped paying attention.
Kill or cure
You can only cure a patient once - and that's bad for business, says Goldman Sachs. The US investment bank's April report 'The Genome Revolution' asks: "Is curing patients a sustainable business model?"
"The potential to deliver 'one-shot cures' is one of the most attractive aspects of gene therapy... However, such treatments offer a very different outlook with regard to recurring revenue versus chronic therapies."
"While this proposition carries tremendous value for patients and society, it could represent a challenge for genome medicine developers looking for sustained cash flow."
---
Apprenticeship lies
Bosses are "simply rebadging low-quality, low-skill and often low-wage roles as 'apprenticeships'," according to think-tank Reform.
The Tories have forced large employers to spend a proportion of their wage bill on 'apprenticeships'. Reform's report 'The Great Training Robbery' finds two-fifths of government-approved apprenticeship standards are not in line with genuine learning on the job.
KFC's 'apprentice hospitality team members', for example, learn to fry chips and mop floors. Firms can claim up to 90% of their 'apprenticeship' spending back.
Paupers' funerals
Local authorities withhold the ashes of cremated loved ones from families who can't afford to pay, according to an investigation by the Times.
The outcry caused by the practice of councils stacking dead babies in resealable mass graves has led Theresa May to promise a children's funeral fund. But the families of adults who can't afford it have no recourse.
82% of council 'paupers' funerals' involve families who can't or won't pay, compared to 44% ten years ago, says Stirling Citizens Advice Bureau. The average cost of a funeral has doubled since 2003, according to the Times, while the government has cut bereavement benefits.
Cold snap cuts
Almost a million fewer pensioners were allowed to claim emergency heating help this winter than when the Tories came to power.
'Cold weather payments' of £25 go to pension credit claimants when temperatures drop below zero for over a week. In 2017-18, just 1.7 million claimants qualified - compared to 2.6 million in 2010-11, according to Commons Library data requested by Labour.
---
In this issue
---
What we think

No to the bombing of Syria!
---
Labour Party

For a fighting, democratic Labour Party
---
Socialist Party reports and campaigns

Give us your change (and more) to fight for system change!

Building fund: £150,000 milestone smashed!

The Socialist - a fighting, campaigning, workers' paper

Hull says no to war, no to austerity

Victorious Fearnville Fields campaigners thank the Socialist
---
Socialist Party news and analysis

Young people need homes

1,400 beds empty as patients lay in corridors: health unions must act now

Catalonia: 1m marchers demand self-determination

Billions for the bosses, benefit cuts for us

Them & Us
---
Local elections 2018

Labour councillors could stop unsafe 'driver-only operation' tomorrow

Grimsby local paper reveals Labour candidate 'tried to defect to the Tories'

TUSC campaigners challenge youth club cuts

Huddersfield TUSC takes on the Blairites

Butterfields tenants join TUSC campaign

Haringey TUSC fights Blairite cuts
---
Socialist history

Enoch Powell's racist 'Rivers of Blood' rant 50 years on
---
Workplace news and analysis

Usdaw conference 2018: time for new era of fighting trade unionism

UCU members vote to end pensions dispute

Bromley libraries - indefinite strike action continues

PCS rejects Acas offer - further strikes announced

Vote for a left, fighting PCS leadership

Avenue School strikers and parents win judicial review

Workers' victory over anti-union Scottish council
---
Opinion

Vital depiction of fight for Aids prevention and treatment

The Socialist inbox
---
Home | The Socialist 18 April 2018 | Join the Socialist Party