The Socialist 18 April 2018
Get the Tories out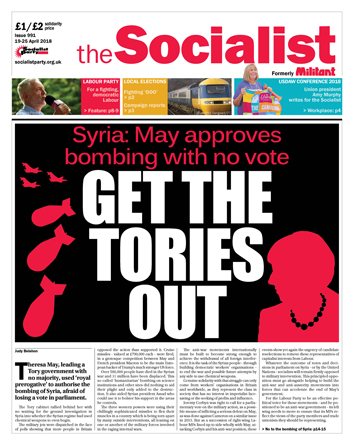 ---
---
For a fighting, democratic Labour Party
---
Give us your change (and more) to fight for system change!
Building fund: £150,000 milestone smashed!
The Socialist - a fighting, campaigning, workers' paper
Hull says no to war, no to austerity
Victorious Fearnville Fields campaigners thank the Socialist
---
1,400 beds empty as patients lay in corridors: health unions must act now
Catalonia: 1m marchers demand self-determination
Billions for the bosses, benefit cuts for us
---
Labour councillors could stop unsafe 'driver-only operation' tomorrow
Grimsby local paper reveals Labour candidate 'tried to defect to the Tories'
TUSC campaigners challenge youth club cuts
Huddersfield TUSC takes on the Blairites
Butterfields tenants join TUSC campaign
Haringey TUSC fights Blairite cuts
---
Enoch Powell's racist 'Rivers of Blood' rant 50 years on
---
Usdaw conference 2018: time for new era of fighting trade unionism
UCU members vote to end pensions dispute
Bromley libraries - indefinite strike action continues
PCS rejects Acas offer - further strikes announced
Vote for a left, fighting PCS leadership
Avenue School strikers and parents win judicial review
Workers' victory over anti-union Scottish council
---
Vital depiction of fight for Aids prevention and treatment
PO Box 1398, Enfield EN1 9GT
020 8988 8777

Link to this page: https://www.socialistparty.org.uk/issue/991/27208
Home | The Socialist 18 April 2018 | Join the Socialist Party
Subscribe | Donate | Audio | PDF | ebook
Young people need homes
Vote TUSC to fight youth homelessness and the housing crisis
Tom Costello, TUSC local election candidate, Preston
Youth homelessness is on the rise. The housing crisis and delays in benefit payments under the Tories' 'universal credit' system are major factors.
92% of respondents in a survey by Homeless Link said welfare changes were worsening the problem. 55% of homelessness services reported increased demand over the last year, with a quarter of young men sleeping rough aged 16 or 17.
Meanwhile, the weak Tory government has made yet another u-turn - this time on its hated pledge to scrap housing benefit for 18 to 21-year-olds. Esther McVey, work and pensions secretary, said the main reason was a commitment to "providing young people with the support they need to get started with their working lives."
Nobody should see this as anything more than a smokescreen. One of the Tories' first moves in power in 2010 was to stop under-35s from claiming benefits for a home on their own. Their policies have consistently enriched developers and bosses at the expense of renters and workers.
The real reason for the Tories' turnaround is the tremendous levels of youth support for Jeremy Corbyn's policies. Many of the pledges in his general election manifesto, such as rent controls and building a million social and council homes, resonate massively with young people.
We are increasingly unable to find affordable housing in a system rigged for exploitative and parasitic investors. Current trends mean a third of Millennials will be stuck in the rent trap our entire lives, according to the Resolution Foundation.
May's government is in an exceptionally difficult situation. It is the main party of the super-rich and must stay faithful by carrying out attacks like these. But at the same time, its low popularity means it has to try to project the image of a party concerned with the wellbeing of young workers.
Last year's general election results were a humiliation for the Tories, and were spearheaded by young people and workers enthused by Corbyn's anti-austerity message. The 3 May council elections are an opportunity to fight for those policies at a local level.
It was Blairite Labour which introduced the 'local housing allowance' which limits housing benefit - under Tory recalculations, to imaginary levels often well below real private rents. And Labour councils, dominated by the right-wing enemies of Corbyn, have sold off council homes and helped push up private rents just like their Tory colleagues.
The Trade Unionist and Socialist Coalition (TUSC) is the anti-austerity electoral alliance including transport union RMT and the Socialist Party. We fight for capping private rents at genuinely affordable levels and building council homes instead of selling them off.
We are standing against some of the worst anti-Corbyn, pro-cuts councillors in support of Jeremy Corbyn's leadership and the policies which have enthused millions of young people.
Young people can be a leading force in the fight for socialist change. Vote TUSC where you can, and join the Socialist Party, to help achieve it.
---
In this issue
---
What we think

No to the bombing of Syria!
---
Labour Party

For a fighting, democratic Labour Party
---
Socialist Party reports and campaigns

Give us your change (and more) to fight for system change!

Building fund: £150,000 milestone smashed!

The Socialist - a fighting, campaigning, workers' paper

Hull says no to war, no to austerity

Victorious Fearnville Fields campaigners thank the Socialist
---
Socialist Party news and analysis

Young people need homes

1,400 beds empty as patients lay in corridors: health unions must act now

Catalonia: 1m marchers demand self-determination

Billions for the bosses, benefit cuts for us

Them & Us
---
Local elections 2018

Labour councillors could stop unsafe 'driver-only operation' tomorrow

Grimsby local paper reveals Labour candidate 'tried to defect to the Tories'

TUSC campaigners challenge youth club cuts

Huddersfield TUSC takes on the Blairites

Butterfields tenants join TUSC campaign

Haringey TUSC fights Blairite cuts
---
Socialist history

Enoch Powell's racist 'Rivers of Blood' rant 50 years on
---
Workplace news and analysis

Usdaw conference 2018: time for new era of fighting trade unionism

UCU members vote to end pensions dispute

Bromley libraries - indefinite strike action continues

PCS rejects Acas offer - further strikes announced

Vote for a left, fighting PCS leadership

Avenue School strikers and parents win judicial review

Workers' victory over anti-union Scottish council
---
Opinion

Vital depiction of fight for Aids prevention and treatment

The Socialist inbox
---
Home | The Socialist 18 April 2018 | Join the Socialist Party