The Socialist 18 April 2018
Get the Tories out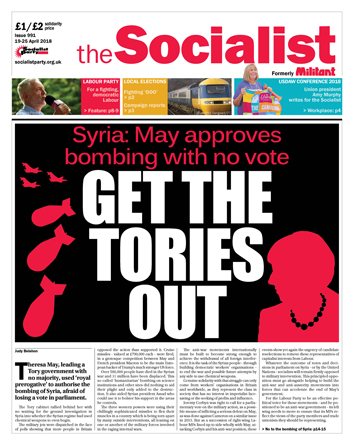 ---
---
For a fighting, democratic Labour Party
---
Give us your change (and more) to fight for system change!
Building fund: £150,000 milestone smashed!
The Socialist - a fighting, campaigning, workers' paper
Hull says no to war, no to austerity
Victorious Fearnville Fields campaigners thank the Socialist
---
1,400 beds empty as patients lay in corridors: health unions must act now
Catalonia: 1m marchers demand self-determination
Billions for the bosses, benefit cuts for us
---
Labour councillors could stop unsafe 'driver-only operation' tomorrow
Grimsby local paper reveals Labour candidate 'tried to defect to the Tories'
TUSC campaigners challenge youth club cuts
Huddersfield TUSC takes on the Blairites
Butterfields tenants join TUSC campaign
Haringey TUSC fights Blairite cuts
---
Enoch Powell's racist 'Rivers of Blood' rant 50 years on
---
Usdaw conference 2018: time for new era of fighting trade unionism
UCU members vote to end pensions dispute
Bromley libraries - indefinite strike action continues
PCS rejects Acas offer - further strikes announced
Vote for a left, fighting PCS leadership
Avenue School strikers and parents win judicial review
Workers' victory over anti-union Scottish council
---
Vital depiction of fight for Aids prevention and treatment
PO Box 1398, Enfield EN1 9GT
020 8988 8777

Link to this page: https://www.socialistparty.org.uk/issue/991/27215
Home | The Socialist 18 April 2018 | Join the Socialist Party
Subscribe | Donate | Audio | PDF | ebook
Vote for a left, fighting PCS leadership
Marion Lloyd, PCS union national executive committee member (personal capacity) and PCS Left Unity chair
On 19 April ballot papers for the PCS executive committee elections will be posted out. Many members can be expected to vote soon after their ballot papers arrive.
It is vital that local reps act quickly to persuade members to vote for the Democracy Alliance slate.
Members of the 90 branches that nominated the Democracy Alliance should be approached to vote for the Democracy Alliance slate
Even if a branch did not nominate the Democracy Alliance slate branch committees can still recommend this slate to members
Leaflets explaining the Democracy Alliance record and programme are available. These should be used in offices where possible or by leafleting outside offices
Left Unity activists have been sent a ballot pack containing guidelines on how to maximise the vote for Democracy Alliance candidates.
That pack also contains materials to use to help make recommendations. More information can be found at leftunity.org.uk.
The PCS left leadership is one of the most consistent and effective critics of the Tories' austerity programme. We have launched the pay protest and campaign against the pay cap.
Linked with this are efforts to persuade the Trade Union Congress and other public sector unions to take joint coordinated action on pay to scrap the cap.
Continued support for these policies rely on the re-election of the Democracy Alliance leadership.
Chris Baugh, PCS assistant general secretary (personal capacity), says: "I urge PCS members to support Democracy Alliance candidates in the 2018 president, vice-presidents and executive committee election.
"The Democracy Alliance leadership has delivered for members in the workplace and at group and national level.
"A strong and democratically accountable union is required to meet the challenges we face - this is best achieved by voting the Democracy Alliance slate."
---
President
Janice Godrich DWP Clydeside and Argyll
Vice-Presidents
Jackie Green MOJ Bradford Fran Heathcote DWP Northumbria & Tyneside Zita Holbourne BEIS London North Kevin McHugh HMRC Benton Park View
National Executive Committee
Mark Baker DCLG Bristol & South West John Jamieson Registers of Scotland Ian Pope DWP Clydeside and Argyll Paula Brown HSE National Branch Tahir Latif NATS CTC Annette Rochester DWP Birmingham North Clive Bryant HMRC Worthing Neil License HMRC Yorkshire & North Lincs Alison Roder MOJ HQ Branch Martin Cavanagh DWP Wirral Marion Lloyd BEIS Scotland & North of England Dave Semple DWP Greater Glasgow Harvey Crane HMRC Anglia Dominic McFadden HMRC Intelligence & Investigation Steve Thorley CPS East Midlands Alan Dennis MOD DSg South Central John McInally DWP HQ London Candy Udwin CMSOA National Gallery Felicity Flynn MOJ Kenny McKay IT Services Glasgow Karen Watts MOJ Wessex Angela Grant DWP Wirral John Maguire MOJ Greater Manchester Hector Wesley HMRC Euston Tower Sam Hall DWP Highlands & Islands Lorna Merry HMRC London HQ Katrine Williams DWP SE Wales Austin Harney MOJ Associated Offices Marianne Owens HMRC South Wales R&C Paul Williams DfT Nottingham Branch
---
In this issue
---
What we think

No to the bombing of Syria!
---
Labour Party

For a fighting, democratic Labour Party
---
Socialist Party reports and campaigns

Give us your change (and more) to fight for system change!

Building fund: £150,000 milestone smashed!

The Socialist - a fighting, campaigning, workers' paper

Hull says no to war, no to austerity

Victorious Fearnville Fields campaigners thank the Socialist
---
Socialist Party news and analysis

Young people need homes

1,400 beds empty as patients lay in corridors: health unions must act now

Catalonia: 1m marchers demand self-determination

Billions for the bosses, benefit cuts for us

Them & Us
---
Local elections 2018

Labour councillors could stop unsafe 'driver-only operation' tomorrow

Grimsby local paper reveals Labour candidate 'tried to defect to the Tories'

TUSC campaigners challenge youth club cuts

Huddersfield TUSC takes on the Blairites

Butterfields tenants join TUSC campaign

Haringey TUSC fights Blairite cuts
---
Socialist history

Enoch Powell's racist 'Rivers of Blood' rant 50 years on
---
Workplace news and analysis

Usdaw conference 2018: time for new era of fighting trade unionism

UCU members vote to end pensions dispute

Bromley libraries - indefinite strike action continues

PCS rejects Acas offer - further strikes announced

Vote for a left, fighting PCS leadership

Avenue School strikers and parents win judicial review

Workers' victory over anti-union Scottish council
---
Opinion

Vital depiction of fight for Aids prevention and treatment

The Socialist inbox
---
Home | The Socialist 18 April 2018 | Join the Socialist Party