The Socialist 18 April 2018
Get the Tories out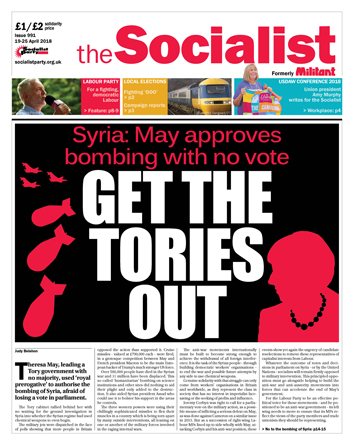 ---
---
For a fighting, democratic Labour Party
---
Give us your change (and more) to fight for system change!
Building fund: £150,000 milestone smashed!
The Socialist - a fighting, campaigning, workers' paper
Hull says no to war, no to austerity
Victorious Fearnville Fields campaigners thank the Socialist
---
1,400 beds empty as patients lay in corridors: health unions must act now
Catalonia: 1m marchers demand self-determination
Billions for the bosses, benefit cuts for us
---
Labour councillors could stop unsafe 'driver-only operation' tomorrow
Grimsby local paper reveals Labour candidate 'tried to defect to the Tories'
TUSC campaigners challenge youth club cuts
Huddersfield TUSC takes on the Blairites
Butterfields tenants join TUSC campaign
Haringey TUSC fights Blairite cuts
---
Enoch Powell's racist 'Rivers of Blood' rant 50 years on
---
Usdaw conference 2018: time for new era of fighting trade unionism
UCU members vote to end pensions dispute
Bromley libraries - indefinite strike action continues
PCS rejects Acas offer - further strikes announced
Vote for a left, fighting PCS leadership
Avenue School strikers and parents win judicial review
Workers' victory over anti-union Scottish council
---
Vital depiction of fight for Aids prevention and treatment
PO Box 1398, Enfield EN1 9GT
020 8988 8777

Link to this page: https://www.socialistparty.org.uk/issue/991/27216
Home | The Socialist 18 April 2018 | Join the Socialist Party
Subscribe | Donate | Audio | PDF | ebook
PCS rejects Acas offer - further strikes announced
Marion Lloyd, PCS Business, Energy and Industrial Strategy group president
PCS served notice to Acas on 11 April to start a programme of industrial action beginning with a work to rule on 25 April and a one-day strike on 11 May followed by further strikes at the beginning of June if the employer does not improve their offer to our Acas members.
The action is being taken in response to the employer's transformation programme and in particular chronic staffing shortages, the downgrading of work and the removal of work out of London, leaving many members vulnerable and at risk of redundancy.
While there was welcome progress during talks last year, including assurances work would be retained in London and guarantees for members facing office closure in Liverpool, it was not enough to reassure conciliators that their work was not being downgraded and that there were proper trade union agreed job descriptions.
Talks have continued but so has the transformation programme. The excellent decision following the court case taken by Unison to remove tribunal fees has resulted in almost a trebling of work, plunging Acas into chaos as there are simply not enough trained staff to do the work.
Talks have produced minor concessions but it is still not enough to ensure there are enough trained staff at the right grade to deliver a key service, nor is it enough to reassure Acas members that there is a strategy for the future to protect jobs, grades, conditions and services.
The ballot result, which crashed through the Tory-imposed laws with a 65% turnout and 85% voting for action, shows the strength of feeling.
Messages of support to

[email protected]

and we welcome bucket collections to support our members in struggle and for further information on this then please get in touch
---
In this issue
---
What we think

No to the bombing of Syria!
---
Labour Party

For a fighting, democratic Labour Party
---
Socialist Party reports and campaigns

Give us your change (and more) to fight for system change!

Building fund: £150,000 milestone smashed!

The Socialist - a fighting, campaigning, workers' paper

Hull says no to war, no to austerity

Victorious Fearnville Fields campaigners thank the Socialist
---
Socialist Party news and analysis

Young people need homes

1,400 beds empty as patients lay in corridors: health unions must act now

Catalonia: 1m marchers demand self-determination

Billions for the bosses, benefit cuts for us

Them & Us
---
Local elections 2018

Labour councillors could stop unsafe 'driver-only operation' tomorrow

Grimsby local paper reveals Labour candidate 'tried to defect to the Tories'

TUSC campaigners challenge youth club cuts

Huddersfield TUSC takes on the Blairites

Butterfields tenants join TUSC campaign

Haringey TUSC fights Blairite cuts
---
Socialist history

Enoch Powell's racist 'Rivers of Blood' rant 50 years on
---
Workplace news and analysis

Usdaw conference 2018: time for new era of fighting trade unionism

UCU members vote to end pensions dispute

Bromley libraries - indefinite strike action continues

PCS rejects Acas offer - further strikes announced

Vote for a left, fighting PCS leadership

Avenue School strikers and parents win judicial review

Workers' victory over anti-union Scottish council
---
Opinion

Vital depiction of fight for Aids prevention and treatment

The Socialist inbox
---
Home | The Socialist 18 April 2018 | Join the Socialist Party