The Socialist 18 April 2018
Get the Tories out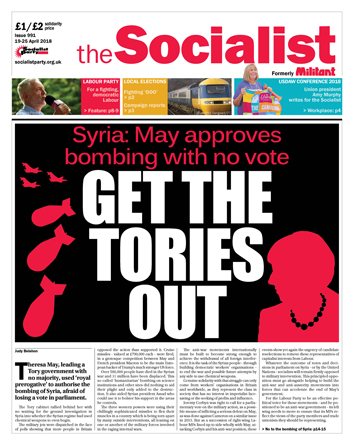 ---
---
For a fighting, democratic Labour Party
---
Give us your change (and more) to fight for system change!
Building fund: £150,000 milestone smashed!
The Socialist - a fighting, campaigning, workers' paper
Hull says no to war, no to austerity
Victorious Fearnville Fields campaigners thank the Socialist
---
1,400 beds empty as patients lay in corridors: health unions must act now
Catalonia: 1m marchers demand self-determination
Billions for the bosses, benefit cuts for us
---
Labour councillors could stop unsafe 'driver-only operation' tomorrow
Grimsby local paper reveals Labour candidate 'tried to defect to the Tories'
TUSC campaigners challenge youth club cuts
Huddersfield TUSC takes on the Blairites
Butterfields tenants join TUSC campaign
Haringey TUSC fights Blairite cuts
---
Enoch Powell's racist 'Rivers of Blood' rant 50 years on
---
Usdaw conference 2018: time for new era of fighting trade unionism
UCU members vote to end pensions dispute
Bromley libraries - indefinite strike action continues
PCS rejects Acas offer - further strikes announced
Vote for a left, fighting PCS leadership
Avenue School strikers and parents win judicial review
Workers' victory over anti-union Scottish council
---
Vital depiction of fight for Aids prevention and treatment
PO Box 1398, Enfield EN1 9GT
020 8988 8777

Link to this page: https://www.socialistparty.org.uk/issue/991/27218
Home | The Socialist 18 April 2018 | Join the Socialist Party
Subscribe | Donate | Audio | PDF | ebook
Film: 120 BPM
Vital depiction of fight for Aids prevention and treatment
Michael Johnson, Socialist Party LGBT group
"This is how you fight Aids!" Although it's chanted with scorn as LGBT+ activists are dragged away by the police in an early scene, this line perfectly describes the struggle of 'Act Up' (Aids Coalition To Unleash Power).
120 BPM follows the Paris chapter of Act Up during the 1990s, and the blossoming relationship between two members. The dramatic fightback against political indifference and profiteering by pharmaceutical companies is based on director Robin Campillo's personal experience as an activist with the organisation.
Act Up was initially formed in 1987 in New York, but spread across the world to help organise militant political action against the ongoing Aids crisis.
It had become one of the biggest health crises of modern times - yet faced disinterest at best from those with the power to direct work to end the disease.
120 BPM brilliantly and unashamedly shows us Act Up's fight. It opens with members invading the stage of a government talk on the Aids crisis in protest against them failing to provide information on HIV/Aids prevention.
There are occupations of drugs companies who aren't willing to provide enough of the life-saving medication needed to meet demand - in order to maximise their profits.
Activists teach themselves about medication and biology before walking into schools to provide condoms and information to teens.
The drama also focusses on the vital importance of organisation. In scenes that will be familiar to any activist, much of the film takes place in weekly meetings where members debate strategy, tactics, chants and even the wording of leaflets.
This is a wonderful and vital depiction of an incredibly inspiring part of the fight of LGBT+ rights. Even funerals of deceased members become protests to continue the fight.
120 BPM shows us Act Up's tremendous influence on the Aids crisis. Undoubtedly, the successes we have gained in understanding and treatment of HIV/Aids would not have occurred when they did without Act Up.
But this should also serve as motivation to continue the fight for decent health services and liberation for all.
---
In this issue
---
What we think

No to the bombing of Syria!
---
Labour Party

For a fighting, democratic Labour Party
---
Socialist Party reports and campaigns

Give us your change (and more) to fight for system change!

Building fund: £150,000 milestone smashed!

The Socialist - a fighting, campaigning, workers' paper

Hull says no to war, no to austerity

Victorious Fearnville Fields campaigners thank the Socialist
---
Socialist Party news and analysis

Young people need homes

1,400 beds empty as patients lay in corridors: health unions must act now

Catalonia: 1m marchers demand self-determination

Billions for the bosses, benefit cuts for us

Them & Us
---
Local elections 2018

Labour councillors could stop unsafe 'driver-only operation' tomorrow

Grimsby local paper reveals Labour candidate 'tried to defect to the Tories'

TUSC campaigners challenge youth club cuts

Huddersfield TUSC takes on the Blairites

Butterfields tenants join TUSC campaign

Haringey TUSC fights Blairite cuts
---
Socialist history

Enoch Powell's racist 'Rivers of Blood' rant 50 years on
---
Workplace news and analysis

Usdaw conference 2018: time for new era of fighting trade unionism

UCU members vote to end pensions dispute

Bromley libraries - indefinite strike action continues

PCS rejects Acas offer - further strikes announced

Vote for a left, fighting PCS leadership

Avenue School strikers and parents win judicial review

Workers' victory over anti-union Scottish council
---
Opinion

Vital depiction of fight for Aids prevention and treatment

The Socialist inbox
---
Home | The Socialist 18 April 2018 | Join the Socialist Party