The Socialist 18 April 2018
Get the Tories out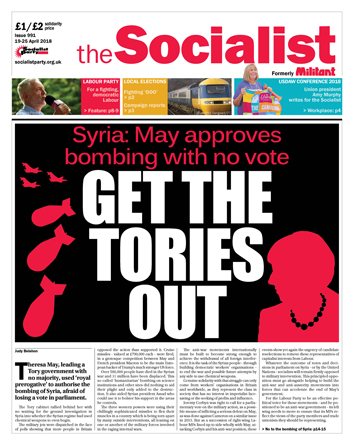 ---
---
For a fighting, democratic Labour Party
---
Give us your change (and more) to fight for system change!
Building fund: £150,000 milestone smashed!
The Socialist - a fighting, campaigning, workers' paper
Hull says no to war, no to austerity
Victorious Fearnville Fields campaigners thank the Socialist
---
1,400 beds empty as patients lay in corridors: health unions must act now
Catalonia: 1m marchers demand self-determination
Billions for the bosses, benefit cuts for us
---
Labour councillors could stop unsafe 'driver-only operation' tomorrow
Grimsby local paper reveals Labour candidate 'tried to defect to the Tories'
TUSC campaigners challenge youth club cuts
Huddersfield TUSC takes on the Blairites
Butterfields tenants join TUSC campaign
Haringey TUSC fights Blairite cuts
---
Enoch Powell's racist 'Rivers of Blood' rant 50 years on
---
Usdaw conference 2018: time for new era of fighting trade unionism
UCU members vote to end pensions dispute
Bromley libraries - indefinite strike action continues
PCS rejects Acas offer - further strikes announced
Vote for a left, fighting PCS leadership
Avenue School strikers and parents win judicial review
Workers' victory over anti-union Scottish council
---
Vital depiction of fight for Aids prevention and treatment
PO Box 1398, Enfield EN1 9GT
020 8988 8777

Link to this page: https://www.socialistparty.org.uk/issue/991/27220
Home | The Socialist 18 April 2018 | Join the Socialist Party
Subscribe | Donate | Audio | PDF | ebook
Labour councillors could stop unsafe 'driver-only operation' tomorrow
Hugh Caffrey, Socialist Party North West secretary
Many train companies across the country are trying to get rid of the guards on the trains. These 'safety-critical' staff are to be replaced with a bank of tiny TV screens in the driver's cab.
Instead of the guard being able to respond to incidents or help people, the driver is supposed to keep watch on everything behind him as well as drive the train and respond to problems on the train!
Huge majorities of guards, drivers, train passengers and the public at large are all opposed to this.
In favour are greedy profit-seeking companies that see a chance to boost profits by cutting jobs, greedy pro-profit Tory politicians backing them up... and local right-wing Labour politicians.
In many local instances, 'driver-only operation' (DOO) is being pushed through with the assistance of these Blairite councillors.
This is in complete opposition to Labour's policy in favour of (gradual) rail renationalisation and Jeremy Corbyn tweeting his support for the guards.
This is true in Merseyside where the transport committee is Labour-run and oversees the local rail network.
Across the north of England the 'Rail North' project is backed by lots of Labour council leaders, including prominently Manchester's Blairite supremo Richard Leese.
Liverpool city region mayor Steve Rotheram washes his hands of the dispute in public while backing the bosses in private.
His counterpart Andy Burnham in Greater Manchester seems to have lost his voice when it comes to public transport, despite making pro-passenger regulation of transport a major election pledge.
These people could stop many of the DOO projects tomorrow if they changed their position from actively supporting it to actively opposing it!
Public ownership
So Trade Unionist and Socialist Coalition (TUSC) candidates will be running in the May elections against some of these anti-guard politicians, and others like them.
We want rail renationalised fully and in one go, with all public transport returned to the public sector, and massively expanded in a democratic socialist plan to meet the needs of people, society and the environment.
TUSC supporters are already supporting the guards on their strike picket lines, on our campaign stalls, and so forth - and we will use the election campaigns to step this up a gear.
TUSC councillors would - and any pro-guard politician should - seek immediately to use all possible procedures to query, halt and scrap DOO policy.
We would call on Corbyn-supporting Labour councillors to work with us to force the anti-guard politicians to back down with a massive public campaign as well as arguing the case within council meetings.
The guards' trade union, RMT, has been fighting a tremendous industrial battle for well over a year in the north west and longer than that on Southern Rail, to defend guards and public safety. We believe that the guards, their union, the travelling public and the public at large, deserve better political representation than they're currently getting!
---
The Trade Unionist and Socialist Coalition (TUSC) is an anti-austerity electoral alliance including transport union RMT, the Socialist Party, leading members of other trade unions and non-affiliated socialists and community campaigners.
TUSC is standing 112 candidates across 34 councils on 3 May: see tusc.org.uk
---
Merseyrail: TUSC stands against councillors that cut guards
The Trade Unionist and Socialist Coalition (TUSC) is standing candidates in this year's local elections against two members of the Liverpool city region transport authority, responsible for trying to push safety-critical guards off the trains on Merseyrail.
The representatives from Halton and Liverpool councils on the transport committee are seeking re-election as councillors on 3 May.
But this time they will be challenged by TUSC candidates Stephen Armstrong, a Unite union workplace rep, and Ann Walsh, the former chair of the Merseyside Pensioners Association.
Both are committed to backing the RMT transport union's campaign to keep the guards on the trains.
Merseyrail plans to introduce driver-only operation (DOO) on the new stock that will come into service by 2020.
The Merseyrail franchise is under the control of the Liverpool city region combined authority, led by the Labour metro mayor Steve Rotheram and councillors from Merseyside's six Labour-led councils.
As the RMT general secretary Mick Cash recently said, on the first anniversary of the Merseyrail guards' dispute: "It's time for metro mayor Steve Rotheram and the leaders of the six councils to call a halt to this madness.
"There is no reason why they cannot instruct Merseyrail to put a second safety-critical member of staff on all of the new trains.
"On the first anniversary of the RMT dispute it's now time for the politicians to either listen to the people they claim to represent or stand down".
The two right-wing Labour councillors seeking re-election have completely ignored Jeremy Corbyn's public support for the guards.
And unfortunately they haven't stood down. But they certainly won't go unchallenged in the ballot box on 3 May!
Also standing as TUSC candidates on Merseyside are Warwick Roberts, a Merseyrail RMT local level rep, and the former Unison national executive member Roger Bannister.
Roger stood as the TUSC candidate for metro mayor in May last year polling 7,881 votes.
---
Free bus passes
Jeremy Corbyn has said that under a Labour government all bus travel will be made free for young people aged under-25.
This is a very welcome step away from the Tory's train fare announcement. In last year's autumn statement, Tory chancellor Philip Hammond, promised to extend rail fare discounts to millions more young people. In the end only 10,000 new railcards were offered.
We don't have to wait for a Labour government. Labour councils could introduce these policies now.
---
In this issue
---
What we think

No to the bombing of Syria!
---
Labour Party

For a fighting, democratic Labour Party
---
Socialist Party reports and campaigns

Give us your change (and more) to fight for system change!

Building fund: £150,000 milestone smashed!

The Socialist - a fighting, campaigning, workers' paper

Hull says no to war, no to austerity

Victorious Fearnville Fields campaigners thank the Socialist
---
Socialist Party news and analysis

Young people need homes

1,400 beds empty as patients lay in corridors: health unions must act now

Catalonia: 1m marchers demand self-determination

Billions for the bosses, benefit cuts for us

Them & Us
---
Local elections 2018

Labour councillors could stop unsafe 'driver-only operation' tomorrow

Grimsby local paper reveals Labour candidate 'tried to defect to the Tories'

TUSC campaigners challenge youth club cuts

Huddersfield TUSC takes on the Blairites

Butterfields tenants join TUSC campaign

Haringey TUSC fights Blairite cuts
---
Socialist history

Enoch Powell's racist 'Rivers of Blood' rant 50 years on
---
Workplace news and analysis

Usdaw conference 2018: time for new era of fighting trade unionism

UCU members vote to end pensions dispute

Bromley libraries - indefinite strike action continues

PCS rejects Acas offer - further strikes announced

Vote for a left, fighting PCS leadership

Avenue School strikers and parents win judicial review

Workers' victory over anti-union Scottish council
---
Opinion

Vital depiction of fight for Aids prevention and treatment

The Socialist inbox
---
Home | The Socialist 18 April 2018 | Join the Socialist Party