The Socialist 23 May 2018
Capitalism's Grenfell shame - Tories must go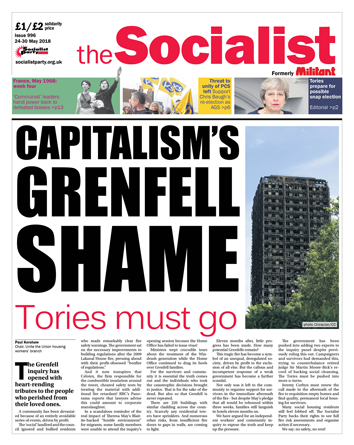 ---
Tories prepare for possible snap election
---
Capitalism's Grenfell shame - Tories must go
Homeless charity colluding to deport homeless!
Youthful enthusiasm to break with repression of past
Government continues to back failed private rail
---
May 1968: 'Communist' leaders hand power back to defeated bosses
---
Victory: how school strike beat 'academy' privatisers
PCS conference votes for strike action
Solid strike at Tesco Dagenham distribution centre forces pay talks
Services disappearing from Harrogate
College staff caught between the devil and the deep blue sea
First ever strike at TGI Fridays
---
Yes to the struggle to lift the siege
Tax Amazon movement wins in Seattle
---
Stop Trump! Build for 13 July student walkouts
Student leaders claim one million on the streets against Brexit - fight for a workers' exit
Let's sell 1,000 extra copies of issue 1000!
Leicester socialists fight poverty-paying sweatshops
Sheffield Pride organisers defeated in attempt to ban politics
40 attend Socialist Party housing campaign launch in Windsor
---
30 years on from Section 28: the legacy of fighting LGBT+ attacks must continue
---
How 'Prevent' training fosters racist paranoia
Ads won't fix it: fight mental health cuts as well as stigma
We can learn about struggle from the mass trespass of Kinder Scout
PO Box 1398, Enfield EN1 9GT
020 8988 8777
editors@socialistparty.org.uk