The Socialist 30 May 2018
Stop war, fight trump, walk out Friday 13 July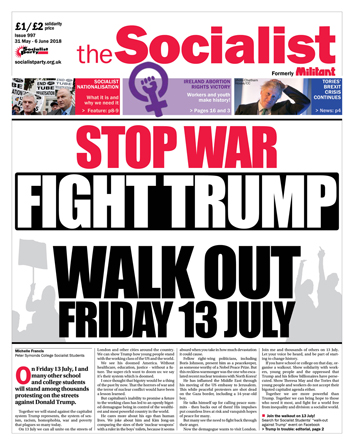 ---
Stop war, fight Trump, walk out on 13 July
United working class movements can defeat Trump
---
Landslide vote to repeal Ireland's abortion laws
Historic victory won by grassroots movement
---
Sting's shipbuilders showcase class pride and change from below
Aberfan disaster novel reminds us Grenfell was not an anomaly
---
Johnson and Rees-Mogg widen Tory Brexit splits
Welsh Labour reprivatises rail lines: reverse Tory sell-offs!
Toxic air hits schools as EU ponders slap on wrist years late
England facing water shortage due to underinvestment
---
PCS conference 2018: members ready to fight to end pay misery
---
UCU conference: Members are organising and winning - build the union, build the struggles!
900-strong north west NHS strike
Unison ballots workers at Yorkshire hospitals at risk of privatisation
Wales TUC 2018: Socialist Party members challenge leadership at undemocratic conference
Springfield school strike in Birmingham against job cuts and workload
Broad Left candidate elected as Usdaw deputy general secretary
---
Socialist nationalisation: what it is and why we need it
---
Action demanded from new council
Hands off Teignmouth Hospital!
Socialist Party members inspired by revolutionary events
Police shootings in Tamil Nadu condemned
Leicester plans sales boost of 1,000th edition of the Socialist
PO Box 1398, Enfield EN1 9GT
020 8988 8777