The Socialist 6 June 2018
Stop the Tory NHS wreckers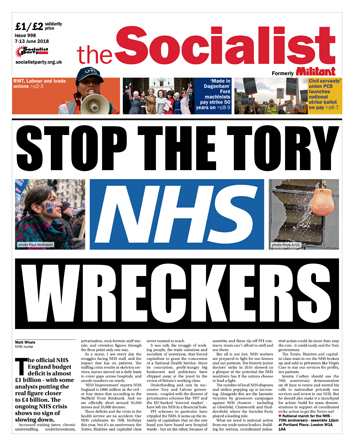 ---
RMT rejects Labour affiliation - now step up the fight for workers' political representation
RMT special conference debates political strategy
---
#NorthernFail: 250 rail services cancelled
Socialists defend Lush ad campaign against spy cops
---
Italy's political crisis is reverberating through Europe
Jordan: Workers and youth remove prime minister and demand end to austerity
---
Congress shut down by staff walkouts
PCS union launches strike ballot on pay
West Midlands firefighters vote to strike in massive numbers
East London housing workers fight privatisation of pay
---
'Made in Dagenham' Ford machinists pay strike 50 years on
---
Liverpool meeting remembers 47 councillors who fought and defeated Thatcher in 1980s
Yorkshire 1,000 for issue 1000
People's Assembly event lacks understanding of task facing Corbyn
200 years since the birth of Karl Marx - come and walk in his footsteps!
---
Alt-right gains exposure - but tedious clichés betray lack of ideas
Rich, raw tale of financial crisis's impact on rural Ireland
PO Box 1398, Enfield EN1 9GT
020 8988 8777

Link to this page: https://www.socialistparty.org.uk/issue/998/27447
Home | The Socialist 6 June 2018 | Join the Socialist Party
Subscribe | Donate | Audio | PDF | ebook
UCU congress shut down by staff walkouts - fight for a democratic accountable union
Sam Morecroft, Sheffield UCU congress delegate (personal capacity)
The University and College Union's (UCU) annual three-day congress began on 31 May. With important victories in the last year, a membership increased by 16,000 since last congress and huge struggles looming for our members, it should have been both a celebration of our achievements and a council of war for the struggle to come.
However, as a result of three walkouts by UCU staff organised in Unite the Union, the congress descended into chaos and was eventually shut down early.
These walkouts happened because in the view of the Unite branch, motions were raised which could potentially impact negatively on the terms and conditions of UCU staff.
However, it was abundantly clear that the only UCU staff member these motions could have had any impact on was the general secretary of UCU, Sally Hunt, who is the union's only elected full-time official.
The three most controversial motions which led to this situation called respectively for a review of democratic structures (Sheffield UCU and Bath UCU), a motion to censure the general secretary for her conduct in the resolution of the USS pensions dispute (KCL UCU), and a motion of no confidence in the general secretary calling for her resignation (Exeter UCU).
The rushed and superficial consultation, together with the strong push from the general secretary to accept the pensions offer from Universities UK without a mandate from the national executive committee, ended this year's magnificent struggle to defend pensions and was rightly described in the Socialist at the time as a "stitch-up".
It was entirely appropriate that branches and delegates wished to use our democratic congress to hold the leadership of our union, and in particular our general secretary, to account.
First walkout
The first walkout came as a direct result of a challenge to the congress business committee (CBC) made by my Sheffield branch delegation.
Our motion for a review of democratic structures had been ruled out of order by the CBC and we were told that this was because references to the appropriate number of elected officials in UCU and to mechanisms of holding elected representatives to account had implications for staff of the union.
I spoke against this, asking congress to vote to restore the motion to the agenda and explaining that our branch had no interest in challenging or altering the terms and conditions of our staff but rather in building a stronger more democratic union, with a properly resourced and more effective national executive committee and mechanisms for holding elected representatives to account - clearly a very relevant demand given what came next.
I also indicated we would have been happy to accept amendments provided the substance of what we were calling for remained intact.
We won the two-thirds majority required to restore a late motion to the agenda, and I was asked by the chair to explain how we would amend the motion, but as I approached the podium to do so, staff at the congress walked out, the general secretary among them, and as she passed me she made a hostile comment to me accusing me of "causing a walkout".
I was asked to meet with the Unite representative for staff and was happy to do so - I was informed that the motion could be acceptable and staff would return provided references to the appropriate number of elected staff and mechanisms of accountability were changed.
I was shocked that the reference to holding elected reps to account was considered a threat to terms and conditions and gathered my delegation to discuss this. We agreed to the requested change as we were told that the principle of reviewing democratic structures was not an issue and that the wal out would cease.
I also offered to address the staff/Unite members to explain the intent was not to threaten their jobs but this was declined.
Even after we had agreed this, however, staff did not return to congress, as they did not consider other motions on the agenda appropriate.
Eventually the congress was able to resume as other issues were resolved, but the staff union remained unhappy about 'Motion 10' (no confidence in the general secretary) and Motion 11 (censure of the general secretary).
Some motions were passed, including the amended democracy review motion from Sheffield and Bath which passed overwhelmingly without any speeches against.
The democracy review must now go ahead, and UCU members must ensure that it is used to build a more accountable, transparent, democratic and member-controlled union.
However, delegates were asked to vote Motions 10 and 11 off the agenda, and following a vote not to do this, staff walked out again, ending the day's business early.
Sector conferences
The higher education (HE) and further education (FE) sector conferences continued as normal, with important discussions taking place in the HE conference around defending the future of USS pensions, the need to use our campaign on pay in HE to build coordinated industrial action with FE and other unions also struggling on pay issues such as the PCS civil servants' union and National Education Union, and a call for a conference of post-92 universities to defend jobs, terms and conditions.
But an emergency national executive committee meeting voted to ask congress again the following day to remove motions 10 and 11.
The following day, after some emergency motions were discussed and passed, including a motion to recall congress, a third and final walkout shut down the congress completely.
Some staff then returned to prevent delegates from utilising audio equipment and continuing with congress.
It is not clear as yet how the decision of Unite members who staff our union to walk out was made and it should be noted that congress delegates did not dispute their right to do this.
But it is absolutely clear that they were walking out in defence of the general secretary, and that had Sally Hunt been willing to do so she could have appealed to them not to do so, defended her record to delegates and prevented the shutdown.
Ironically, the reality is that most delegates did not want to vote to call for her to resign at a time when there are so many crucial disputes going on, although it is likely the motion to censure her for her conduct in relation to the USS dispute would have passed.
But after this week's debacle, which has been reported in the press, there is no alternative but for the general secretary to defend her record and attempt to show she has the confidence of the membership.
In an email to members on 4 June, Sally Hunt claims that the congress events were based on the "politics of personality" and represented an attempt to remove a democratically elected general secretary just a year after her election, but she refused to address congress on this issue and present this argument.
The general secretary has effectively attempted to challenge the sovereignty of our democratic congress and that cannot be allowed. In the trade union movement, we debate out our differences rather than silence dissent through bureaucratic measures.
There will now be a recall congress at some point - and Motions 10 and 11 must be debated. Criticism of an elected official is valid, legitimate and must be heard, and if the members of our union have lost confidence in the cautious, bureaucratic and often opaque leadership of Sally Hunt then she must resign.
---
This version of this article was first posted on the Socialist Party website on 4 June 2018 and may vary slightly from the version subsequently printed in The Socialist.
---
In this issue
---
Labour and the unions

RMT rejects Labour affiliation - now step up the fight for workers' political representation

RMT special conference debates political strategy
---
Socialist Party news and analysis

Stop the Tory NHS wreckers

#NorthernFail: 250 rail services cancelled

Socialists defend Lush ad campaign against spy cops
---
International socialist news and analysis

Italy's political crisis is reverberating through Europe

No to Trump's trade war

Jordan: Workers and youth remove prime minister and demand end to austerity
---
Workplace news

Congress shut down by staff walkouts

PCS union launches strike ballot on pay

West Midlands firefighters vote to strike in massive numbers

East London housing workers fight privatisation of pay
---
'Made in Dagenham' strike 50 years on

'Made in Dagenham' Ford machinists pay strike 50 years on
---
Socialist Party reports and campaigns

Liverpool meeting remembers 47 councillors who fought and defeated Thatcher in 1980s

Yorkshire 1,000 for issue 1000

People's Assembly event lacks understanding of task facing Corbyn

200 years since the birth of Karl Marx - come and walk in his footsteps!
---
Opinion

Alt-right gains exposure - but tedious clichés betray lack of ideas

Rich, raw tale of financial crisis's impact on rural Ireland

The Socialist inbox
---
Home | The Socialist 6 June 2018 | Join the Socialist Party