The Socialist 6 June 2018
Stop the Tory NHS wreckers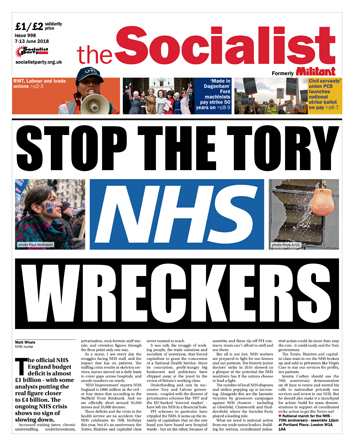 ---
RMT rejects Labour affiliation - now step up the fight for workers' political representation
RMT special conference debates political strategy
---
#NorthernFail: 250 rail services cancelled
Socialists defend Lush ad campaign against spy cops
---
Italy's political crisis is reverberating through Europe
Jordan: Workers and youth remove prime minister and demand end to austerity
---
Congress shut down by staff walkouts
PCS union launches strike ballot on pay
West Midlands firefighters vote to strike in massive numbers
East London housing workers fight privatisation of pay
---
'Made in Dagenham' Ford machinists pay strike 50 years on
---
Liverpool meeting remembers 47 councillors who fought and defeated Thatcher in 1980s
Yorkshire 1,000 for issue 1000
People's Assembly event lacks understanding of task facing Corbyn
200 years since the birth of Karl Marx - come and walk in his footsteps!
---
Alt-right gains exposure - but tedious clichés betray lack of ideas
Rich, raw tale of financial crisis's impact on rural Ireland
PO Box 1398, Enfield EN1 9GT
020 8988 8777

Link to this page: https://www.socialistparty.org.uk/issue/998/27452
Home | The Socialist 6 June 2018 | Join the Socialist Party
Subscribe | Donate | Audio | PDF | ebook
Stop the Tory NHS wreckers
Matt Whale, NHS nurse
The official NHS England budget deficit is almost £1 billion - with some analysts putting the real figure closer to £4 billion. The ongoing NHS crisis shows no sign of slowing down.
Increased waiting times, chronic understaffing, underinvestment, privatisation, rock-bottom staff morale, and retention figures through the floor point only one way.
As a nurse, I see every day the struggles facing NHS staff, and the impact that has on patients. The staffing crisis results in skeleton services, nurses moved on a daily basis to cover gaps across hospitals, and unsafe numbers on wards.
'NHS Improvement' reports NHS England is £960 million in the red - or four times that according to the Nuffield Trust thinktank. And we are officially short around 35,000 nurses and 10,000 doctors.
These deficits and the crisis in the health service are no accident. Our NHS celebrates its 70th birthday this year, but it's an anniversary the Tories, Blairites and capitalist class never wanted to reach.
It was only the struggle of working people, the trade unionists and socialists of yesteryear, that forced capitalism to grant the concession of a National Health Service. Since its conception, profit-hungry big businesses and politicians have chipped away at the jewel in the crown of Britain's working class.
Underfunding and cuts by successive Tory and Labour governments - coupled with the disaster of privatisation schemes like 'PFI' and the EU-backed 'internal market' - have left the NHS in a financial hole.
PFI schemes in particular have crippled the NHS. It sums up the insanity of capitalism that on the one hand you have brand new hospital wards - but on the other, because of austerity and these rip-off PFI contracts, trusts can't afford to staff and use them.
But all is not lost. NHS workers are prepared to fight for our futures and our patients. The historic junior doctors' strike in 2016 showed us a glimpse of the potential the NHS workforce has if the unions choose to lead a fight.
The number of local NHS disputes and strikes popping up is increasing. Alongside this are the fantastic victories by grassroots campaigns against NHS closures - including at Glenfield, Chatsworth and Huddersfield, where the Socialist Party played a leading role.
What we need is national action from our trade union leaders. Building for serious, coordinated industrial action could do more than stop the cuts - it could easily end the Tory government.
The Tories, Blairites and capitalist class want to see the NHS broken up and sold to privateers like Virgin Care to run our services for profits, not patients.
Jeremy Corbyn should use the 70th anniversary demonstration on 30 June to renew and extend his calls to nationalise privately run services and invest in our NHS. But he should also make it a launchpad for action: build for mass demonstrations in support of coordinated strike action to get the Tories out!
National march for the NHS - 70th anniversary - assemble 12pm at Portland Place, London W1A 1AA on 30th June
---
In this issue
---
Labour and the unions

RMT rejects Labour affiliation - now step up the fight for workers' political representation

RMT special conference debates political strategy
---
Socialist Party news and analysis

Stop the Tory NHS wreckers

#NorthernFail: 250 rail services cancelled

Socialists defend Lush ad campaign against spy cops
---
International socialist news and analysis

Italy's political crisis is reverberating through Europe

No to Trump's trade war

Jordan: Workers and youth remove prime minister and demand end to austerity
---
Workplace news

Congress shut down by staff walkouts

PCS union launches strike ballot on pay

West Midlands firefighters vote to strike in massive numbers

East London housing workers fight privatisation of pay
---
'Made in Dagenham' strike 50 years on

'Made in Dagenham' Ford machinists pay strike 50 years on
---
Socialist Party reports and campaigns

Liverpool meeting remembers 47 councillors who fought and defeated Thatcher in 1980s

Yorkshire 1,000 for issue 1000

People's Assembly event lacks understanding of task facing Corbyn

200 years since the birth of Karl Marx - come and walk in his footsteps!
---
Opinion

Alt-right gains exposure - but tedious clichés betray lack of ideas

Rich, raw tale of financial crisis's impact on rural Ireland

The Socialist inbox
---
Home | The Socialist 6 June 2018 | Join the Socialist Party
Related links:

Nottingham NHS pay protest

Covid, capitalism and mental health

For a fighting, democratic, member-led union to stop the austerity attacks

Hands off our NHS

Why you should vote for TUSC

Cladding: Tories refuse to protect leaseholders again

Protesting works - Unite to defend the right to protest

Liverpool hustings - only TUSC has a strategy to take on the Tories

Covid inquiry? Workers must decide

NHS white paper: no solution to failed Tory policies

NHS: Underfunded, understaffed, underpaid

Capitalism fails NHS services in Liverpool: scrap PFI!

Overwhelmed, underfunded, underpaid, and still fighting for safe PPE

Super-rich tax evasion costs 34 million nurses worldwide

Haringey: Hands off our GP practices

St Mungo's workers walkout

Under the microscope

Vote TUSC to oppose sleazy capitalism

1920s-30s Britain: A working-class movement fighting unemployment and capitalism

Kirklees: Labour and Green councillors refuse to fight the cuts

Tories admit market failure - we want our NHS back!

Cumberland hospital workers fight for stolen pay