The Socialist 6 June 2018
Stop the Tory NHS wreckers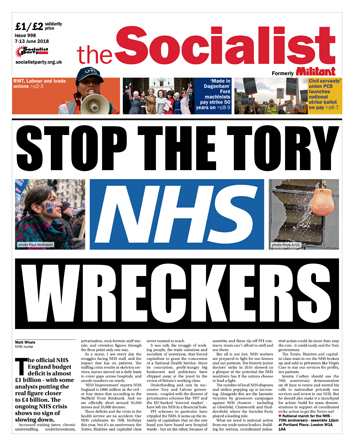 ---
RMT rejects Labour affiliation - now step up the fight for workers' political representation
RMT special conference debates political strategy
---
#NorthernFail: 250 rail services cancelled
Socialists defend Lush ad campaign against spy cops
---
Italy's political crisis is reverberating through Europe
Jordan: Workers and youth remove prime minister and demand end to austerity
---
Congress shut down by staff walkouts
PCS union launches strike ballot on pay
West Midlands firefighters vote to strike in massive numbers
East London housing workers fight privatisation of pay
---
'Made in Dagenham' Ford machinists pay strike 50 years on
---
Liverpool meeting remembers 47 councillors who fought and defeated Thatcher in 1980s
Yorkshire 1,000 for issue 1000
People's Assembly event lacks understanding of task facing Corbyn
200 years since the birth of Karl Marx - come and walk in his footsteps!
---
Alt-right gains exposure - but tedious clichés betray lack of ideas
Rich, raw tale of financial crisis's impact on rural Ireland
PO Box 1398, Enfield EN1 9GT
020 8988 8777

Link to this page: https://www.socialistparty.org.uk/issue/998/27455
Home | The Socialist 6 June 2018 | Join the Socialist Party
Subscribe | Donate | Audio | PDF | ebook
#NorthernFail: 250 rail services cancelled
Nationalise rail - don't delay!
Paul Gerrard, Salford Socialist Party
Northern rail cancelled more than 250 trains entirely on 29 May. Where trains run at all they have been up to two hours late. And Northern has suspended the entire rail service to the Lake District, just as the holiday season kicks in.
Northern rail introduced new timetables somehow meant to 'improve' service levels by deleting 13% of trains and rescheduling 90% of them on 20 May. Chaos ensued.
Southern, Thameslink and Great Northern services are also affected. Each day, private operators drop about 230 services.
When Arriva Trains, owned by Germany's Deutsche Bahn, took over the Northern rail franchise in April 2016, it promised the earth. But what we have seen has been a steady decline in services - trains delayed or cancelled, two-coach operation instead of three, and so on.
Rail commuters are missing work interviews and appointments, rejigging their schedules if employers are sympathetic - or facing disciplinaries if they aren't. Social media has exploded with #NorthernFail and #FailingGrayling.
Transport Secretary Chris Grayling has had to appear in the Commons. His job is on the line - or it would be if May's government weren't already so precarious.
Grayling blames Network Rail and the train companies equally.
It's true that part of the problem lies with Network Rail. Electrification projects such as Blackpool-Preston-Manchester have overrun. This meant timetable changes had very short notice, making it difficult to train enough drivers in time, worsening shortages.
Why is Network Rail so dependent on dozens of outside contractors, including - until recently - Carillion, and known anti-union blacklisters like Keir?
And the corner-cutting of profit-hungry private operators is a major factor. Northern has been reliant for years on drivers working their rest days; drivers are less willing to do so now. It takes a year to train a driver, and once qualified many leave for other companies offering better pay and conditions.
But Grayling's own dithering about major rail projects - cancelled, then reinstated, then 'paused' - hasn't helped.
Andy Burnham, Blairite metro-mayor of Greater Manchester, has rightly criticised Northern rail and called for it to lose the franchise if things haven't improved by August. Why wait?
East Coast
The government has had to take back the East Coast Main Line franchise after its franchisees abandoned it. Why not Northern too?
In any case, Jeremy Corbyn's policy of taking back the railways franchise by franchise as they expire won't erase decades of chronic underinvestment. The advantages of nationalisation - timetable co-ordination, through-ticketing, full staffing, cheap fares - only become apparent when the whole network is in public hands, with rail workers and passengers making key decisions democratically.
In Wales, Labour has just moved to expand rail privatisation. And Burnham's opposite number in Merseyside, Steve Rotheram, is supporting Merseyrail bosses trying to remove the safety-critical role of guards against transport union RMT.
Corbyn needs to listen to the RMT and the passengers, and promote the massively popular policy of full, immediate rail renationalisation. Just ask commuters in Liverpool, Manchester, Leeds, Hull and Newcastle and they'll tell you!
---
In this issue
---
Labour and the unions

RMT rejects Labour affiliation - now step up the fight for workers' political representation

RMT special conference debates political strategy
---
Socialist Party news and analysis

Stop the Tory NHS wreckers

#NorthernFail: 250 rail services cancelled

Socialists defend Lush ad campaign against spy cops
---
International socialist news and analysis

Italy's political crisis is reverberating through Europe

No to Trump's trade war

Jordan: Workers and youth remove prime minister and demand end to austerity
---
Workplace news

Congress shut down by staff walkouts

PCS union launches strike ballot on pay

West Midlands firefighters vote to strike in massive numbers

East London housing workers fight privatisation of pay
---
'Made in Dagenham' strike 50 years on

'Made in Dagenham' Ford machinists pay strike 50 years on
---
Socialist Party reports and campaigns

Liverpool meeting remembers 47 councillors who fought and defeated Thatcher in 1980s

Yorkshire 1,000 for issue 1000

People's Assembly event lacks understanding of task facing Corbyn

200 years since the birth of Karl Marx - come and walk in his footsteps!
---
Opinion

Alt-right gains exposure - but tedious clichés betray lack of ideas

Rich, raw tale of financial crisis's impact on rural Ireland

The Socialist inbox
---
Home | The Socialist 6 June 2018 | Join the Socialist Party