The Socialist 6 June 2018
Stop the Tory NHS wreckers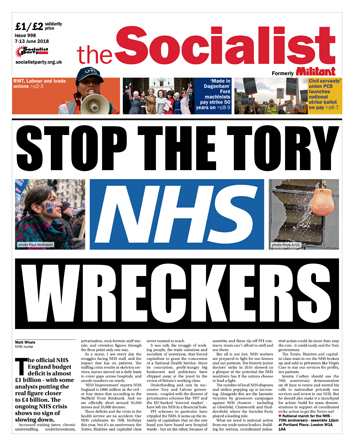 ---
RMT rejects Labour affiliation - now step up the fight for workers' political representation
RMT special conference debates political strategy
---
#NorthernFail: 250 rail services cancelled
Socialists defend Lush ad campaign against spy cops
---
Italy's political crisis is reverberating through Europe
Jordan: Workers and youth remove prime minister and demand end to austerity
---
Congress shut down by staff walkouts
PCS union launches strike ballot on pay
West Midlands firefighters vote to strike in massive numbers
East London housing workers fight privatisation of pay
---
'Made in Dagenham' Ford machinists pay strike 50 years on
---
Liverpool meeting remembers 47 councillors who fought and defeated Thatcher in 1980s
Yorkshire 1,000 for issue 1000
People's Assembly event lacks understanding of task facing Corbyn
200 years since the birth of Karl Marx - come and walk in his footsteps!
---
Alt-right gains exposure - but tedious clichés betray lack of ideas
Rich, raw tale of financial crisis's impact on rural Ireland
PO Box 1398, Enfield EN1 9GT
020 8988 8777

Link to this page: https://www.socialistparty.org.uk/issue/998/27458
Home | The Socialist 6 June 2018 | Join the Socialist Party
Subscribe | Donate | Audio | PDF | ebook
Civil servants' union PCS launches national strike ballot on pay
Dave Semple, PCS Scotland chair and national executive committee member (personal capacity)
Workers in the PCS union, representing civil servants across all government departments, have voted overwhelmingly to ballot members for strike action.
Across the public sector, pressure has been mounting on trade unions to act against crushing pay austerity that has seen wages fall by up to 20% over the last decade.
The Trade Union Congress (TUC) also agreed in September 2017 that it would support a coordinated campaign on pay across the public sector, to aim at a 5% minimum pay rise.
Tory ministers like Boris Johnson and Michael Gove, reflecting the weakness of their government, have bowed to the growing mood of defiance and urged the treasury to lift the 1% pay cap.
To keep the pressure on, PCS launched a consultative ballot on pay in late 2017. With 49% of members participating - a record turnout for the union - 99% rejected the continuing 1% pay cap and 79% said they would take strike action against it.
The Scottish government conceded first, in their December budget. Negotiations have been ongoing but it looks likely that PCS members in the devolved civil service have won rises of at least 4%, with some low paid members getting a lot more.
A major union-led campaign, including a demonstration in the autumn-winter period when pay talks were happening throughout the public sector at the same time as highlighting the disastrous winter suffered by the NHS thanks to austerity, could have put the government on the ropes. This did not happen, and a TUC demonstration was delayed until May. Because of this, it was a fraction of the size it could and should have been.
Despite the prevarication of union leaders, limited concessions began to appear. Local government workers were offered a minimum of 2%. NHS staff were offered at least 6.5% over three years, though this came with strings attached. Police and prison staff received offers over 1% and teachers too seem likely to get an improved offer.
It was a shock, therefore, when the cabinet office admitted to PCS negotiators in May 2018 that they had only budgeted for a 1% rise for the civil service in UK government departments. Any further rises would have to be paid for out of job cuts.
Rightly, the PCS's socialist-led national executive committee put this before the conference in May and urged an escalation of the pay campaign.
On behalf of members across the civil service, delegates rejected the derisory offer of 1% for what it is - a pay cut of 3%, once rising costs of living are taken into account. The demand was clear: a fair pay rise of 5% now.
Delegates expressed outrage at the irresponsible behaviour of the government, prepared to play departments off against each other by allowing some to go above 1% but not others.
With services already under pressure and more than 100,000 jobs gone in the last ten years, PCS members simply will not accept this.
From 18 June until 23 July, we will have the chance to reject further pay caps, to give the union a mandate for the action we need to force the Tories to concede the pay rise we deserve and need.
We have to deliver a clear message that if pay rises can be managed in the NHS, or the Scottish government, then they can certainly be managed in the UK civil service.
A massive Yes vote will do that. Socialist Party members in PCS will be fighting to deliver the vote, and will be ready to strike should the government not listen to reason or to the clearly expressed view of their staff in the civil service.
---
Breaking news!
Marion Lloyd, PCS NEC and PCS Left Unity chair says "strike action by Acas conciliators in PCS has secured an extra 40 jobs, protection of the role and commitments from management on reaching agreement with the union on future plans.
"Through strike action, the employer has felt the strength of feeling among our members following the decision to scrap tribunal fees and has had to accept the need for extra resources.
"In addition, Acas management has agreed to make the case to the government for additional resources, if necessary.
"This dispute shows we can win on jobs and protecting public services, securing major concessions from employers. This campaign should be publicised widely across the movement and used as a template to encourage other groups of workers to stand up to increased workloads, job insecurity and a driving down of standards.
"We will be monitoring closely proposals from the department on future job redesign proposals. However this action has placed PCS members in Acas in a strong bargaining position going forward.
"Building on from this action, our reps and members will confidently go out and campaign for a yes vote in the upcoming national action ballot on pay."
---
In this issue
---
Labour and the unions

RMT rejects Labour affiliation - now step up the fight for workers' political representation

RMT special conference debates political strategy
---
Socialist Party news and analysis

Stop the Tory NHS wreckers

#NorthernFail: 250 rail services cancelled

Socialists defend Lush ad campaign against spy cops
---
International socialist news and analysis

Italy's political crisis is reverberating through Europe

No to Trump's trade war

Jordan: Workers and youth remove prime minister and demand end to austerity
---
Workplace news

Congress shut down by staff walkouts

PCS union launches strike ballot on pay

West Midlands firefighters vote to strike in massive numbers

East London housing workers fight privatisation of pay
---
'Made in Dagenham' strike 50 years on

'Made in Dagenham' Ford machinists pay strike 50 years on
---
Socialist Party reports and campaigns

Liverpool meeting remembers 47 councillors who fought and defeated Thatcher in 1980s

Yorkshire 1,000 for issue 1000

People's Assembly event lacks understanding of task facing Corbyn

200 years since the birth of Karl Marx - come and walk in his footsteps!
---
Opinion

Alt-right gains exposure - but tedious clichés betray lack of ideas

Rich, raw tale of financial crisis's impact on rural Ireland

The Socialist inbox
---
Home | The Socialist 6 June 2018 | Join the Socialist Party