The Socialist 6 June 2018
Stop the Tory NHS wreckers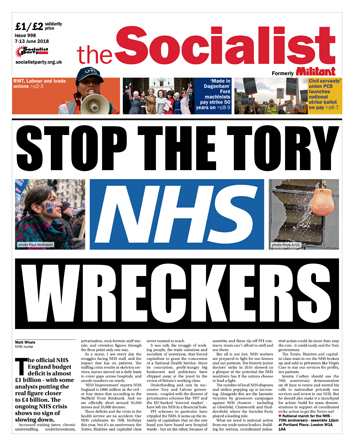 ---
RMT rejects Labour affiliation - now step up the fight for workers' political representation
RMT special conference debates political strategy
---
#NorthernFail: 250 rail services cancelled
Socialists defend Lush ad campaign against spy cops
---
Italy's political crisis is reverberating through Europe
Jordan: Workers and youth remove prime minister and demand end to austerity
---
Congress shut down by staff walkouts
PCS union launches strike ballot on pay
West Midlands firefighters vote to strike in massive numbers
East London housing workers fight privatisation of pay
---
'Made in Dagenham' Ford machinists pay strike 50 years on
---
Liverpool meeting remembers 47 councillors who fought and defeated Thatcher in 1980s
Yorkshire 1,000 for issue 1000
People's Assembly event lacks understanding of task facing Corbyn
200 years since the birth of Karl Marx - come and walk in his footsteps!
---
Alt-right gains exposure - but tedious clichés betray lack of ideas
Rich, raw tale of financial crisis's impact on rural Ireland
PO Box 1398, Enfield EN1 9GT
020 8988 8777

Link to this page: https://www.socialistparty.org.uk/issue/998/27463
Home | The Socialist 6 June 2018 | Join the Socialist Party
Subscribe | Donate | Audio | PDF | ebook
Yorkshire 1,000 for issue 1000
Alistair Tice, Yorkshire Socialist Party secretary
Thinking out loud about how to celebrate the forthcoming 1000th issue of the Socialist, I told the editors I thought the Yorkshire region of the Socialist Party could sell 1,000 copies of that issue. Only problem was, I hadn't told any members in Yorkshire what I thought! So here's how I think we (and other regions) could boost sales.
You are always likely to sell more copies if the paper contains reports from your area or about campaigns you are involved in. So NHS campaigners will want to know the outcome of the judicial review being brought by Hands off HRI to save their Huddersfield hospital.
NHS workers will want to hear about the result of the coordinated ballot by Unison health branches across four West Yorkshire NHS trusts for strike action against 'wholly owned subsidiary companies' (a form of privatisation where an arm's-length organisation is set up, at first owned by the NHS).
The Orgreave Truth and Justice Campaign will have just held their anniversary rally in Sheffield of the police riot in the 1984 miners' strike for which they are still fighting for a public inquiry. And in Hull the trade union council-initiated youth festival is being held on the Saturday of the 1000th issue.
Activist writers
Trade union and community campaign leaders and activists in all these struggles will write about them written from our point of view, not those at the top like in the mainstream media.
I reckon if all our city and big town branches aim to sell 100 and our smaller branches 50, then we could hit 1,000 sales. In Sheffield we sold 15 at the big council offices recently, another 15 at our reinstated Friday evening railway station sale. We could sell 50 on an extended Saturday stall with midweek stalls a bonus on top.
Only three weeks before Trump's visit to Britain, we should definitely visit the main college, and during the local elections we sold eight to 18 on Sunday canvasses so we could do a door-to-door sale on a Sunday or on a long summer evening.
These are just suggestions but if every branch gave it real go for the 1000th issue and then continued with one extra regular sale afterwards, that would be the best way to celebrate the achievement of 1,000 issues of the Socialist.
Issue 1000 will be out on 21 June. Meetings to discuss the role of a revolutionary paper will be taking place around the country and we are having a national sales drive to sell 1,000 extra copies that week. See socialistparty.org.uk
---
In this issue
---
Labour and the unions

RMT rejects Labour affiliation - now step up the fight for workers' political representation

RMT special conference debates political strategy
---
Socialist Party news and analysis

Stop the Tory NHS wreckers

#NorthernFail: 250 rail services cancelled

Socialists defend Lush ad campaign against spy cops
---
International socialist news and analysis

Italy's political crisis is reverberating through Europe

No to Trump's trade war

Jordan: Workers and youth remove prime minister and demand end to austerity
---
Workplace news

Congress shut down by staff walkouts

PCS union launches strike ballot on pay

West Midlands firefighters vote to strike in massive numbers

East London housing workers fight privatisation of pay
---
'Made in Dagenham' strike 50 years on

'Made in Dagenham' Ford machinists pay strike 50 years on
---
Socialist Party reports and campaigns

Liverpool meeting remembers 47 councillors who fought and defeated Thatcher in 1980s

Yorkshire 1,000 for issue 1000

People's Assembly event lacks understanding of task facing Corbyn

200 years since the birth of Karl Marx - come and walk in his footsteps!
---
Opinion

Alt-right gains exposure - but tedious clichés betray lack of ideas

Rich, raw tale of financial crisis's impact on rural Ireland

The Socialist inbox
---
Home | The Socialist 6 June 2018 | Join the Socialist Party