The Socialist 6 June 2018
Stop the Tory NHS wreckers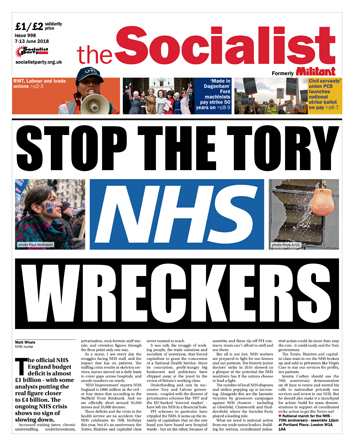 ---
RMT rejects Labour affiliation - now step up the fight for workers' political representation
RMT special conference debates political strategy
---
#NorthernFail: 250 rail services cancelled
Socialists defend Lush ad campaign against spy cops
---
Italy's political crisis is reverberating through Europe
Jordan: Workers and youth remove prime minister and demand end to austerity
---
Congress shut down by staff walkouts
PCS union launches strike ballot on pay
West Midlands firefighters vote to strike in massive numbers
East London housing workers fight privatisation of pay
---
'Made in Dagenham' Ford machinists pay strike 50 years on
---
Liverpool meeting remembers 47 councillors who fought and defeated Thatcher in 1980s
Yorkshire 1,000 for issue 1000
People's Assembly event lacks understanding of task facing Corbyn
200 years since the birth of Karl Marx - come and walk in his footsteps!
---
Alt-right gains exposure - but tedious clichés betray lack of ideas
Rich, raw tale of financial crisis's impact on rural Ireland
PO Box 1398, Enfield EN1 9GT
020 8988 8777

Link to this page: https://www.socialistparty.org.uk/issue/998/27464
Home | The Socialist 6 June 2018 | Join the Socialist Party
Subscribe | Donate | Audio | PDF | ebook
People's Assembly event lacks understanding of task facing Corbyn
Mark Best
The People's Assembly met for its annual conference on 2 June, with a series of workshops and rallies, but with no democratic decisions being made.
John McDonnell, shadow chancellor, spoke at a session explaining Labour's policy of a national investment bank and their plans to take on neoliberalism and "transform capitalism."
In last week's issue of the Socialist an article explained the limitations of Corbyn and McDonnell's programme of nationalisation (see 'Socialist nationalisation: what it is and why we need it' at socialistparty.org.uk).
It will be necessary for a government led by Corbyn and McDonnell to fully and quickly carry out the nationalisations they have pointed out are urgently needed - of rail, energy, post and water. Also to recognise that further nationalisations will be needed to transform society, taking into public ownership the banks and big businesses that dominate our economy, and running them democratically with a socialist plan of production.
Unfortunately, this was absent from the People's Assembly event. When asked what would be the barriers to his programme of investment, redistributing the profits of big business to workers, and scrapping anti trade union laws, McDonnell
said that he had been arranging meetings with bankers and representatives of big business to explain Labour's plans. But why will this make them roll over and allow their profits to be taken away?
When asked what the response would be to a run on the pound, McDonnell said that while they are preparing for every contingency, he "does not believe there will be a run on the pound", and a more likely issue would be the value of the pound going up. Yet the flight of capital that greeted the Syriza government in Greece shows that the capitalists internationally will attempt to punish any anti-austerity government, not least to serve as an example to workers fighting back across the world that they have to accept their lot.
In the face of this planned sabotage a bold approach is necessary, mobilising workers and young people around a fighting socialist programme is the only way to break the hold of the capitalists on society and build a socialist society run democratically instead of by the rule of profit.
Unfortunately, McDonnell said that one the main tasks for them is to "contain people's excitement and commitment when we go into government".
Without measures to take the power away from the bosses an incoming Labour government won't be able to transform the lives of those inspired by Corbyn's anti-austerity message.
---
In this issue
---
Labour and the unions

RMT rejects Labour affiliation - now step up the fight for workers' political representation

RMT special conference debates political strategy
---
Socialist Party news and analysis

Stop the Tory NHS wreckers

#NorthernFail: 250 rail services cancelled

Socialists defend Lush ad campaign against spy cops
---
International socialist news and analysis

Italy's political crisis is reverberating through Europe

No to Trump's trade war

Jordan: Workers and youth remove prime minister and demand end to austerity
---
Workplace news

Congress shut down by staff walkouts

PCS union launches strike ballot on pay

West Midlands firefighters vote to strike in massive numbers

East London housing workers fight privatisation of pay
---
'Made in Dagenham' strike 50 years on

'Made in Dagenham' Ford machinists pay strike 50 years on
---
Socialist Party reports and campaigns

Liverpool meeting remembers 47 councillors who fought and defeated Thatcher in 1980s

Yorkshire 1,000 for issue 1000

People's Assembly event lacks understanding of task facing Corbyn

200 years since the birth of Karl Marx - come and walk in his footsteps!
---
Opinion

Alt-right gains exposure - but tedious clichés betray lack of ideas

Rich, raw tale of financial crisis's impact on rural Ireland

The Socialist inbox
---
Home | The Socialist 6 June 2018 | Join the Socialist Party