The Socialist 6 June 2018
Stop the Tory NHS wreckers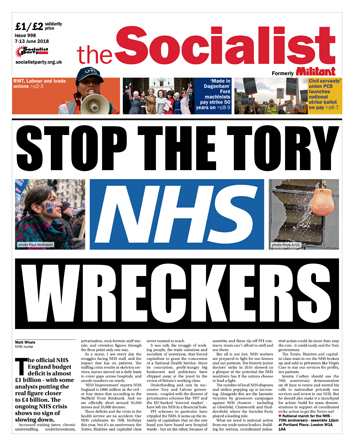 ---
RMT rejects Labour affiliation - now step up the fight for workers' political representation
RMT special conference debates political strategy
---
#NorthernFail: 250 rail services cancelled
Socialists defend Lush ad campaign against spy cops
---
Italy's political crisis is reverberating through Europe
Jordan: Workers and youth remove prime minister and demand end to austerity
---
Congress shut down by staff walkouts
PCS union launches strike ballot on pay
West Midlands firefighters vote to strike in massive numbers
East London housing workers fight privatisation of pay
---
'Made in Dagenham' Ford machinists pay strike 50 years on
---
Liverpool meeting remembers 47 councillors who fought and defeated Thatcher in 1980s
Yorkshire 1,000 for issue 1000
People's Assembly event lacks understanding of task facing Corbyn
200 years since the birth of Karl Marx - come and walk in his footsteps!
---
Alt-right gains exposure - but tedious clichés betray lack of ideas
Rich, raw tale of financial crisis's impact on rural Ireland
PO Box 1398, Enfield EN1 9GT
020 8988 8777

Link to this page: https://www.socialistparty.org.uk/issue/998/27470
Home | The Socialist 6 June 2018 | Join the Socialist Party
Subscribe | Donate | Audio | PDF | ebook
No to Trump's trade war
Build for 13 July walkouts
Gareth Bromhall, Socialist Party Swansea
Donald Trump, in rebooting his presidential campaign slogan to "Make America Great Again" is attempting to do this on the backs of the rest of the world, by introducing tariffs on US imports.
Alongside worldwide overproduction of steel, the ramping-up of US tariffs on steel products to a whopping 25% will negatively impact steel workers' jobs in the UK. Some 31,000 still work in the industry even after the plant closures and redundancies in 2015-16 by billionaire steel magnates. Towns like Port Talbot, the largest steel site in the UK, could be economically flattened.
An even bigger blow could be car exports to the US - the next likely target on Trump's protectionist 'America First' list of tariffs.
Beset with deepening domestic political problems - over his election campaign team's links to Russia; gun-control; supporting far-right racists; sexism and sex scandals; and threatening world war, to name a few things! - Trump is spreading 'fake news' to US workers that his economic protectionism will restore jobs.
However, his trade tariffs have provoked tit-for-tat retaliation from affected countries, which will rebound on US jobs.
The EU has published a ten-page list of products of its counter-tariffs in response - worth €2.8 billion annually.
EU tariffs on symbolic American products - like bourbon, largely produced in Kentucky, which is represented by Senate majority leader Republican Mitch McConnell, and motorcycles, largely produced in Wisconsin, represented by speaker of the House of Representatives, Republican Paul Ryan - will further aggravate divisions within a fractured Republican party.
Trump's protectionism also risks further alienating the White House from its traditional allies in North America and Europe. This rift could open up the field for geopolitical rivals like China and further weaken US capitalism as the predominant world power.
Workers' jobs cannot be safeguarded by protectionist measures advocated by Trump. And neither can they be secured through 'free trade' - advocated by Theresa May and other capitalist representatives - as redundant steel workers in both the US and Britain can testify to.
For socialists it does not matter so much where production is situated in a global economy but which class in society controls production.
The only way for workers to protect jobs and conditions is by conducting militant industrial struggle that forces the bosses to concede better wages and conditions. And they'll always try to claw those back - that's why we need to fight for a socialist world where working class people democratically control production and services.
This is the message that the Young Socialists, along with Socialist Students and Socialist Party members will be delivering through school and college walkouts and protests when Trump lands in the UK on 13 July.
---
In this issue
---
Labour and the unions

RMT rejects Labour affiliation - now step up the fight for workers' political representation

RMT special conference debates political strategy
---
Socialist Party news and analysis

Stop the Tory NHS wreckers

#NorthernFail: 250 rail services cancelled

Socialists defend Lush ad campaign against spy cops
---
International socialist news and analysis

Italy's political crisis is reverberating through Europe

No to Trump's trade war

Jordan: Workers and youth remove prime minister and demand end to austerity
---
Workplace news

Congress shut down by staff walkouts

PCS union launches strike ballot on pay

West Midlands firefighters vote to strike in massive numbers

East London housing workers fight privatisation of pay
---
'Made in Dagenham' strike 50 years on

'Made in Dagenham' Ford machinists pay strike 50 years on
---
Socialist Party reports and campaigns

Liverpool meeting remembers 47 councillors who fought and defeated Thatcher in 1980s

Yorkshire 1,000 for issue 1000

People's Assembly event lacks understanding of task facing Corbyn

200 years since the birth of Karl Marx - come and walk in his footsteps!
---
Opinion

Alt-right gains exposure - but tedious clichés betray lack of ideas

Rich, raw tale of financial crisis's impact on rural Ireland

The Socialist inbox
---
Home | The Socialist 6 June 2018 | Join the Socialist Party